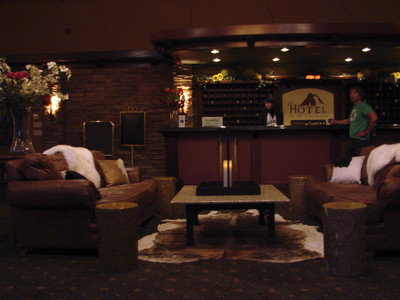 Visitors to The Hotel on Mt. Charleston will notice that the mountain resort has returned to its roots.
A recently completed renovation project has the resort looking much like its natural surrounds, complete with rustic furnishings and décor in warm, rich earth tones.
Not only does the new look reflect its mountain setting, it was done with the Earth in mind, using eco-friendly, recycled and energy-efficient materials, and was completed on an extremely limited budget.
"The property needed a face-lift of the interior common area," said John DiGuiseppe, president and chief executive officer of Investors Hospitality Management, operator of the resort. "Of course, as with many owners, we didn't have the budget for that and we had to reuse and enhance what we already had."
Fortunately, he had the perfect solution. His brother, Anthony DiGuiseppe, is principal of an architecture and interior design firm that specializes in hotel and resort design.
"Anthony is the kind of architect who works on projects from the inside out," John DiGuiseppe said. "I remember the first thing he said about The Hotel on Mt. Charleston was 'This place has great potential.' He poked around, learned about the Native American heritage there and came up with a plan by which he could involve his own in-house team with the staff at the hotel to implement a fresh taste and authentic accents which literally complement the 'breath of fresh air' both residents and visitors seek when escaping to this mountainous retreat."
"All of our projects have budgets, but not as low as this one," Anthony DiGuiseppe said. "The biggest challenge was to keep the budget below $10,000, considering the amount of space. At first we were going to include the small bar as well, but we could not for the budget considerations."
In the end, the project included renovations of the main lobby, dining room and banquet area — totaling about 10,000 square feet.
While many home shows cater to remodeling on a budget, Anthony DiGuiseppe showed "design on a dime" can be done on a commercial scale as well. He said this was the firm's first attempt at a such a project.
It was the hotel's "good bones" that helped make the project possible.
"We saw the basic seating as salvageable and it worked with the rustic cowboy feel of the place, although the layouts of the seating did not coordinate with the lighting plan. We looked at what could be changed easily without spending a lot and without major disruption," he said.
John DiGuiseppe said the basic problem was too many accessories that had accumulated over time and improperly placed furnishings and lighting.
"The place didn't flow or have the cohesiveness of good design. Anthony's company began by taking away stuff that was bad design and enhancing what we already had."
In the end, Anthony DiGuiseppe was able to save the original flooring and chairs, which had to be recovered, but replaced side tables and added window treatments. Additionally, a few accessories were needed to warm up the cold granite coffee tables and the walls were painted a more welcoming and warm light-sand color.
He also moved existing taxidermy pieces and brought in more animal prints to enhance the rustic feel.
Helping to make the project sustainable was the fact that much of the new material brought into the resort was not really new, John DiGuiseppe said. Through Anthony DiGuiseppe's relationships with suppliers, they were able to get product left over from other projects that would normally get thrown away and some of the fabrication was donated by Bramson House, a New York firm specializing in window treatments, bedding ensembles and reupholstery that often works in Las Vegas.
They also were able to go out into the surrounding Toiyabe National Forest and gather branches and twigs to incorporate into decorative accessories.
Anthony DiGuiseppe admits that part of the success of the project is because he was working with his brother.
"We gave him latitudes that we wouldn't normally with clients, but being my brother and wanting to turn the property around, I was dedicated to seeing him be successful in this venture, especially since I was the one who suggested that he get into hospitality ownership and management a few years ago," he said.