New designs in outdoor furniture are durable and look great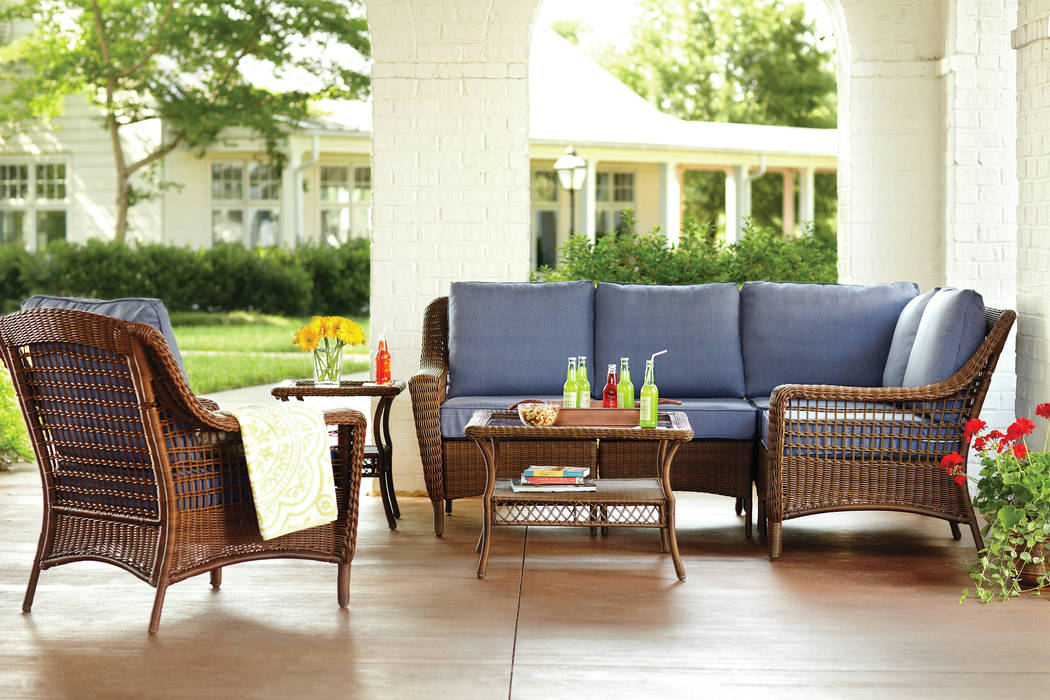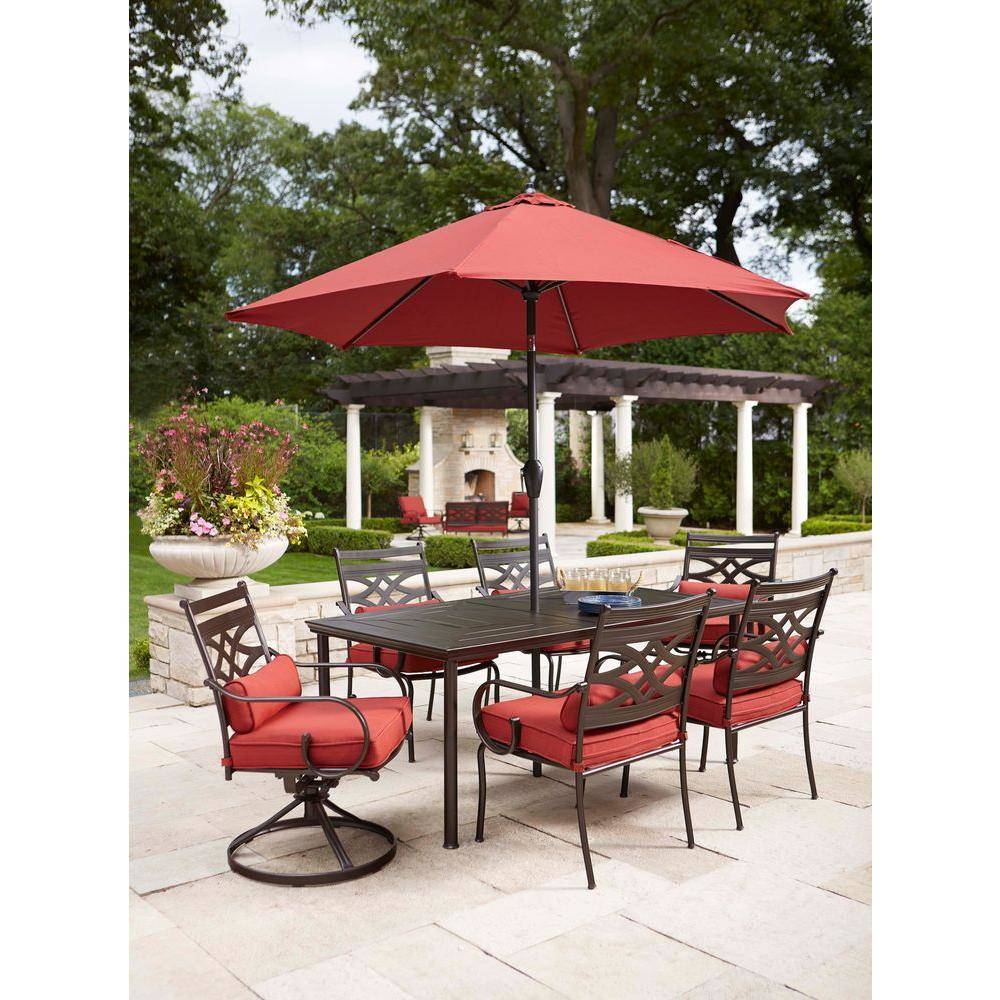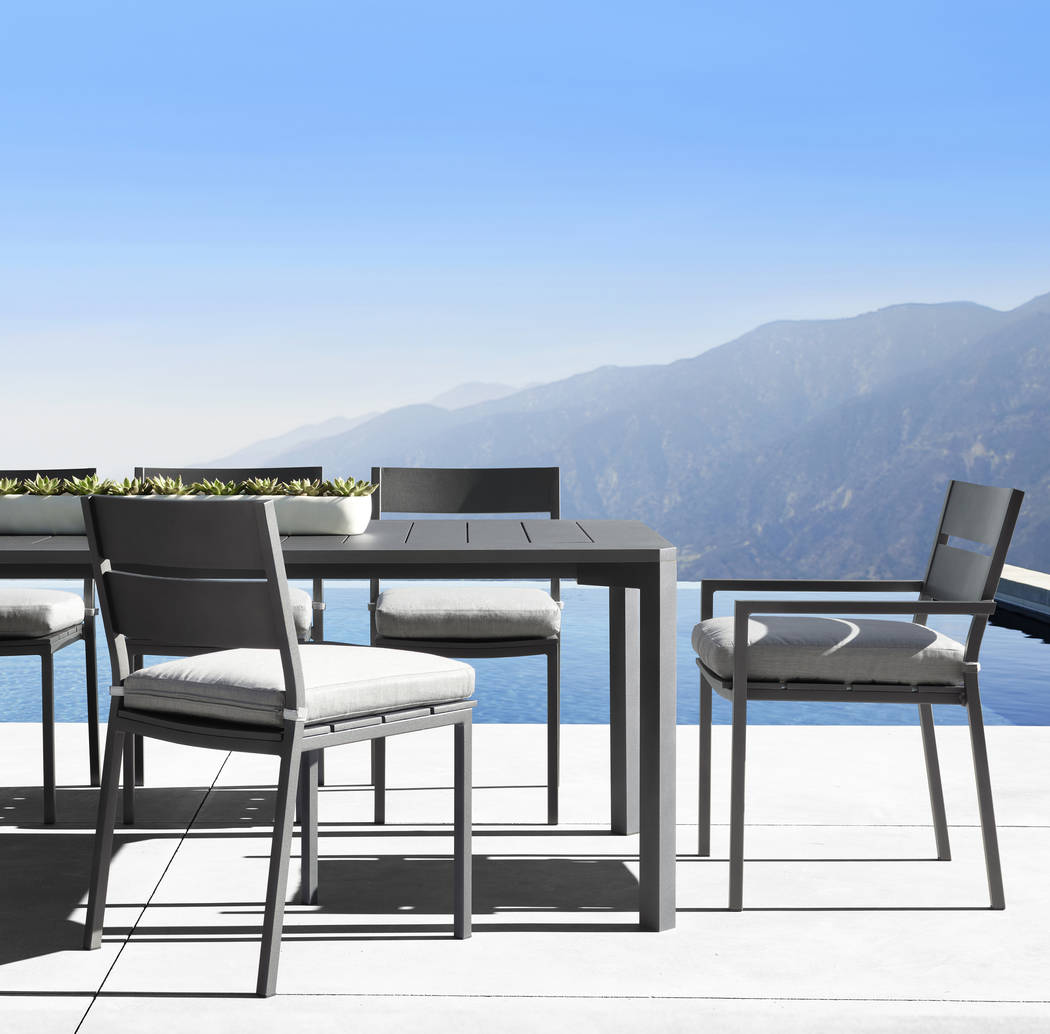 As temperatures warm up, people are heading outdoors to enjoy the spring weather. And homeowners are treating their outdoor spaces like any other room in their home, outfitting them with nice furniture and accessories.
"Our customers are taking what they do inside and bringing it outside," said Home Depot outdoor patio merchant Hila Roberts. "The first thing we ask them is to envision what they'll be doing in the outdoor space — hosting, having dinner or lounging — then assess the size and go from there."
When it comes to seating, Roberts said there are plenty of options depending on the size of the space.
"For small spaces, we offer a three-piece bistro set, and if you have more room you can do a five- or seven-piece dining set," she said. "They can also do traditional seating or incorporate a sectional."
Home Depot offers more than 15 Hampton Bay patio furniture collections, Roberts said, with the option to customize colors and fabrics.
"We offer the Sunbrella fabric, which is fade-resistant, on patio furniture and umbrellas and it's worth the upgrade, especially in the Vegas climate," she said. "I also recommend aluminum patio sets since it's a better quality metal and it's more durable, lightweight and easier to move around."
While customers are gravitating toward bright colors such as red and blue for their patio furniture, traditional colors are classic, Roberts said.
"Since you're outdoors and it's bright, a lot of our customers like bright colors like ruby red, which is a great way to express yourself through color in your outdoor room," she said. "Neutrals are also still popular, and you can add pops of color with an accessory such as a pillow or umbrella."
Roberts added that outdoor spaces can be accessorized with lanterns, candles, area rugs and umbrellas.
"My favorite thing is our LED solar offset umbrella, which absorbs the sun's energy during the day and turns on at night to light up the area for seating and dining," she said. "It's a great way to enjoy the outdoors, and the goal is to enjoy the patio as long as possible."
Fire pits are also becoming increasingly popular. Roberts said customers are gravitating toward the Hampton Bay Crossfire, which boasts a cooking grate.
"They're a really good way to extend the use of your patio at the beginning and end of the year," she said of fire pits.
Roberts said she anticipates seeing outdoor spaces rising in popularity in the future.
"I think people will continue to go outside and enjoy themselves because the outdoors is a great break to the rough-and-tumble we all have in our lives," she said. "There are so many different ways to express yourself when creating an outdoor space, so have fun with it."
Shawn Sigurdson, store manager at California Patio's Las Vegas showroom, like Roberts, recommends the Sunbrella fabric for outdoor patio furniture.
"It's a really well-known name and to a fair degree you get what you pay for, so if you invest in Sunbrella fabric, your furniture will last for many years," he said. "It's also easy to clean and can be washed with soap and water."
This time of year, Sigurdson said California Patio sees an increase in customers looking to buy patio furniture and accessories.
"We're seeing trends going toward contemporary style with more clean lines," he said of patio furniture. "People are also getting away from the browns and beiges to grays and brighter blues."
Sigurdson added that customers are looking to incorporate comfortable seating into their outdoor spaces, so California Patio has elevated its sofa offerings.
"People want sofas and love seats on their patios as opposed to a traditional table and chairs," he said. "They want to be comfortable and, since it's a casual environment, it works perfectly."
Harrison and Nicholas Condos of Harbour Outdoor developed the Palma and Marea collections for RH, Restoration Hardware.
"The linear silhouette using modern rope is a new expression for us and it's not a common theme in homes yet, so it's exciting to be exploring a new technique and design form," they said in a press release about the Marea collection. "We think the herringbone weave aesthetic really adds a striking lightness to any outdoor space."
The Condoses said they pay close attention to materials to ensure their furniture will stand up to the outdoor elements.
"For many years we've used Dutch aluminum powder coat, which is used for the frame of this collection and engineered specifically for exterior use," they said. "Olefin rope is used for the silhouette, and it's a perfect material for this collection because it's lightweight but strong with sunlight resistant qualities."
The Condos brothers said when choosing the colors for their outdoor furniture lines, they tend to stick with classic tones.
"Outdoor furniture can be a big investment and customers are unlikely to swap out their settings as often, so it was important to design our collections in colors that are timeless and will appeal to a broad range," they said. "We always stick to minimalist classic colors including gray, white, asteroid and silver."
When creating your own outdoor space, Harrison and Nicholas Condos said to keep it simple, comfortable and invest in quality furniture.
"Rather than cluttering the outdoors with hordes of items and furniture, focus on selecting a few key investment pieces so your statement pieces stand out and your outdoors look more spacious and luxe," they said. "Ask lots of questions about the fabrication quality of the product before purchase to ensure the materials best suit the environment you live in, and check the warranty of the furniture so you have a safety net in case of future damage to your outdoor investment."
The Condos brothers added, "Bridge the gap between interior and exterior living by purchasing for comfort. We strongly believe one's outdoors should be as cozy as your indoors."