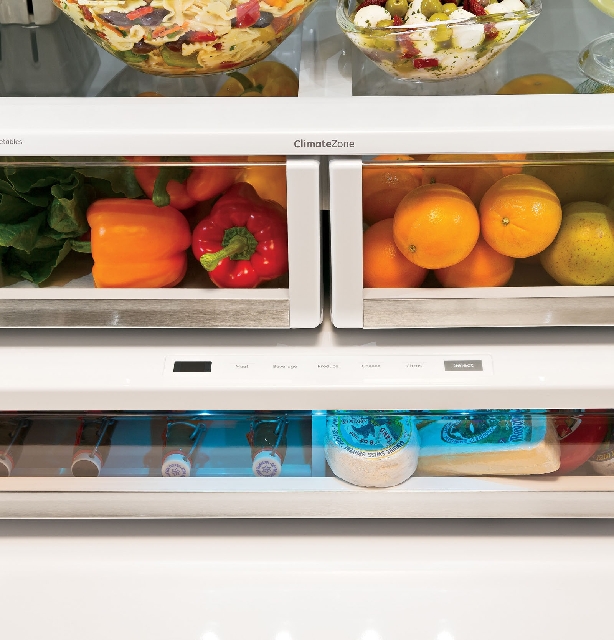 With more people becoming passionate about gourmet cooking each day, modern kitchens are introducing a variety of innovative appliances to make the task easier and results as good as you will find in a five-star restaurant. All you need to add is your favorite recipes.
"The home cook is turning into the home gourmet chef," said Steva Sazama , marketing manager for Frigidaire Professional . "The consumer is trying to save money, eating out less and really cooking is becoming a hobby with many consumers."
To make cooking a better experience, Frigidaire Professional recently launched a new line of small appliances. The aim is to help consumers save time and get quality results with appliances that offer a sleek design suitable for countertop display, are durable and priced appropriately. They range in price from $99 to $150.
The line, which features a thermal carafe coffee maker, panini grill and griddle, five-speed blender and infrared, convection toaster oven, was made to include time-saving features and with parts that are dishwasher safe, she said.
The coffee maker's carafe is made of insulated stainless steel to keep coffee warmer longer and prevent it from burning, according to Sazama. The coffee maker also has "a charcoal filter and brewing system to ensure that each pot is perfectly brewed."
Time-saving features of the 5-in-1 grill and griddle are independent temperature controls on two reversible grill-griddle plates so you can cook two foods at different temperatures simultaneously, Sazama said. It also opens flat to provide a larger cooking surface.
"The infrared convection toaster oven features infrared cooking technology that eliminates preheating. We know waiting for an oven to preheat is a big pain point for consumers," she said.
But it is not just small appliances that are offering innovative and creative features.
General Electric, for example, recently debuted its new Café French door refrigerator with features such as filtered cold and hot water from the door, adjustable temperature-controlled drawers with corresponding colored light-emitting diode lighting and special odor filter. It retails for $2,999.
"It's all about making consumers' lives easier. We spent a lot of time in consumers homes and doing focus groups. Consumers said over and over again 'I'm very busy; find ways to make life easier for me,' " said John Boyd, marketing manager for GE Refrigeration. "It's a one-stop shop. You can get the milk out of the fridge and then put a tea bag in your cup and pour a hot cup of tea right there."
Although people have come to expect the ability to get ice and cold water conveniently from their refrigerator door, Boyd said having temperature-controlled hot water is something they won't want to be without once they try it.
There are four preprogrammed settings — from 90 degrees Fahrenheit to warm up a baby's bottle to 185 degrees for making soup or oatmeal — as well as one setting that can be customized. Boyd said the time it takes to heat the water depends on variables such as when it was last used and the temperature of the water coming into the house, but averages 1½ to four minutes from the coldest to the hottest setting.
"We love the fact that we can use this for oatmeal and love that the exact setting won't burn our children's mouths. We know the temperature will be 170 and they can eat their oatmeal," Boyd said.
He said it is the ease of use and preciseness that makes the feature better than using something like a tea kettle or microwave to heat water. Water is dispensed directly into the cup or bowl being used and the water is filtered as well as heated.
The refrigerator's advanced filtering system takes out 98 percent of five trace pharmaceuticals including ibuprofen (a painkiller) and progesterone (a hormone), Boyd said. In addition, the filter is located in the door for easy replacement, while also freeing up space in the refrigerator.
Another feature that makes using the refrigerator easier for consumers is the adjustable temperature-controlled drawer with LED lights.
"It's a neat feature for us," Boyd said. "Consumers can identify what their setting is based on color."
Temperature settings range from 32 to 40 degrees Fahrenheit. The light will glow red, green, blue, aqua and purple designating the ideal temperature for meat, produce, beverages, cheese and citrus, he said.
Another major appliance maker to offer innovative features is LG, which recently debuted EasyClean Technology on its dual-oven ranges, which start at about $1,400.
Dave VanderWaal, director of brand marketing, home appliances, for LG Electronics USA, said the new oven-cleaning feature works in just minutes and needs only water.
Offered in addition to the traditional self-cleaning feature, EasyClean Technology allows a consumer to spray the oven's interior with water, push the EasyClean button, wait 20 minutes and then wipe away the grime.
"No chemicals or high heat are needed to help keep the oven sparkling clean. EasyClean helps consumers save time and energy as the oven heats up for only 20 minutes instead of several hours needed to perform conventional self-clean method," VanderWaal said.
He said the feature allows consumers to eliminate the need for harsh chemicals that can leave behind a strong odor or purchase special oven-cleaning products.
In addition to the time and money-saving feature, LG's new ranges offer greater capacity and advance cooking technology such as infrared. It also offers True Convection and EvenJet Convection to achieve more precise cooking with faster heating and more even heat distribution.
"Home chefs can enjoy the ultralarge capacity ovens, which offer the flexibility to prepare a variety of foods at once — perfect when entertaining and cooking for large groups. With technology like infrared grill, preheating is eliminated saving valuable time. The double oven option offers enhanced flexibility and the ability to cater to all of the family's needs whether that is using both ovens for big meals, or only one oven, which in turn saves energy," he said.