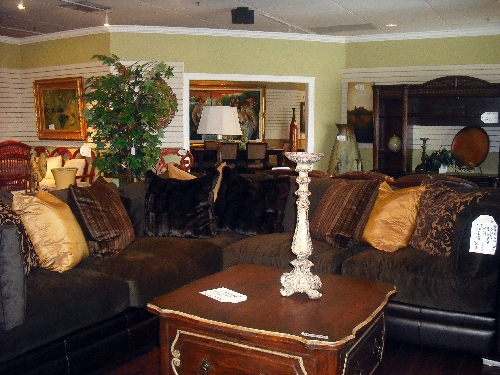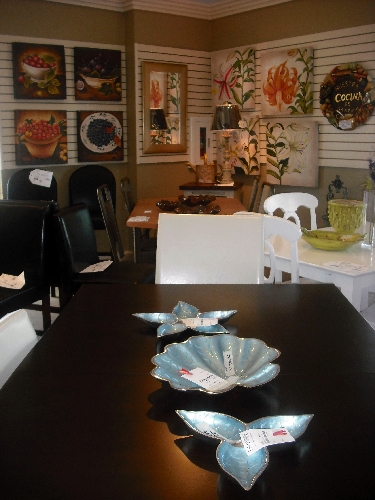 Today is April 15 and now that we have paid our dues to Uncle Sam and our wallets are little lighter it's time to think of ways to get more bang for our buck when decorating and outfitting our homes.
That's where pawn and consignment shops enter the picture.
"If people get past the preowned aspect of the merchandise, you can get addicted to the money you save," said Caroline Ciocca, director of community relations for CashAmerica/SuperPawn, which has 42 locations in Nevada, Arizona, California and Washington. "You really get spoiled and think twice about paying retail, especially in this economy. We have to be smarter when we buy what we buy. There's nothing worse than buying something at full price and then seeing it next week at a significant discount."
Not only are the prices considerably lower, Ciocca said you should never pay the price that is posted on the price tag.
"Always negotiate in a pawn shop. What you see is not what you should pay," she said. "You should expect to take between 50 and 60 percent off the ticket price."
In exchange for the savings shoppers have to learn to be patient. Inventory changes regularly because it is based on what is brought in for sale or left behind after getting a loan.
"It's a lot like shopping at Ross (Dress for Less). You never know what you're going to find," Ciocca said. "You may see something one day and an hour later it could be gone."
Most of the items featured at the pawn shop are one-of-a-kind, meaning you may find a shelf filled with televisions or DVD players, but each one will be slightly different from the other.
"We don't see a lot of big appliances, but you can find most anything. One of our stores has a great selection of Waterford crystal," Ciocca said.
And with more people doing home improvement projects themselves, SuperPawn is an ideal place to find tools at a fraction of the price you'd pay elsewhere. Recently, one location sported a variety of electric and cordless drill-drivers and saws, as well as generators and other tools.
Ciocca said families also are bound to find reasonable forms of entertainment to please adults and youngsters alike, including musical instruments, gaming equipment and games, movie systems and movies and televisions.
Items sold in the retail portion of the store represent about 20 percent of the items brought into the pawn shop for a short-term loan and all are cross checked with the police department to make sure they aren't stolen, Ciocca said.
Although it is highly unusual to find anything new in the store, everything on the shelves is gently used and has been thoroughly inspected and checked to make sure it operates properly before it is put on the retail floor.
Ciocca said one thing that shoppers may be unaware of is a 30-day, money-back guarantee that SuperPawn offers on items it sells. Not only that, but the company has a layaway program that starts at just 10 percent down.
Although it is a no-frills shopping experience, the folks at SuperPawn work to make sure each location is a clean, pleasant atmosphere where anyone will feel comfortable. With the exception of the prices, you could compare it with other retail outlets.
Vignettes and accessories make the furniture displays at Colleen's Classic Consignments nearly indistinguishable from those at traditional furniture stores. Here, brand-new merchandise mingles among the gently used pieces.
Colleen Aiken said she has arrangements with many of the showrooms at the World Market Center in downtown Las Vegas to take the furnishings and accessories off their floors after the biannual events. She also sells furnishings from model homes.
Aiken has three locations, two of which offer primarily gently used consigned pieces and one which features mostly new products from the market showrooms.
According to Aiken, the new furniture leans toward the high-end market. Although it is being sold at about half of traditional retail prices, it still may cost more than people expect.
"No, we're not the cheapest store in town. If you want low-end you can go get cardboard and buy it. My consignment stores work on value and good deals," she said.
And, just as in the pawn shops, she said her sales staff can negotiate deals based on the listed prices.
The stores also have a constantly changing inventory. She has three trucks that pick up new merchandise on a daily basis.
"The fun thing about consignment is that you never know what you will see when you walk in the store," Aiken said.
At either type of establishment, it's important for shoppers to do their homework first, know exactly what it is they want and what the traditional retail price is.
Aiken said she also makes sure her customers thoroughly inspect each piece before it is purchased. Sales in her stores are "as is." She knows how important this is since she personally inspects each piece before it is placed on the sales floor.
"I do all the buying for the store — and I have since day one. Sometimes I feel like a scavenger," she said. "I'm always looking for good deals for my customers."
For store locations and policies, visit www.superpawn.com or www.colleenconsign.com