Religious beliefs dictate Shakers' style
December 1, 2011 - 2:07 am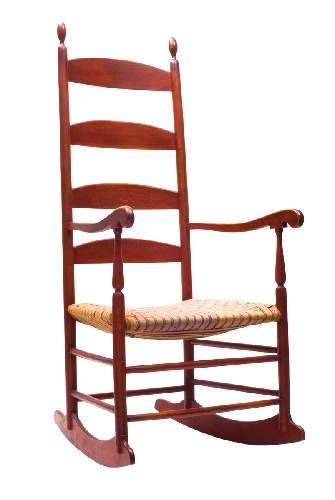 The Shakers are a religious group that came to America from England in 1774 led by Mother Ann Lee. The group grew until there were 18 Shaker communities in the eastern part of the country.
Some of the communities made furniture that was sold to outsiders. The Shakers' religious beliefs required that their designs be undecorated, so their furniture was made with slender shaped spindles, woven seats and legs without a separate foot. No veneer was used and turned wooden knobs, not metal ones, were used as hardware.
In 1970 Shaker furniture was featured in the U.S. Pavilion at Expo 70, the World's Fair in Japan, and the old but very modern-looking furniture became popular with collectors. There are only a relatively small number of authentic Shaker-made pieces of furniture, so prices went up for a long time. But they have come down a little in the last few years. Today an average chair sells for about $700 to $900.
Q: I have had an old gas iron for a long time. It got its gas fuel from a hose on the wall in our apartment in Poland. I use it as a doorstop because it's so heavy. There are no markings on it. Can you give me more information about it?
A: Before 1850, irons had to be heated on a stove or in a fireplace. Charcoal-burning irons were invented in the early 1850s. Gas irons were invented in about 1860. Some, like yours, have a rubber or metal tube that could be connected to a gas light jet or gas canister. Others had tanks that could be filled with gasoline, kerosene, alcohol or another fuel and then ignited. One early manufacturer of natural-gas irons advertised that its irons could be heated in four minutes.
Keep using your iron as a doorstop. Do not try to heat it. We hear that some have exploded.
Q: I have six decanters from the Jim Beam Collector's Edition, Volume V. The bottles are decorated with copies of famous works of art by Manet, Rembrandt and Van Gogh. One bottle has been opened. They are all in their original boxes. I'm interested in finding out the value of these decanters.
A: Jim Beam Collector's Edition decanters were made from 1966 to 1986. Your set, Volume V, was issued in 1970. The first decanters sold for $5.95.
They have not gained in value through the years. Any Collector's Edition decanter currently sells for $5 or less. A set of all six Volume V decanters, with original boxes and matching glasses, recently sold for less than $30.
Terry Kovel's column is syndicated by King Features. Write to: Kovels, (Las Vegas Review-Journal), King Features Syndicate, 300 W. 57th St., New York, NY 10019.