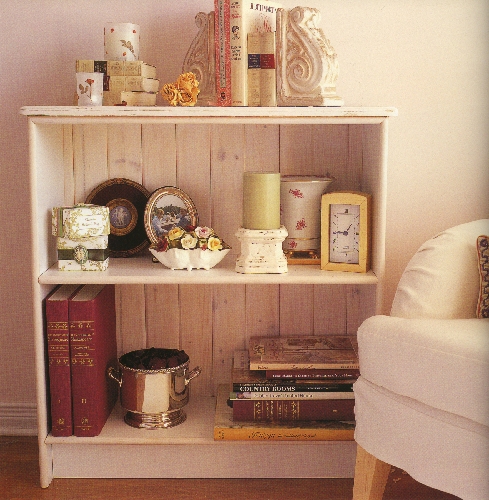 One of the most common purchases for us all at one time or another is the basic laminate shelving unit. This inexpensive storage solution may have already done service as a student's bookshelf, a spot for children's toys and stuffed animals, or home to your collection of video tapes and CDs. Your intention was to replace it with something more substantial and decorative; however, there it sits years later, looking a bit tired, but still useful.
When I'm trying to decide whether a piece is worth keeping, I use a two-point system. First, is it broken or beyond a repair job that I can handle? Second, what can I do to revitalize the piece so that it will be useful and attractive? The laminate shelving unit shown here was in good shape, and I was transforming a summer cottage for one of my television shows. I knew that with a piece of wainscoting for the back and a thicker top shelf, this unit would be practical and would enhance the casual, country-chic decor. So it fit my criteria, and once I got thinking about the project, lots of ideas emerged.
For the countrified shelves shown here, wainscoting was cut to fit the back and then I applied a pale-pink-colored glaze — equal parts latex paint and water-based glazing liquid. The translucent glaze allows the knots and grain in the wainscoting to show through, which is a lovely rustic touch. The new wood plank for the top was sanded, primed and painted with two coats of pale pink. The wainscoting and top board were nailed onto the unit. Trim molding was finished with the pink-colored glaze and nailed to the front edges and sides of the unit.
Tips for a professional finish: Miter the corners of the trim molding so that corners look neat. Countersink nail heads, then fill them, sand lightly, prime and paint.
Once you have an idea of how you can alter the look of a unit, you have lots of options to suit your personal requirements. For the back, a flat board with a slick coat of high-gloss paint in a fresh shade of green or orange would be young and playful. A mirrored back and black sides make a dramatic display unit. You can cover the back board with wallpaper or an intriguing poster — all backgrounds that add character.
Edge trim is easily found and makes a handsome finishing detail. Paint to blend with the shelves, or treat as an accent that will frame the unit by painting in a contrasting shade. To reproduce the look of fine furniture, paint the unit a rich brown or apply a wood-grain finish and trim with upholstery tacks.
If you are a bargain hunter and love to track down deals at yard sales and secondhand stores, you'll have no trouble finding old wood shelves and other furniture pieces. Keep in mind my criteria for success and leave behind anything you can't fix. Then get inspired by checking out furniture styles and finishes in books, magazines and on the Internet.
Paint finishes are easy to apply with today's more environmentally friendly paints, glazes and stains. A new color or even a switch in sheen from flat to gloss has a powerful effect.
Debbie Travis is a columnist for King Features Syndicate. E-mail questions to her at house2home@debbietravis.com.