Shading the patio is big business in Las Vegas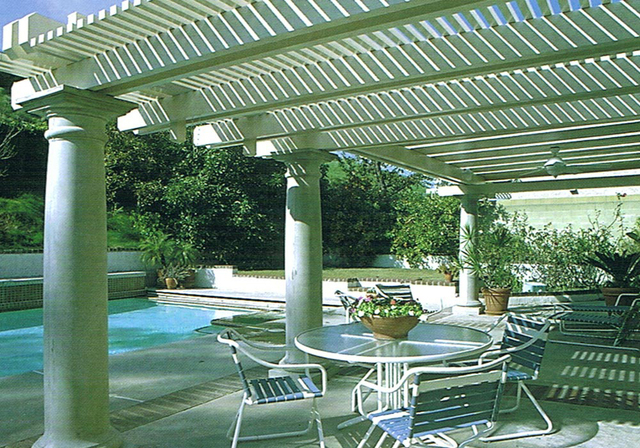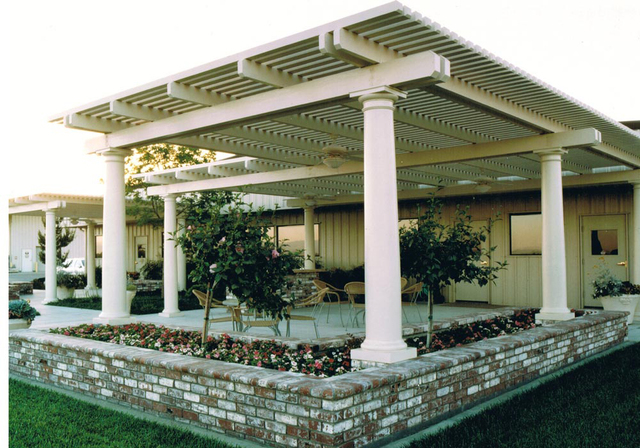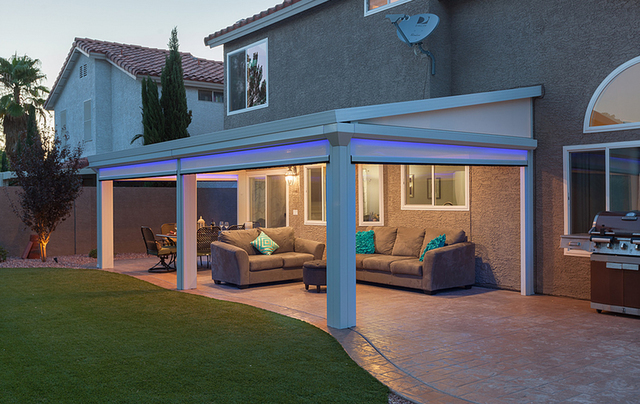 If your summer plans include spending time outdoors, then finding shade is essential — especially during the day when the sun beats down and temperatures rise.
Cole Frick knows the importance of shade. He is president of Dura-Kool, a local, family-owned and operated company that builds patio covers and sunroofs. The company was started more than 50 years ago by his grandparents.
"Shade isn't a luxury here, it's a commodity," Frick said. "If you have a home with a backyard, a patio cover is needed just to sit and watch the kids play or swim or for you to relax in the early morning or evening.
"There are coverings for other parts of the home including the carport. We know what the blistering desert sun can do to a vehicle's paint and our Dura-Kool aluminum carport shelter can protect your car, boat or RV from the harsh elements. We also build sunrooms, screen rooms, pool enclosures, window awnings and door hoods," he said.
But what keeps Frick busy this time of year are his high-end, heavy-gauge aluminum patio covers that can stand up to heat, arid climate, strong sustained winds and sun damage. Each patio cover — be it adjustable, solid, lattice or stucco — comes with a lifetime guarantee.
"Everything is custom made," he said. "Our consultants come to your home and listen to what you want and we build accordingly. It can be a basic patio cover for several thousand dollars or something more extensive that can cost up to $150,000.
"We use the thickest gauge of aluminum, which is up to 33 percent thicker than similar covers. This added thickness provides superior strength and durability. Also, Dura-Kool is the exclusive Las Vegas vendor for Kynar 500 Ultra-Lattice and Ultra-Solid patio covers."
According to Frick, Kynar 500 is the coating found on the exterior metal surfaces of many Strip casinos that have been built over the past 20 years. It comes in a variety of colors and is fire resistant, has reflective powers and never peels, warps or cracks.
While installation may take no more than a day or two, Frick said anyone seeking a patio cover today may have to wait several weeks or longer.
"This is our busy time of year and I just wish more people would call us in November or January," he said with a smile.
Tom Drew, owner of Patio Covers by Tom Drew, has been shading Las Vegas since 1990. He builds carports, RV ports, enclosures and gazebos.
"A solid patio cover is not just to make the backyard nice," he said. "With an aluminum patio cover, the area can be 20 degrees cooler and at the same time increase the value of the home. Aluminum retains the heat that escapes into the air above the cover.
"I can also enclose the patio with 3-inch-thick aluminum panels filled with foam that decreases the heat or cold. The unit can also be built with tinted windows and doors, a skylight and recessed lighting along with a fan. Basically, the patio becomes an extension of the home. It's like adding another room."
Frick has a product called LifeRoom that is 12 feet by 30 feet and comes with LED lights, drop shades and misters.
"We completed one last summer at three in the afternoon when the outside temperature was 108 degrees," he remembers. "We wanted to make sure everything worked so we turned on the misters, lowered the drop shades and turned on the blower which sits below the misters. Within 30 minutes, the room temperature had dropped to 75 degrees. It was perfect."
According to Drew, each patio cover is a different work of art.
"The thing to know about a patio cover is that you want to go out as far as you can," he explained. "Two important aspects of a cover are projection and height. I have built 10-foot-by-10-foot covers and have gone as large as 115 feet by 30 feet.
"My recommendation for the best shade and comfort is an 8-to-12-foot-high patio cover extending out about 8 feet. This protects the patio most of the day and gives more shaded living space to enjoy as the sun traverses to the west and over the mountains."
After meeting with customers and getting approval on a patio cover design, both Frick and Drew obtain all necessary city and county permits and drawings. They can even prepare and send paperwork needed for approval by home owner's associations.
"It's up to the homeowner to tell me what he or she wants," Drew said. "If you want something small, I can do that. If you want something elaborate like the Taj Mahal, I can do that."