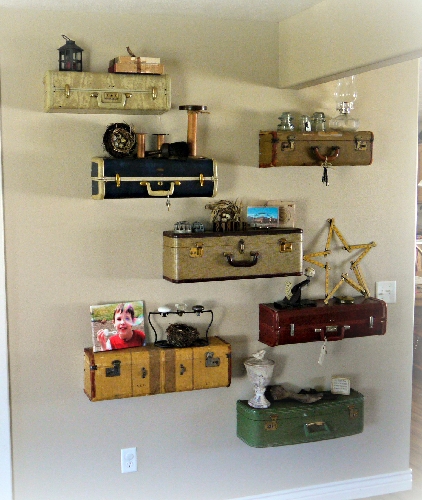 DEAR GAIL: We've just moved into a new home and have a couple of design challenges. First, we have very few pieces of art but lots of wall space. In our last home we had built-in wall units where I displayed my accessories but there are none in this house and it is not in the budget to add them. And lastly, our little one is now walking so anything within reach is doomed for the trash, so decorating my tables is out at the moment. So I'd love some ideas for wall shelves. - Sophia R.
DEAR SOPHIA: Wall shelves are a great solution to your new design challenges; they'll transform your blank walls and showcase your favorite accessories. They can be added throughout your home and help decorate your walls with the artwork you have.
I like using wall shelves for families that have new puppy tails, active playful kids and clumsy family members. Our homes are made to be lived in and sometimes that means getting our favorite things out of reach and mishaps.
Before I share some ideas there are two things I'd like to stress. First, the shelves should not become storage, that's what closets are for. Wall shelves are decorative elements on your walls, just like artwork. Second, it is very important that they are properly hung. I can't stress this enough. The last thing you want is to have them come crashing down and break what you have on them. But more importantly, you don't want to injure someone in your home. They must be anchored into the wall, either by finding a stud or using appropriate wall anchors.
Now I know I just said not to use your shelves as storage, but there are two places where I do use them with everyday items: the bathroom and office. In the bathroom, I prefer decorative shelves versus a wall cabinet over the toilet. But you still need to make it attractive. Roll towels and use decorative boxes or baskets for your bathroom items. Use low floating shelves for candles and towels next to your bathtub to help create a spalike retreat. Just make sure to watch the depth so no one hits their head.
If you have a lot of books, you can incorporate them on your shelves with accessories, but no piling.
What I love about wall shelves is that they are so versatile. They come in many shapes, sizes and colors, from country to modern and sleek, and can match any home's decorating theme. They are a great decorating element to display artwork and accessories together, as well as being stand-alone works of art.
The suitcase wall by Korrie Bastin from Red Hen Home is an amazing example of transforming shelves into art. What a great way to repurpose items from the past into an amazing wall gallery. I'm still trying to decide what I'm going to take down in my own home to do this. I absolutely love it!
Another great shelf I found is a corner shelf by William Feeney. There are many corner shelves out there, but I just think this one is unique. We all have empty corners in our home, so take advantage of them and make them attractive.
Wall galleries allow you to incorporate shelves, artwork and accessories in one place. This is something I really like to do on large walls. It's a way to add dimension, interest and transform that blank wall into something special.
For those who like a more minimalist approach but still have a long wall, spread the gallery out and limit the accessories.
A couple of things to consider with wall shelves are the depth of the shelf as well as the weight and size of the accessories you're placing on the shelves. Watch the depth whenever hanging shelves in areas where people are sitting below or walking next to. Never place anything on a shelf that is too deep for the shelf. Don't place anything that is too heavy for the shelf; again, be sure to properly secure the shelf to the wall.
Also, do not use anything that appears too heavy for the shelf itself, especially if using glass shelves. And when hanging shelves up high, the items on the shelf need to be large enough to see.
Wall shelves are stylish solutions to any space. There are all shapes and sizes of shelves: cubes, blocks, zigzags, triangles and very abstract designs. Don't limit yourself.
For more ideas of interesting and unusual shelves, search online by images versus words. This is a huge time saver versus spending hours clicking through websites. It's how I found the great shelf ideas here.
Gail Mayhugh, owner of GMJ Interiors, is a professional interior designer and author of a book on the subject. Questions may be sent by email to: gail@gmjinteriors.com. Or, mail to: 7380 S. Eastern Ave., No. 124-272, Las Vegas, NV 89123. Her Web address is: www.GMJinteriors.com.