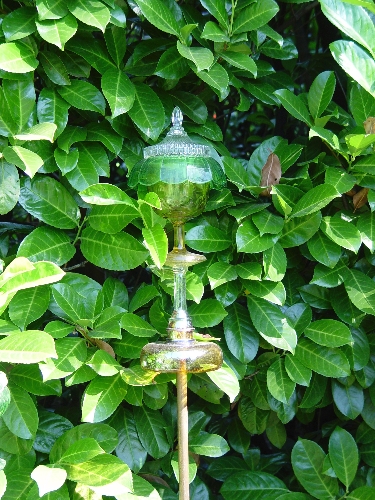 While lecturing on low-cost planting ideas, I referred to the succulent jewel-box garden. I was told afterward that many in the audience had no idea what this means. This unique design style was made famous by Thomas Hobbs' 2004 book, "The Jewel Box Garden," in which he describes creating a garden by combining exquisite artistic elements with succulent plants and other exotics. His compositions were so densely planted, they resembled the delicate beauty of a woman's jewelry box filled with glittering precious stones, cameos, gold filigree and coral.
The signature feature of jewel-box gardens is the incredible diversity in a small space. For this reason, some have called it "needlepoint gardening." That is why succulents are so important, because many of them are tiny and amazingly colorful. Their often geometric shapes combined with other tiny, textured and colorful plants makes every square foot of ground a visual feast. However, you can create an equally interesting composition without any succulents at all.
Such a dense and diverse garden is a great solution for city gardeners and those who have just a small piece of ground to till. The most essential element of the jewel box is the use of glass in the garden. Glass can be quite affordable. It is available secondhand and with recycled material. In the sun, glass literally glows, shining with its own essence and color.
Part of the glass-recycling process melts down bottles and jars into chunks known as slag. They resemble rocks and may be aqua-colored, clear or composed of the color from which the glass was originally recycled. For example, green slag results from wine bottles. Slag can be found in bulk at stone yards where it's sold by the pound as an accent for landscaping and masonry. Small tumbled slag gravel is sold this way as well for creating small fields of glittering mulch.
The discount shopper can find more ordinary glass that's cheap and easy to use in the garden. It's plentiful at thrift stores and garage, estate and tag sales. From cheap carnival goblets to tourist paperweights and vivid 1960s ashtrays, you'll find glass everywhere once you start looking. The idea is to find pieces that won't fill up with water and grow discolored algae. Sometimes it's best to position a piece upside-down, or on its side to solve that problem. When you begin rethinking glass in this fashion, a broken cut-glass candy jar is no longer a loss because its beautiful lid can now become the centerpiece of your jewel-box garden.
There are more utilitarian glass objects such as old insulators from early power poles. Typically formed in green and aqua, there are also very old clear ones that turn a vivid shade of purple in the sun. Insulators can be used in a dozen ways from a single accent to a row. Though widely collected, these are still common, particularly at rural flea markets and farm sales.
Bottles of all kinds are great candidates for jewel-box gardens. These are most often planted top-down so that the bottom creates a sleek cylinder of color. Those made of vivid red and cobalt blue are among the most coveted. For the tiny city garden, consider perfume bottles, Venetian glass and glass pieces used for cosmetics, which can feature unique patterns and textures. Simply leave the decorative lid on the bottle, and set into your pots and bowls or tiny plant beds.
Be sure to hit up swap meets and flea markets for recycled glass beads. Try draping your trees and fountains with beads or letting them dangle off the edges of pots to add striking color to your jewel-box concept.
For anyone faced with small spaces, a tight budget and an innate love of color, jewel-box gardens are a unique personal expression. And best of all, they can be had on the cheap if you haunt those places where true jewels can still be found.
Maureen Gilmer is a horticulturist. Her blog, the MoZone, offers ideas for cash-strapped families. Read the blog at www.MoPlants.com/blog. E-mail her at mogilmer@yahoo.com.