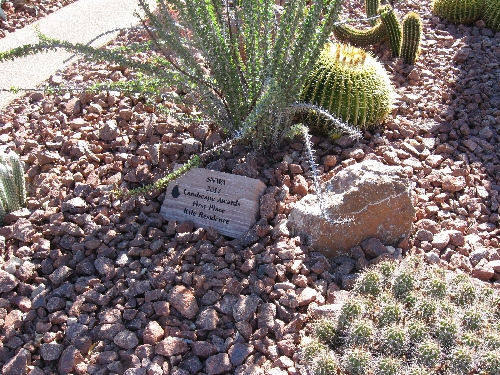 When his neighbor won the Southern Nevada Water Authority's Landscape Awards in 2005, Steve Kile decided he would try to do the same.
The southwest resident, who lives near Tropicana Avenue and Jones Boulevard, took first place in this year's Southern Nevada Water Authority Landscape Awards in the homeowner design category.
The Kile family, originally from Denver, was hesitant to tear out all the grass and the large, shade-giving trees it was accustomed to back home.
"I couldn't be here for that," said Kile's wife, Philayne Kile. "They brought the Bobcat out, and I had to leave. I couldn't bear to watch them tear down the tree."
Steve Kile said it took some convincing for his wife to agree to replace grass with decorative rocks and the trees with cactuses, but after two years of research, she reluctantly conceded.
"Had it not been for the rebate, I probably wouldn't have done it," Steve Kile said of the water authority's program, which awards customers $1.50 per square foot of grass removed and replaced with desert landscaping. "That paid for a third of the cost (of the landscaping project)."
The reduction in their water bill was not bad, either, he said. The Kiles went from paying more than $200 a month to $23 a month.
The transition to desert landscaping took nearly a year and was completed in 2009, and it took nearly three years for all of the plants to fully mature.
The yard now features 106 cactuses of 26 different species, including nearly a dozen golden barrel cactuses and two saguaro cactuses, which required tags proving they had been legally harvested.
It wasn't until the cactuses began to bloom that Philayne Kile was completely sold on the change in scenery.
"I was really surprised at how beautiful the yard turned out," she said. "There's so much yellow, white, red and pink when all the flowers bloom."
Each year, she added, the cactuses produce more flowers than the last year.
Desert landscaping is misunderstood by people who move to the valley from more lush portions of the country, according to SNWA spokeswoman Nicole Lise.
"(The contest) gives others the opportunity to see how diverse desert landscaping is," Lise said. "It's not just rocks and a cattle skull."
SNWA provides a list of water-smart certified landscapers and contractors on its website along with photos and ideas for different designs.
Nearly 100 commercial and residential designs were submitted in this year's contest, and the water authority is encouraging more valley residents to participate.
"People shouldn't hesitate," Lise said. "Now is a great time to get someone from SNWA out to help walk them through the process."
As this year's winners, the Kiles received a decorative stone plaque and a gift package from Caesars Entertainment.
The Kiles' design received the highest score of any yard in the history of the contest.
"Wherever your eyes fall, there's something interesting to look at," Lise said.
After three years of tending to the plants, Steve Kile said the yard now needs his attention once every couple of weeks.
"He still manages to tinker around with (the yard)," his wife said. "He's always looking for a new cactus to plant and a new place to plant it."
The decorative stone plaque announcing the Kiles' achievement sits in a prominent spot among the cactuses so their neighbor can always see it.
Contact Southwest/Spring Valley View reporter Nolan Lister at nlister@viewnews.com or 383-0492.
Landscape design by a homeowner
First place – Kile Residence
Second place – Williams Residence
Third place – Winn Residence
Residential landscape design by a professional
First place – Sauter Residence/Schilling Horticulture Group
Second place – Montes Residence/Schilling Horticulture Group
Third place – Mandujano Residence/Schilling Horticulture Group
Multi-family/homeowner association design by a professional
First place – Westcliff Pines HOA/Schilling Horticulture Group
Second place – McKnight Senior Village II/George Gekakis, Inc.
Star Nursery Color Award
Homeowner – Williams Residence
Professional – Sauter Residence
Linn Mills Award
John Smith, founding principal and president of Horticulture Consultants