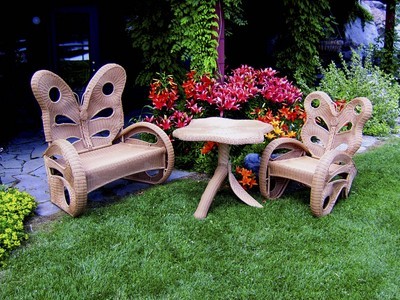 July Fourth weekend is here and the price of gasoline is too high to drive anywhere. What in the world are you going to do?
"Go on a 'staycation,'" said Kathy Peterson, celebrity design expert and national TV host known for her home, patio and floral design styles.
Excuse me. Did you say staycation?
"I first heard the term about a month ago," she said. "It's a new buzz word and a growing trend where people are staying home this summer and putting their money into something that's actually tangible rather than a regular vacation where they come back with memories of overpriced restaurants and small hotel rooms. A Staycation can translate into opportunities to improve the backyard or fix up several rooms in the house. Remember, any investments made in the home have a solid return when it comes time to sell and once those improvements are made, they are there forever. You can't go wrong with that."
Peterson said that once you decide on a staycation, clearly define what would make your home or backyard more relaxing and comfortable.
She suggests beginning outdoors by adding furniture such as deep-cushioned sofas, love seats and sectionals. If the backyard is small, a table and several chairs is all anyone needs for dining and entertaining. Accessorize with potted plants, throw pillows, outdoor area rugs, artificial flowers and umbrellas.
"Some people may change their landscaping, build a kid's playground or a gazebo, or just rearrange a few things to make the backyard more inviting so you can go camping with the family," she said. "What you're doing is creating an outdoor room that improves your quality of life. I like to tell people to use their creativity, not their credit card. Creating is inspiring and self-fulfilling and once you complete the patio or landscaping or whatever it is you do, take the time to sit back, feel proud and say 'I did that.'"
Sitting back in Las Vegas during a July staycation is no easy task when the temperature is 108. Lindy Terry is one of the inventors of the Cool Pouch (www.coolpouch.com), a cotton towel with a patented fold that creates a pouch that wraps around the neck. The pouch holds about a cup of ice.
"The pouch cools the carotid arteries in the neck and provides an evaporative cooling system that helps the body relieve heat stress," Terry said. "And once you get one, you'll end up using it whenever you do any outdoor summer activity."
Another staycation idea is the Spa Cushion (www.spacushion.com), an ergonomic cushion designed with openings for the head and knees that lets you to lie face down on your chaise lounge without your neck or legs turning out of their natural body.
Peterson said that if you don't want to stay at home, other staycations might be taking advantage of local parks, playgrounds and community swimming pools, or discovering family activities in the neighborhood. Set up home activities with games, movies, a neighborhood barbecue or treat your spouse to a relaxing day by inviting massage therapists into your home.
"Stay within a budget just as you would stay within a budget if you went to Disneyland," Peterson said. "Staycations are not that unusual because it wasn't that long ago the word of the day was 'cocooning' and it seems we're returning to that way of life. Our homes are comfortable and a staycation can make them even more comfortable."
While Staycation is just finding its way into everyday conversation, the JW Marriott in Summerlin has already created a Summer Getaway Staycation package. It includes a guest room, two complimentary spa passes, breakfast buffet and 50 percent off a cabana rental.
"When we heard the term, we immediately thought our neighbors would enjoy a staycation with us," said general manager Jim Rose. "We have oversized guest rooms, world-class golf, a luxurious spa, great dining, a beautiful pool and 54 acres of manicured grounds to explore including our 11,000-square-foot waterfall pool. And no matter where you live in the valley, it only takes a few minutes to get here. That's our idea of a staycation."