String lights a popular choice for backyards
Updated July 10, 2018 - 8:45 am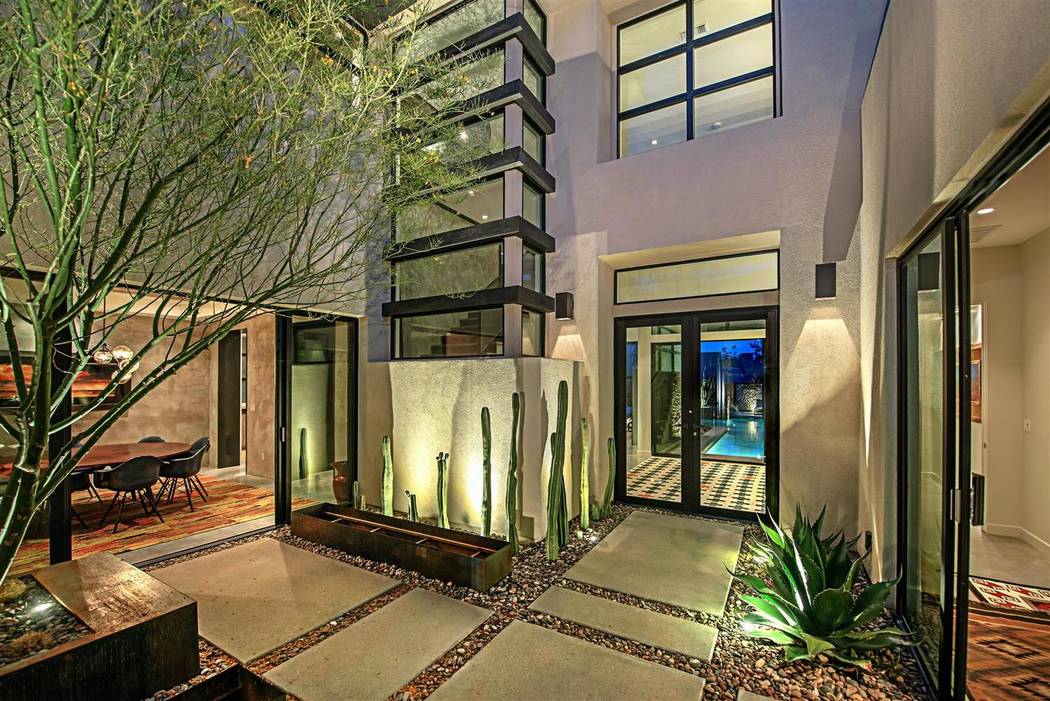 No, they're not Christmas lights, as some might first assume. String lights have become one of the hottest outdoor lighting trends for the home in the past two years.
They are used to highlight seating areas, add some life to an entire small yard and decorate pergolas, gazebos, decks and patios. You may even find them stretched along rooflines. The word "fun" is often associated with them, too, since they add a unique, casual touch to any yard design.
"They've made a resurgence in the past two or three years. They're far more popular now, and there's a lot of different styles," said Mike Lawrence, a manager with Land View Landscapes, a Las Vegas-based landscape design firm.
Here's a look at some installation and design do's and don'ts if you're considering jumping on the string light bandwagon, in addition to some other yard lighting tips.
Working with string lights
To start, make sure you opt for a commercial-grade outdoor light. They come with cords in the 14- to 18-gauge range and are noticeably thicker. In some cases, bulbs are even sold separately, but they are all-weather products that are worth the extra investment.
Installing string lights can bring its share of pitfalls and things to watch for, said Jonathan Spears, founder of Las Vegas-based landscape architecture firm Sage Design Studios Inc.
When installing them, ensure proper spacing between lights, make sure they cover the entire area and don't leave noticeable gaps at the starting or end points, Spears warns. Sometimes an installer can be careless and not pay attention to the bulbs' distance from one another, and some areas can look bunched together for a shoddy look.
In addition, keep extra bulbs on hand to replace burned out ones quickly to avoid what he calls a "missing teeth" look.
Above all, choose a bulb that has warmth, Spears adds. A Kelvin range between 2,700 and 3,000 is ideal. It offers an inviting glow that can highlight a sitting area or accent a space without being too bright. While LED lights last longer and are preferred by many, pay attention to Kelvin ratings, as some can be too bright for the space. When you don't overpower the space, it can be very welcoming to guests.
"Personally, I think they (string lights with the right Kelvin rating) add an intimacy to an area. I think it makes the visitor feel good and gives a sense of space. … They can even make the area look better," Spears said.
Lawrence also pays attention to the style of bulb. Stay away from anything that's too small and Christmas-looking, he says. He prefers an "Edison" style of string light bulb. It's a classic-looking bulb where its rounded end isn't overly accentuated. It fits well in modern or classic designs.
"Architecturally, I think it's just a little more polished and finished," Lawrence added.
Lawrence also tells homeowners to connect string lights to a light switch, even if it means the added expense of tapping electrical power from the home and placing a switch in a convenient place. In some situations, he'll budget for tucking a plug and switch behind an awning or post or somewhere near the backyard door of the home.
"You really don't want to be plugging and unplugging them all the time," he said.
Of course, not everyone has jumped on the string light bandwagon. Some homeowners associations may not approve of the look.
Randy Ecklund, executive director of the Summerlin Community Association, wrote in the June 2018 Summerlines newsletter: "Those embracing the 'bistro' look in their yards love those occasional outdoor evenings enhanced by relatively soft, casual string lights delivering the charm of yesteryear. However, when the sun comes up each day, there is no hiding the fact these lights remain highly visible and unsightly, especially when strung from eaves, balconies or neighboring walls."
Other landscape lighting tips
Beyond string lights, the experts offered other lighting tips to consider for your backyard or front yard. Spears recommends staying consistent with the brightness of the lighting throughout a backyard.
"You have to know the difference between setting a mood and security lighting," he added. "What you do in the backyard is not the same as what you might have on the side of the house for security."
He also recommends figuring out what you want to highlight in the backyard and then how you may want to highlight it. If a wall is not overly textured, angling a light from the ground that highlights a bush or tree against the wall can be attractive. Some people may choose to light from the back of a plant or tree as well.
He recommends using lights that easily tilt so you can experiment with the right angle to emphasize an object, plant or tree.
"The key is to keep it simple and don't overlight it. You have to remember that this is not like lighting for the interior of the home. In the yard, you're actually contrasting with darkness. You're not trying to eliminate it," he said.
Embedding lights
Lawrence enjoys embedding lights into the landscape, either in the ground or in stairs and other areas. It's an aesthetic and budget-saving move, he says, as embedded lights don't run the risk of getting kicked over or damaged. The customer also doesn't have to choose expensive lighting fixtures that may or may not go with their decor.
"I've found that some people just don't want to go through the process of paying more for architectural fixtures," he said.
When it comes to embedding lights, make sure the lights are built with a durable composite plastic, adds Spears, as a metal light will degrade sooner. Also pay attention to areas of moisture around them. Water seepage or condensation in embedded lights can quickly deteriorate them.
In addition, familiarize yourself with how easy or difficult it is to change the bulb.
"Some lights, if they are embedded, you are working with a seal, and it's like changing a battery on a waterproof watch. That waterproofing is only as good as your ability to effectively put that seal back into place," he said.
Lawrence also likes to work with lights embedded into pavers, which allow him to space the lights along a walkway, getting away from a somewhat heavy-handed, overly outlined look for paths.
"I like to get away from what I call a runway look. It's not an airport. It's a driveway or walkway," he said.