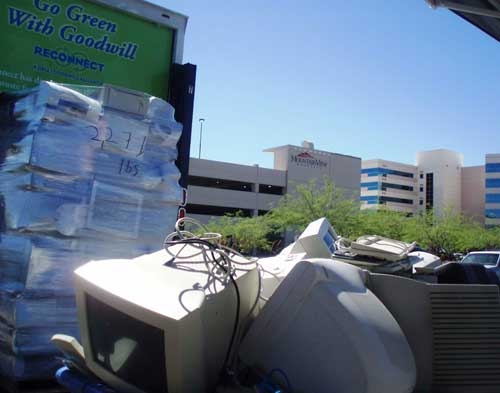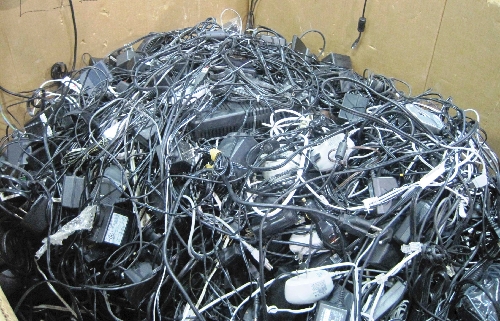 Take some time and walk around your house. You will probably find one or two cell phones stashed away in some kitchen or bedroom drawer. Then you'll realize your office is still home to that 10-year-old computer that you just can't seem to get rid of along with the even older VCR, television with rabbit ears and fax machine.
Well, President Barack Obama is aware of your situation and recently created the National Strategy for Electronics Stewardship that will, among other things, encourage and promote the burgeoning electronics recycling market.
According to a White House report, Americans generate almost 2.5 million tons of used electronics yearly, which are made from valuable resources such as precious metals and rare earth materials, as well as plastic and glass. The thing to remember is not to throw any of these items into the garbage can or into the desert on your way to Laughlin. There are better ways to dispose of them that are more ecologically sound.
Jon Guy, director of marketing and communications for Goodwill of Southern Nevada, directs people to the 34 Goodwill centers throughout the valley (centers can be found at www.sngoodwill.org) where they can donate electronic items. If a business wants to donate several computers and/or office furniture, it can call 214-2000 and Guy will send a truck.
"You could say that Goodwill is one of the original recyclers since we've been accepting goods of all kinds for years," said Guy. "These days, we're taking anything that has a microchip and that covers a wide range of items. We collect and prepare them by destroying the hard drive, and then sell the items to Dell, the large computer company. Dell recycles certain parts of what we send them and disposes the rest in an environmentally responsible way. The program is fairly new, but the response has been good because people know they can get a tax deduction to the extent the law allows."
Michael Dell, chairman and chief executive officer of Dell, which is actively involved in the stewardship, said his company has "diverted more than 150 million pounds of end-of-life electronics globally from landfills last year and we're working to meet a goal of recycling 1 billion pounds by 2014."
Another company that is involved with properly disposing of electronics is Republic Services. Joe Burkel, area president, said Republic accepts electronic products at its two recycling centers.
"Our two main recycling centers for electronics are at 333 W. Gowan Road at Cheyenne in North Las Vegas and at 560 Cape Horn Drive in Henderson," he said. "I would advise that people call 735-5151 for hours of operation or visit our website at www.republicservices
vegas.com. It offers a wealth of information on what can be recycled and the best way to dispose of such items."
To augment its goal of establishing more avenues toward recycling, Republic Services recently acquired Evergreen Recycling, Clark County's largest independent commercial, industrial and construction recycler. It provides commercial recycling services to all sectors of the local economy, along with construction waste management services for hundreds of local development projects including Leadership in Energy and Environmental Design-certified projects that emphasize material resource conservation and recycling in their specifications.
But it seems the biggest single item to recycle is the cell phone. Here's a suggestion: If multiple cell phones is your weakness, keep your favorite and donate the others to Cell Phones for Soldiers, a nonprofit company that accepts all types of cell phones and turns them into minutes of prepaid calling cards for U.S. troops stationed overseas.
"Americans replace an estimated 130 million cell phones each year with the majority of them either discarded or stuffed in a drawer," said Mike Newman, vice president of ReCellular, the company that recycles the phones. "We are accepting all make, model and condition of cell phones, chargers, batteries, accessories, BlackBerry PDAs and pagers."
Through a network of more than 3,000 collection sites across the country, Cell Phones for Soldiers has been collecting around 50,000 cell phones each month. Each donated phone provides an hour of talk time to soldiers abroad.
For more information, call 800-426-1031 or www.cellphonesforsoldiers@
recellular.com. The website lists an address where the phones can be mailed, along with official drop-off sites. The website also gives the tools (cell phone data eraser) needed to remove personal information like contact names and phone numbers from the old cell phone.