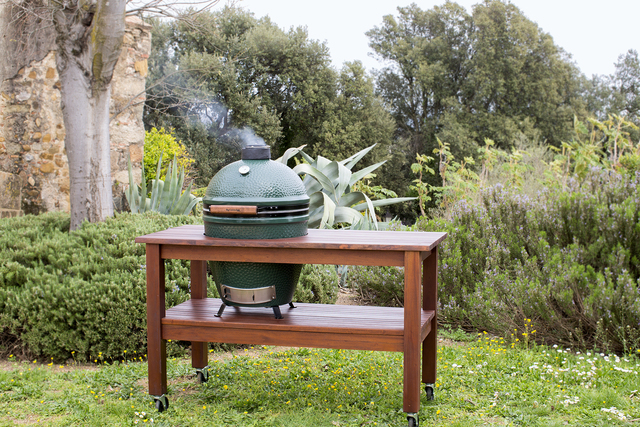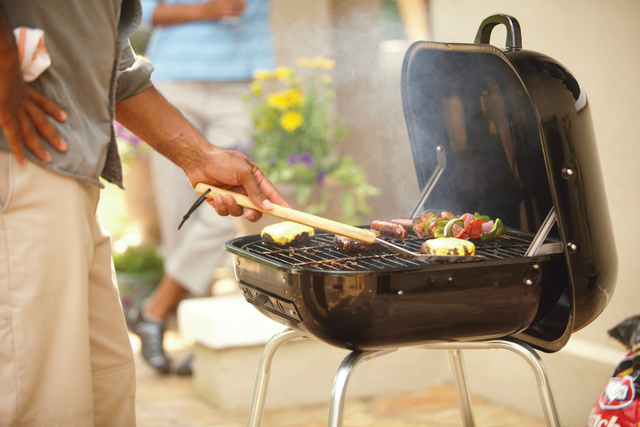 It wasn't that long ago a barbecue was a barbecue grill. Buy one for less than it costs to buy a steak at a Strip restaurant, along with a $2 bag of charcoal briquettes, and everything is perfect. Grill away.
But that was then and this is now and now isn't just a small grill with a bag of briquettes. Now is an egg.
This new-found grill is a ceramic piece of cooking that looks like, well, an egg. In fact, the most popular model is called the Big Green Egg.
A modern version of the Japanese kamado earthenware cooking urn, the egg provides better heat insulation because the air-tight ceramic cooking chamber retains heat and keeps food moist. A sealed fire box uses natural lump charcoal (or propane gas) and a draft door controls the amount of air entering the fire box.
The egg is very 2014.
Joe Clauson, sales associate at Ace Hardware on West Lone Mountain Road, said the egg is a sealed barbecue grill that cooks like a pressure cooker.
"Many people like it because it keeps more flavor in," he said. "Once the steaks or chicken or whatever you're grilling is placed on the grill, the top comes down and a large gasket around the middle seals the grill shut. So instead of meat juices dropping down, they stay within the meat. It's a new way of grilling and the egg is gaining quite a following."
Clauson sells all types of grills throughout the year because they're reliable, everyone loves barbecuing and the finished product tastes so good. Another reason is that grilling can be done throughout the year, especially in Southern Nevada. He said charcoal briquette grills are still popular with customers because they give the meat or fish a more distinctive taste by using hickory or mesquite-flavored wood briquettes.
"I prefer grills that use briquettes, but propane gas grills are the most popular because they can be converted to the natural gas line in your home via a converter kit," he said. "Other popular grills are electric. They're perfect for apartments or condominium patios because they're safe. Just plug the grill into an outlet and barbecue away."
According to Marc McAllister at Proficient Patios and Backyard Designs, his customers want more than a barbecue — they want an outdoor kitchen.
"An outdoor kitchen is a smart investment that adds to the value of a home," he said. "We can start by designing a barbecue on a stainless steel cart with a set of doors for storage. That would be the basic setup. We can become more elaborate by adding a refrigerator, pizza oven, outdoor bar center, a place for a keg, and there are more than 20 other items including ice chest and side burners.
"Depending on what the customer is imagining, the outdoor kitchen can start at $3,000 and move up from there, meaning hot tub, flat-screen television, fireplace with electronic ignition, and outdoor furniture. The surprising thing is, much of this can be done in a modest backyard."
McAllister has grills that start at 24 inches and go to 54 inches meaning 24 to 54 inches wide by 21 to 29 inches deep. Some have both gas and charcoal capability that can be utilized with the use of an insert.
No grill is complete without the proper tools and accessories. McAllister identifies items such as tongs and spatula, mitts, jalapeno holders, fish grilling basket, brushes, rib racks, marinade injector, potato rack holder, food tents and solid wire cleaning brushes to scrape the grill at the end of the delicious meal.
But what's really new in outdoor barbecuing? Becky Cypher, sales and operations manager at Allied Charcoal &Wood Products on North Nellis Boulevard, said smoking has become the rage and has grown to become quite popular over the past four years.
"I believe there are several reasons for this growth which has become especially popular among men," she said. "It starts with all the food shows on television that let us know we don't need any fancy qualifications to smoke. You just need a smoker and smoking woods.
"We carry over a dozen smoking woods such as pecan, cherry, alder wood, apple, hickory, and oak. They come as chips or chunks that are the size of golf balls or baseballs. We also sell 16-inch split logs that we can cut in half."
Cypher suggests using a small flat, cast iron rectangular box with holes in them for the smoking process.
"Just soak the chips in the box and begin the smoking process," she said. "You can also put the box on top of a gas grill or on top of briquettes to impart wood flavors. Some just take dampened wood chips and wrap them in tin foil pierced with a few holes. It's so easy. I'm learning customers are smoking everything from the traditional ribs, beef, chicken and fish to vegetables, cheese, bacon and even pizza."
So what is barbecue? The cooking of meat over fire is the most ancient cooking technique. Barbecue pits have been found at sites dating 25,000 B.C. with the first record of open-pit barbecuing occurring in ancient Greece around 1600 B.C.
According to the National Barbecue Association, the word "barbecue" comes from Spanish and Haitian meaning "a latticework of sticks." Native Americans were barbecuing wild game, fish and fowl during the early years of the founding of the country. Ingredients indigenous to America at that time, chilies and tomatoes, remain the core for any proper barbecue sauce.
Even everyone's favorite American, George Washington, wrote in his diary that he attended a barbecue in Virginia in 1769.
Three final key components for a successful barbecue: no presoaked briquettes as residues from these coals impart a bitter taste; use good meat; and barbecue on a low temperature. Remember that barbecue is low and slow; grilling is high heat and fast.