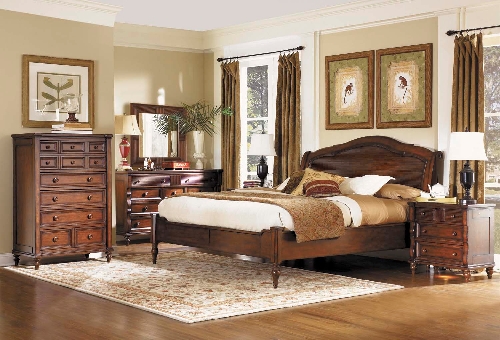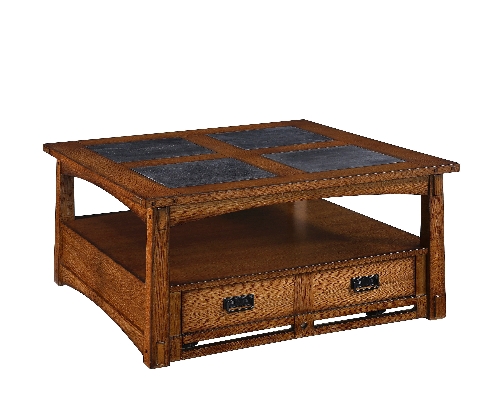 Aspenhome is taking homeowners on a journey across the nation through its new American Traveler series.
Just as foods and customs vary across the nation, the furniture collections in the series reflect the unique characteristics that give each region its charm. They also reflect how, as a nation, we have traveled to different cities and adapted our lifestyles to various regions.
"The idea behind American Traveler was to make a series of collections tailored to the specific regions that were familiar," said Jena Hall, vice president of merchandising and design for aspenhome. "Maybe it's part of having gone through a pretty tough recession, but we've moved around a lot in the past few years and locality is becoming one of the major trends. People want things that feel comfortable and fit within their own environment or reminds them of where they came from."
The series debuted at the recent winter trade show for the home-furnishings industry at World Market Center. It launched with three collections: Bungalow Baby, Cross Country and Sapphire Bay.
Cross County is an urban rustic group with modern inspiration that fits in as easily with a lodge or cabin look as it does in city or coastal locales.
"Cross Country has the broadest appeal," Hall said. "It fits a niche or Western market, but is also equally at home by the lake house in Wisconsin or an urban loft in Philadelphia."
The group offers beds, including twin and full-size beds; dining tables, including a counter-height option; home office; entertainment units; and occasional pieces.
The eco-friendly collection combines mango veneers along with sustainable Asian hardwoods. The wood features a clean, saddle-brown finish that enhances the veneer and brings out the patterns in the grain.
Bungalow Baby, which has its roots in the arts and crafts movement, is equally at home in big cities such as New York, the Midwest or the Pacific Northwest. It adapts to its location through accessories, Hall said.
The collection sports the hand-hewn look of the original movement, but with modern touches. Legs that taper down small to wide, notched feet and stylized peg holes add authenticity. Hall said it's contemporary but its roots are very traditional.
A warm golden brown finish highlights the straight oak veneers and hardwood solids used to create pieces for the collection. Pieces for the bedroom, dining room and home office are available.
Coastal influences highlight the Sapphire Bay collection. Originally known as British Travel, this collection has been revamped and scaled down for today's smaller vacation homes, retirement homes and second-home condos and townhouses.
Hall said the collection's roots are in British or Georgian English furniture that evolved during the campaign periods in different parts of the world. While colonizing tropical island locals materials for ornamentation, specifically metals, were not available so furniture designers worked with area craftsmen to develop style through carving.
Carved legs and pilasters, high legs and reeded accents with a rich plantation finish on birch veneers and solids highlight the collection. It mixes easily with wicker accents, which enhance the island feel. Pieces for the bedroom, dining room, home office, entertainment and occasional tables are offered.
Hall said she believes the series was necessary because of the differences in architecture across the nation.
"It's definitely different in New England, Boston and, to some degree, New York. Atlantic Coast homes are much smaller and most homes from the Midwest eastward have lower ceilings than homes out West," she said. "When you have lower ceilings, the furniture has to look and feel shorter and be smaller in scale. Something that looks good in Boston would look silly in Las Vegas just because of the scale."
Historically, furniture design has always been driven by a location's architecture and environment, she said.
"Socio-economic and environmental conditions created architecture that worked for that environment. The same factors in the environment played a part in the furniture that went in there. Furniture fits the needs."
As a manufacturer that creates furniture that is sold nationwide, Hall said it's hard to design pieces that fit all lifestyles and all climates. Those that do are very generic and less pertinent to the location, which is why they developed American Traveler.
Additionally, to offer the "you are there" feeling, aspenhome developed an interactive Internet campaign that can help with the style selection process. At www.aspenhome.net/traveler, a map of the United States allows you visit various cities and see how the collection fits that area's lifestyle via postcard-like quips from some travelers.
Plans call for the series to grow, adding collections styled after other regions across the country. In fact, Hall said they are already working on additional collections.
As with all furniture designed by aspenhome, the pieces within the series have "ah" features such as hidden night lights, concealed outlets, cedar- and velvet-lined drawers, extra-deep storage drawers, hidden side storage, pullout shelves and three-way touch light on shelves and in display areas.
Aspenhome furniture is available at several area retailers. For more information and a store locator, visit www.aspenhome.net.