UNLV Solar Decathlon team project sustains green effort
October 30, 2013 - 12:40 pm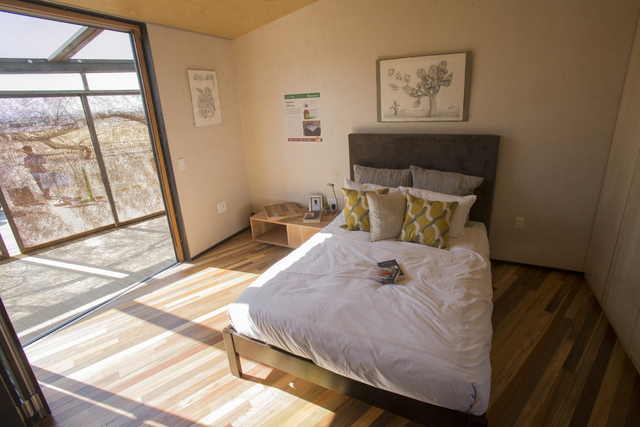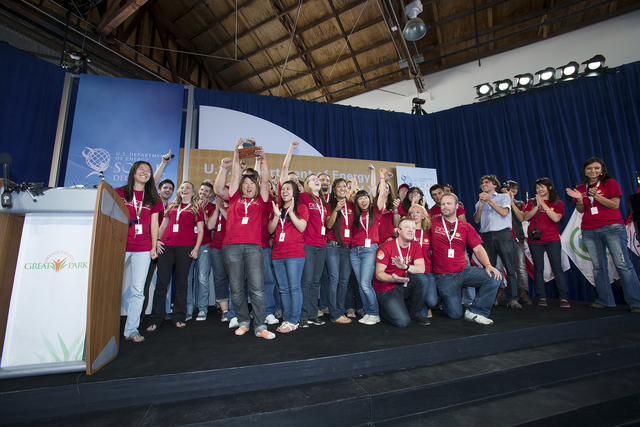 Here's a riddle for you: What is beautiful, totally green and red all over? The answer: Desert Sol, of course! Desert Sol is the name of the green home designed and built by the amazingly talented UNLV students collectively known as Team Las Vegas.
They recently completed the Department of Energy's prestigious Solar Decathlon competition in Irvine, Calif. Students from colleges and universities across the globe can work years just to earn the privilege to compete in what is essentially the Olympics of home design.
Having our home team in such an event was quite an honor as only 20 teams are selected to participate. In that sense, every team in the Solar Decathlon is already a winner.
The task confronting Team Las Vegas was daunting, and the competition formidable. As a first-time entry, the team faced incredible odds.
In case you haven't yet heard the news, Desert Sol was a huge success, taking second place overall. Team Las Vegas was the only U.S. team to place in the top three! Major kudos to the students and everyone else involved, including faculty, staff, advisers and sponsors. They achieved something remarkable that will have a lasting, beneficial effect on our community. In addition, they have earned well-deserved international recognition, spotlighting UNLV's strength in engineering, architecture, renewable energy and commitment to sustainability.
There are actually 10 contests in the Solar Decathlon: architecture, market appeal, engineering, communications, affordability, comfort zone, hot water, appliances, home entertainment and energy balance.
Team Las Vegas took top honors for market appeal, in which the jury considered livability, marketability and buildability as key factors. It also tied for first place in the hot water contest. Every team achieved a perfect score for energy balance.
In communications, Desert Sol placed second. Once you visit their excellent website at www.solardecathlon.unlv.edu you'll understand why.
In other contests, the team ranked third in engineering, fourth in comfort zone, fifth in architecture and seventh in home entertainment.
Details on the entire competition, including teams, scores and other information, can be found at www.solardecathlon.gov.
There is a certain synchronicity in the timing of UNLV's success in the Solar Decathlon since it has been about 10 years since the green building movement in Nevada really began. Ten years ago, green buildings were mostly unheard of in our state. The U.S. Green Building Council — Nevada Chapter, now a well-established and effective organization, was just forming.
Las Vegas is now the home of the largest green building projects in the world, and Nevada has been among the top states in Leadership in Energy and Environmental Design-certified green building in recent years. Several chapter members volunteered time and expertise to help with the development of Desert Sol, which achieved the LEED-Platinum rating (the highest possible).
UNLV's work with renewable energy goes back much further, but 10 years ago marked the formation of Solar NV, the Southern Nevada Chapter of the American Solar Energy Society. At its recent Leadership Awards banquet, Solar NV awarded Team Las Vegas with a generous donation to help its effort. Solar NV recently held its ninth annual Solar Home Tour that educates the public about the same principles that made Desert Sol a success.
Now, Desert Sol returns to Las Vegas. It will be reassembled on a permanent site at the Springs Preserve, joining the facility's seven other LEED-Platinum buildings. It will continue to benefit the community, serving as an educational exhibit where thousands of visitors will learn about affordable, comfortable and environmentally responsible living. Locals as well as homeowners from around the world will experience the benefits of a world-class green home as part of one of the finest examples of sustainable living on the planet.
Team Las Vegas has shown the world that Nevadans are serious about sustainability. We owe them our thanks. The Las Vegas community and the state of Nevada have come a long way in 10 years. What a difference one decade, and one decathlon, can make.
Steve Rypka is a green living consultant and president of GreenDream Enterprises, a company committed to helping people live lighter on the planet. For more information and links to additional resources relating to this column, or to reach Rypka, visit www.greendream.biz.