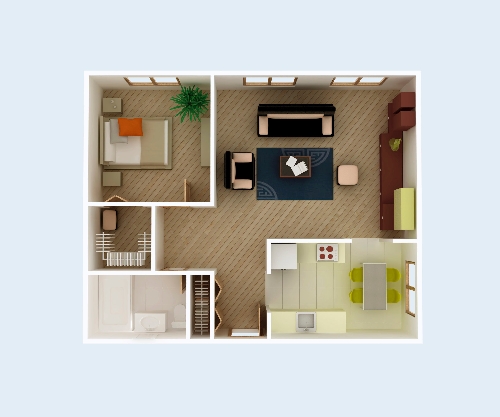 DEAR DESIGNER: I am buying new furniture for my living room and I want it to fit on the first try. I plan to make paper cutouts of the various furniture pieces I want in my room. I'll set them around the room to be sure it will all fit. I don't know how deep the couch should be or how far the coffee table is supposed to sit from the couch. Are there rules about these things? – Tonya
DEAR TONYA: Considering my mantra, "Plan ahead when buying furniture or redecorating a room," it makes me smile to hear you are taking the time to make templates of your proposed furniture before you purchase it. By making paper templates of your furniture, you are eliminating the need for a scaled floor plan (a drawing of your room with furniture, scaled at ¼ inch equals 1 foot).
The depth of your sofa depends on how tall you are and the purpose/use of your sofa. If you are short, the depth won't need to be as deep unless you are using it primarily to entertain.
If you are hoping to make a diverse number of guests comfortable, don't go less than 36 inches deep. For entertaining, it's better to purchase a deeper sofa and have some throw pillows around for your shorter visitors.
The best way to determine the correct depth of a sofa is to simply sit in one. If your feet come off the floor, the depth is too deep. If your feet are on the floor and your knees are bent up to your chest, the depth is too shallow. There are many levels of comfort between the two extremes.
If you find a sofa that sits well for you and you write down the depth, this doesn't always translate into the perfect depth for another sofa. Each sofa is made differently and the "sit" of the sofa will depend on factors that include how the back is constructed. If the sofa has a firm upholstered back, it will sit differently than a back made out of down-filled pillows. So, if you are placing a custom order, be sure the sofa you sit in is similar to the one you order.
If you are setting up a conversation area for five to six people, the seating area should be arranged to fit within a 10 foot space for easy dialogue. Considering the size of your room, you may find it necessary to add a console, card table or yet another small conversation area.
The standard distance to place your coffee table from your sofa is 18-24 inches. When setting the coffee table in the center of the conversation area, try to measure the distance with an occasional chair that might be sitting perpendicular to the sofa. If the chair is wide, the coffee table can sit further from the sofa than if the chair is narrow. And be sure your coffee table isn't sitting so far out into the room that people will bump into it when passing.
Also in the realm of acceptable standards, be sure your end tables don't stick out past the arm of your sofa. And know the arm height of your sofa when you select your end tables. If the armrests on your sofa are low, you'll want lower end tables. If the arm rests are tall, taller end tables look better and are easier to use.
Be sure plenty of space is left open for traffic flow. It's not necessary to have a lot of space between the sofa and coffee table for passing guests, but for entering and leaving the conversation area, there ought to be at least 3 to 5 feet of clear space.
Although there are set standards for most floor plans, it really boils down to how you are going to use your individual space. Consider safety first and be sure to plan in a lot of free space for egress. After that, move your paper templates around and walk around them to see how it feels. You are off to a great start.
Cindy Payne is a certified interior designer with more than 25 years of experience, a member of the American Society of Interior Designers, as well as a licensed contractor. Email questions to her at deardesigner@
projectdesigninteriors.com or send them to her at Project Design Interiors, 2620 S. Maryland Parkway, Suite 189, Las Vegas, NV 89109. She can be reached online at www.projectdesigninteriors.com.