Vintage handbags can sell for thousands of dollars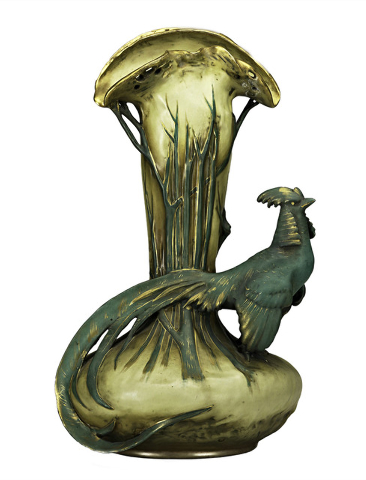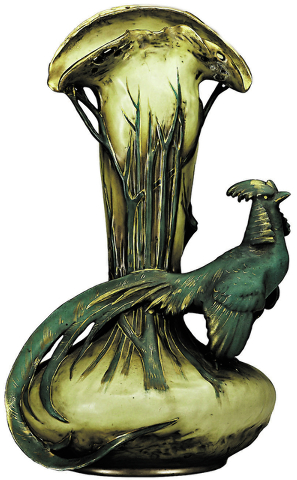 Want a conversation piece for your living room? Look for a piece of Amphora pottery from Bohemia.
Several potteries in Turn-Teplitz, Bohemia, around the turn of the 20th-century made large vases in the Art Nouveau style. Statue-like women in flowing dresses climbed the side of a tall vase. Or a mysterious, exotic vine with large blossoms crept up to the top.
Early pieces were made by Eduard Stellmacher and are marked with variations of the factory name, Reisner, Stellmacher &Kessel, or with RStK, Amphora, Royal Amphora or an eagle. They also may be marked "Austria" if they were made before 1918, then "Czechoslovakia" until 1945, when the factory closed.
The most popular Amphora vases are large, at least 15 inches high and strikingly unusual. They are not at all like modern vases and many people do not like them, but today's decorators like a unique piece to add interest to a room. Prices at shops can go from $100 for a small piece to $6,000 for a large one, but sometimes you can find a bargain at an estate sale.
Q: I have a few top-quality handbags and wonder what they're worth. One is a Chanel that's covered in little suede patches. Others are by Bottega Veneta, Pierre Cardin and Fendi.
A: The prices of high-quality vintage handbags can be quite high — into the thousands. Many national auction houses include handbags in their vintage couture sales.
If your bags are in excellent condition, don't sell them on your own until you consult a reputable auction house. You may get a lot more for them if they are sold by an auction house that advertises widely, sells on land and online, and attracts a lot of interested bidders.
Q: My large, two-part, floor-standing spool cabinet has the words "The Leonard Silk Co." and "Warehouse Point" on the side panels. It has two rows of seven glass-front drawers above two stacks of four drawers. And it still has some of the removable pegs that held spools of thread. What is its age and value?
A: Leonard Silk Co. was a manufacturer of thread based in Warehouse Point, Conn. It started out as J.N. Leonard &Co. in the 1860s and became the John N. Leonard Silk Co. in 1891.
In 1869 John Leonard invented a revolving display cabinet with wire rods to hold spools. He made spool labels with "ornamentally perforated" holes so they could fit over the rods and leave the printed labels intact. Leonard sold his interest in the company in about 1909 and its name was changed to Warehouse Point Silk Co. Spool cabinets were used by salesmen and dry goods stores to display spools of thread.
Your spool cabinet was made between 1891 and 1909. Because your spool cabinet is so large, it's worth $1,000 to $2,000.
Q: I inherited close to 100 limited edition collector plates when my parents died. The plates were made by several manufacturers. Most of them are in their original shipping boxes with their original paperwork. Who is buying these plates nowadays? How can I sell them?
A: Collector plates made in limited numbers were a huge collecting niche in the 1970s and '80s. We look back today and consider them a fad — because most of the plates are now worth less than half their original "issue" prices. Many would sell for just a few dollars, if they can be sold at all.
The earliest collector plates were Christmas plates made in 1895 by Bing &Grondahl. These and other early plates still sell for good prices. So while it may be daunting to open every box, you should. Check the issue date, maker and design of all the plates. Don't worry about what your parents paid. You can find current selling prices online.
Then either try selling the plates online, as small groups or single plates. It's unlikely a dealer anywhere would offer to buy all of the plates, but you could ask. Or you might consider donating the plates to a charity auction.
Terry Kovel's column is syndicated by King Features. Write to: Kovels, (Las Vegas Review-Journal), King Features Syndicate, 300 W. 57th St., New York, NY 10019.