Imaginative 'LittleBigPlanet' shows creative genius
October 26, 2008 - 9:00 pm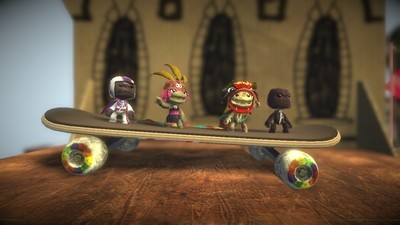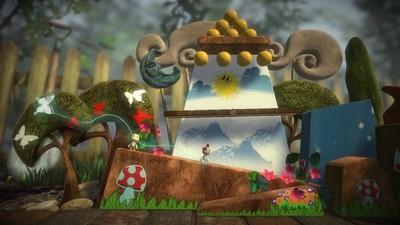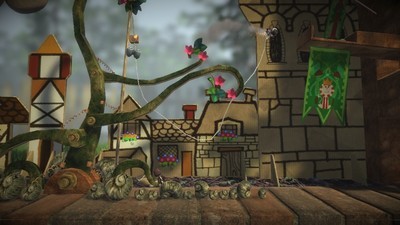 The first time I played "LittleBigPlanet," I got the same feeling I had when I first saw "Beetle Juice," "Amelie" and "Pushing Daisies." With each of those, I thought: Wow, this is truly fresh — a fantasy artwork that looks like it's for kids, but adults will eat it up.
You play as "Sackboy" or "Sackgirl," a tiny boy or tiny girl made of sackcloth. They resemble the gingerbread man. You run left to right, or right to left, in jungles and towns, jumping over hot coals, swinging on vines, and sometimes riding the backs of creatures.
Those platform-game actions are well-crafted. But what distinguishes "LittleBigPlanet" is creative genius. I mentioned "Beetle Juice" a moment ago, but "LittleBigPlanet" is actually more of a visual descendent of Burton's "A Nightmare Before Christmas."
The sets are comprised of two-dimensional illustrations. Each set piece appears as if it had been drawn on cardboard, then cut out and placed in the game. Stars appear as if they were a kindergartner's thoughts. Cougars are flat, wooden toys on wheels and with eyes full of life.
You run up hills that are constructed of nothing more than the flat sides of cardboard, literally; you can see coffee cup stains on these cardboard hills, sometimes. This is the new art, an extension of "found art" and "street art" that fetches $20,000 per "canvas" in New York galleries.
In another nod to street art, a constant goal here is to collect and create graffitilike stickers to tag onto the game's cardboard walls and shapes.
Levels are thickets. In a jungle, you make your way past snapping alligators that are wooden toys come to life. At times, a Monty Python-inspired boot tries to stomp you from the heavens.
If this sounds purposely cute, it is. But it's not cloying. It probably will arrest the development of both hard-core and casual gamers, young and old, while impressing most artists who take a peek.
As a game, it is not quite addictive. There is a slight sameness to the action. But it is fun; the mischievous music score is spectacular; and I find myself playing onward, just to see what comes next. Perhaps most promising, it is a great multiplayer game. Up to four people can compete, both online and offline.
You also can use the game's level-design tools to design your own little playable worlds, then upload them for others to play. That is remarkable.
If you play the game, consider how it fits in with adults' booming culture of childlike entertainment. Our movies and broadcast TV shows get sillier. Celebrities are considered heroes, and "Guitar Hero" is a national obsession. We drink too much Coke, and we're addicted to pop music from iPods.
Add to that: "LittleBigPlanet," a potential magnet for adults to dress up "Sackgirls," and race them through fairy tale lands that will make them forget overdue bills and anything else grown-up. Adult life is exciting, but as "LittleBigPlanet" attests, imagination is where the wild things are.
("LittleBigPlanet" by Sony retails for $60 for PS 3 — Plays very fun. Looks as good as games get. Challenging. Rated "E" for comic mischief, mild cartoon violence. Four stars out of four.)
Contact Doug Elfman at 702-383-0391 or e-mail him at delfman@reviewjournal. com. He also blogs at reviewjournal.com/elfman.
NEW IN STORES
"Guitar Hero: World Tour" looks and feels like other "Guitar Hero" games, but it does come with many new songs and some new features. The game retails for $60 for Xbox 360 and PS 3; $50 for Wii and PS 2 (although, guitar bundles go up to $90). It's rated "T" for lyrics and mild suggestive themes.
"Midnight Club: Los Angeles" is a sequel racing game that winds through a replica of Los Angeles that looks and feels as shiny and sprawling (but not as slow-traffic-y) as the real deal. The game retails for $60 for PS 3 and Xbox 360; $40 for PSP. It's rated "T" for mild suggestive themes, mild violence and strong lyrics.
"BioShock"finally comes to the PS 3 after making a huge splash on the Xbox 360 as a rich and detailed horror-action adventure, underwater. The game retails for $60 for PS 3. It's rated "M" for blood, gore, drug reference, intense violence, sexual themes and strong language.
— By DOUG ELFMAN