Is Henderson man's find a rare copy of the Declaration of Independence?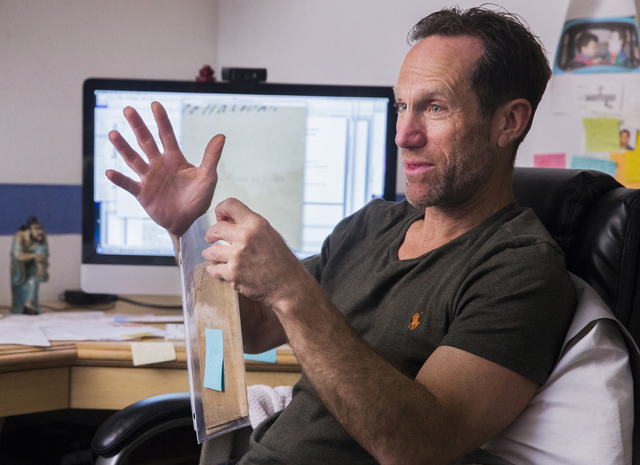 When Kevin Kostiner placed the winning bid on a few boxes of papers in an online auction, he wasn't expecting much.
He was surprised his $75 blind bid won, but he was even more surprised when he sifted through the dusty documents and discovered what may be an authentic second-generation copy of the Declaration of Independence.
"I love collecting and love treasure hunting. It's a hobby of mine," says Kostiner, a Henderson resident who works for an internet start-up.
"I've found some really cool stuff over the years," he adds, including some pieces of art that turned out to be worth way more than he had bid for them, and an 18th century German Bible. Certainly never a piece of historic Americana like this.
The four boxes Kostiner received were from the California Academy of Sciences in San Francisco. When Kostiner opened them, he found ordinary paper files — advertisements, clipped magazine articles and the like — that probably were used for research in a pre-digital age.
He also noticed a piece of creased, often-folded, slightly stained, old-looking paper. When Kostiner opened it, he recognized it as a copy of the Declaration of Independence.
That, alone, wouldn't be unusual. Every school, every library, every museum in the country probably has a replica of the declaration hanging on a bulletin board somewhere. But Kostiner, intrigued, went online and learned about the copper plate copy of the declaration that was produced during the 1830s by a Washington engraver named William Stone.
In the lower left quadrant of Kostiner's copy is an engraved notation that says, "W. J. STONE SC. WASHN." That led him to believe he had something significant.
Mark Hall-Patton, Clark County museums administrator and a consulting expert on the TV show "Pawn Stars," is no stranger to Declaration of Independence stories. He figures he has examined 35 Declarations of Independence during the past five years, every one of them brought to the Clark County Museum by people who wondered whether the weathered declaration they found in an attic or in a family Bible might be worth something.
And, in almost every case, Hall-Patton says, the document is just "a nice reproduction" and not collectible.
The original Declaration of Independence was adopted by the Continental Congress on July 4, 1776. But the declaration just about everybody saw back then wasn't the version we now think of — the fancy one with John Hancock's signature prominent in its center — but typeset versions distributed in printed broadsides.
Then, in 1820, Secretary of State John Quincy Adams commissioned Stone to make copies of the declaration — which, Hall-Patton notes, hadn't been treated particularly well in the intervening years — directly from the original document.
Over a period of three years, Stone inscribed onto a 24-by-30-inch copper plate the words and signatures of the declaration in a manner as close as possible to the original, Hall-Patton says. In 1823, the copper plate was used to create 201 first-generation copies of the declaration, he adds.
Those first-edition reproductions can be identified by the words "Engraved by W.I. STONE for the Department of State by order of J.Q. Adams Secy of State July 4, 1823" on them.
Hall-Patton says there are only about 50 known copies of that first-edition printing. Kostiner doesn't have one of those.
According to Hall-Patton, Kostiner does own a "second-generation copy from the original plate. That's what's significant about this: because it's from the original plate."
The second-edition reproductions were created sometime between 1830 and 1840. About 1,500 of those were authorized to be made, Hall-Patton says, and at least 500 actually were.
"We don't know how many of these are out there," he says.
And while those second-generation copies aren't as valuable as the first-edition copies, they're still of historical value. They're "as close as you can get to the original," Hall-Patton says.
That copper plate, by the way, is kept in the National Archives, Hall-Patton says, and even has been used to print a few more declarations over the years, including seven in 1976.
Hall-Patton says he's both pleased and surprised that Kostiner's find is real. The document is in good condition, he notes, "but it needs a lot of conservation."
When he found the declaration, Kostiner created a Kickstarter campaign to fund the creation and sale of limited-edition prints of the declaration. For every limited-edition print sold for $1,776 each, a nonlimited edition print would be made available to any school of each buyer's choosing.
That campaign ended last week with not a penny raised. Kostiner says his campaign might have been buried under numerous other Kickstarter projects, or maybe the historical significance was lost on prospective donors.
Kostiner says he's considering seeking partners to help him in the sale of limited-edition copies, but again making nonlimited edition copies available to schools.
But whatever happens, Kostiner figures that, for $75, he made "a great investment."
Even if, he adds, smiling, shipping the boxes to his home ended up costing "like 250 bucks."
Read more from John Przybys at reviewjournal.com. Contact him at jprzybys@reviewjournal.com and follow @JJPrzybys on Twitter.