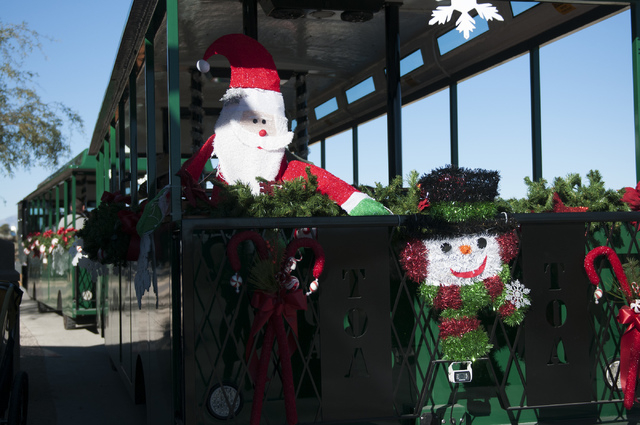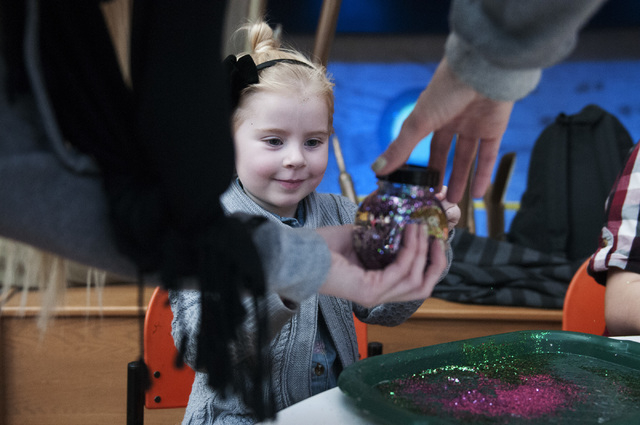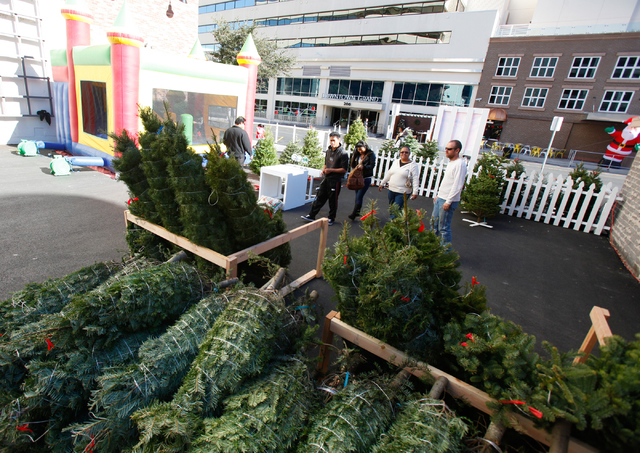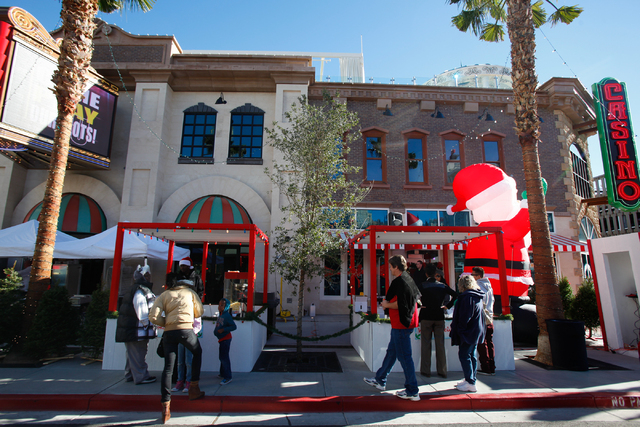 Don't look now — seriously, don't — but this weekend marks the last weekend before Christmas.
So if you've been promising the kids a holiday outing, you have less than a week to make good on your word and prevent, no doubt, massive therapy bills for your kids a decade or two hence.
But don't worry. You live in Southern Nevada, and we have all sorts of holiday activities that will make for a fine family outing.
This year, you even have one more option to consider: "Jingle Bell Block," described as "a downtown winter wonderland" and a sort of holiday block party presented by Downtown Grand Las Vegas hotel and the Downtown3rd district.
Meanwhile, just a few freeway-accessible miles away, the Springs Preserve again offers a variety of holiday activities for families, including, this year, its first-ever train rides with Santa Claus.
Jingle Bell Block is situated along Third Street, between Stewart and Ogden avenues. The attraction premiered Dec. 5 and will run through Christmas Eve.
Seth Schorr, Downtown Grand's CEO, said the premiere of Jingle Bell Block has been in the planning stages for some time. But, he said, with Downtown Grand's official opening in November, the goal is to make use of the now-private portion of Third Street "in the way of a festival and in the way of the holiday."
"We really wanted to do this as much for the locals as for hotel guests," he added, "and it just seemed like a great time of year."
Attractions include a Santa's Village, holiday-themed foods and beverages, handcrafted gifts from the Downtown3rd Farmers Market, a free bounce house for kids, holiday lighting displays and music.
Children may visit with Santa Claus through Christmas Eve from 5 to 10 p.m. Monday through Friday and from noon to 10 p.m. Saturday and Sunday. Children even may have photos taken with Santa, Schorr said, which then are automatically emailed to parents.
Other attractions include an animated snowman, Schorr said. "It's like a 3-D projection of the face of a snowman come alive, singing Christmas carols."
For serious procrastinators, parents even can pick up a last-minute tree for their home at Jingle Bell Block's Christmas tree lot, Schorr said. The lot will be open from 5 to 10 p.m. weekdays and noon to 10 p.m. Saturday and Sunday.
Admission and valet parking (off Stewart Avenue at the main Downtown Grand entrance) both are free, and Schorr said Jingle Bell Block is "all about locals." He estimates that 60 percent of attendees at the weekly Friday Downtown3rd Farmers Market are local, and he expects locals to represent a hefty portion of Jingle Bell Block visitors, too.
Schorr said it wasn't intimidating to create a new attraction that would join the Las Vegas Valley's already hefty roster of longtime holiday attractions.
Rather, he said, Jingle Bell Block is designed to add downtown Las Vegas' "own little authentic twist" to Southern Nevada's holiday calendar.
"When you walk down the street, you feel like you're in a city, whether it's New York or Chicago, as opposed to seeing Santa at the mall," Schorr says. "There's nothing wrong with that, but it's something a little more authentic, a little more urban."
Also, Schorr said, "we feel like December is a good time to focus on the local community. It's a bit of a slow time of year for tourists and a great time for us to introduce (Downtown Grand) to local Las Vegans."
Meanwhile, the Springs Preserve, 333 S. Valley View Blvd., continues its slate of holiday activities this weekend, leading up to its first-ever train rides with Santa on Monday and Tuesday.
During the 20-some minute rail excursion, Santa will read holiday stories and distribute candy canes to kids. Rides run hourly from 11 a.m. to 3 p.m. Monday and Tuesday, and will cost $3 for members and $5 for nonmembers with general admission.
A.J. Crame, Springs Preserve education assistant, said the train rides also will be available this weekend, although Santa won't be riding along until next week.
Other holiday activities on the Springs Preserve's holiday calendar this year include a display of themed snowmen created by local artists and groups, snow globe- and reindeer ornament-making classes, and story time-and-cookie decorating sessions.
Saturday , will be "Polar Express Night at the Museum," when kids can enjoy a pizza dinner and then watch a screening of the film "The Polar Express" and, perhaps, enjoy a visit from Santa. The event is open to kids ages 5 to 12 and runs from 5 to 9 p.m. Cost is $20 for members and $25 for nonmembers, and registration is required.
The Springs Preserve is open daily from 10 a.m. to 4 p.m. For more information about the Springs Preserve or its holiday events, visit www.springspreserve.org or call 702-822-7700.
Contact reporter John Przybys at jprzybys@reviewjournal.com or 702-383-0280.