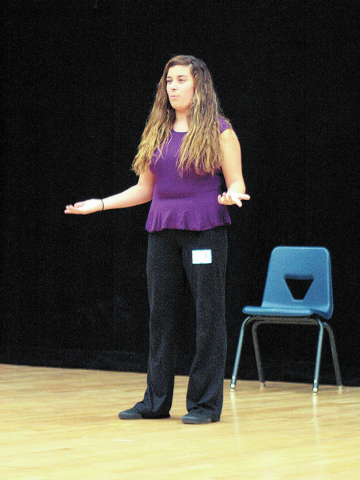 Rachel Tozzi is a multitalented dancer and actress. Onstage, she is a natural performer who clearly loves what she does.
But when she steps off the stage, something sets her apart from the rest.
Tozzi is deaf.
Tozzi was born prematurely and became deaf shortly after birth because of medical complications. To communicate, she and her parents learned home signs, a common way for deaf children to speak to hearing parents.
"(My mom's) perspective was that I could be like normal people, to be like everybody else," she says. "My dad, like my mom, was accepting of deaf culture, but he fought for my rights when it came to being deaf."
In their own ways, her parents encouraged her to try to accomplish everything in her realm of possibility, which is exactly what she continues to do daily.
Sign language was Tozzi's first language. Her teachers at the deaf program in her middle schools taught her to speak.
"They would just put my hand on their neck and hum," she says. "I would practice what the words looked like, but now I am used to it." Tozzi was overwhelmed when she was forced to speak without any assistance, "but it became an awakening and it opened my eyes to the world around me."
Motivated by the ability to feel the beat of music, she started taking dance lessons at age 5. Unfortunately, her teacher had no experience working with deaf people and Tozzi had difficulties picking up the skill. However, this did not deter her from the art. In time, she found a new teacher who was willing to work with her.
"She was energized with her body language and worked with me one on one, making sure to explain everything in great detail," Tozzi says.
She became involved in Sign Design Theatre Company, a program geared toward hearing-impaired children, at age 13. She said she's grateful to the company because it interconnected dance and acting instruction with sign language. In the theater world, she's inspired by Marlee Matlin, a deaf Academy Award-winning actress who fought for deaf rights.
Tozzi auditioned for the Las Vegas Academy dance department the year before her freshman year.
"I wasn't like the others, because I didn't have tons of experience," she says. "I just saw how dancers moved and I mimicked them."
She was accepted and is finishing her senior year as a dance and theater major.
"I finally feel like I am at par with everybody in my education," she says. And for that, she gives credit to the school.
Tozzi recently juggled rehearsals and performances for her roles in LVA's fall play, "Women of Lockerbie," as well as "Nightmares," a Sign Design production. She plans to further her education at Gallaudet University in Washington, D.C., which is dedicated to the advancement of deaf people.
In the future, she said, she'd like to help other deaf people.
"Really, I'm going through life the hard way," Tozzi says, "and I want to be able to help others."