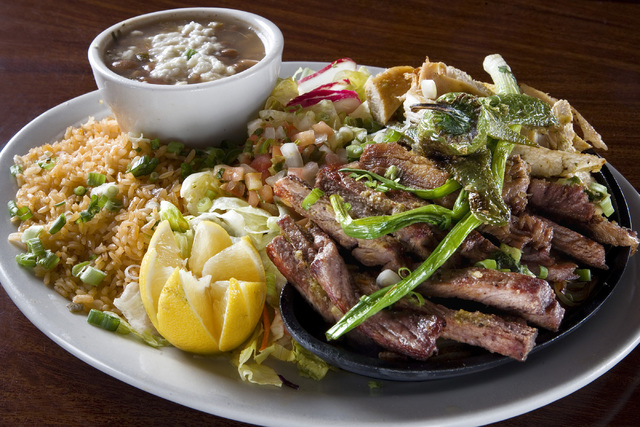 DINING OUT
VIVA MERCADO'S, 9440 W. SAHARA AVE.
Longtime restaurateur Bobby Mercado returned to the local dining fraternity Nov. 23. Mercado's first restaurant opened in 1991 near Flamingo Road and Jones Boulevard and moved to Spring Mountain Road and Rainbow Boulevard in October 2007. It closed last December, a casualty, Mercado said, of the lingering weak economy. Mercado estimates that 80 percent of his staff worked at the Spring Mountain location, and that the other 20 percent are people who had worked for him previously.
While the new location, at 170 seats, is about two-thirds the size of its predecessors, Mercado said, the menu is the same. "Everybody on Facebook told me, 'Don't you dare touch or change anything,' " he said. So far, he added, the response has been positive: "It's been great. It's like coming home."
Viva Mercado's makes 12 salsas, rated in heat from 10 to 0, one free with dinner or $2.50 for an additional serving. Brunch, lunch and dinner are served. Here's a sample from the dinner menu:
Starters: build your own quesadilla, $4.95 for plain to $10.95 for three items; cheese crisp, $4.95, or $7.95 with guacamole and sour cream; queso fundido, $4.95, or $8.95 with shrimp, pollo asado, carneda asada or chorizo; chile con queso, $5.95
Salads: shrimp ceviche, $10.95; spinach and nopales, $8.95, or $11.95 with shrimp; taco, $10.95; Coctel de Mariscos, $10.95; veggie stir-fry salad, $9.95; Firecrackers, $10.95
Entrees: combination plates with soup, rice and beans, $9.95 for one item, $12.95 for two or $14.95 for three; chile verde, $13.95; chile colorado, $13.95; mulitas, $13.95; shrimp chimichanga, $18.95; tostadas with shrimp, langostino, tilapia and avocado, $18.95; seafood chile relleno, $18.95; tacos de carnitas, $12.95; Ensenada-style fried fish tacos, $12.95; veggie burrito, $12.95; veggie fajitas, $12.95; steak picado, $17.95; barbacoa, $17.95 or $30.95 for two.
Hours are 11 a.m. to 10 p.m. Sundays through Thursdays, 11 a.m. to 11 p.m. Fridays and Saturdays. Call 702-454-8482.
FROM THE INBOX
The pastry staff at the Four Seasons, under the direction of pastry chef Jean-Luc Daul, resumed its tradition of creating a gingerbread village for the hotel's lobby this year after taking a year off because of hotel renovations.
The display is made up of 10 houses clustered around a 10-foot-tall Whoville-inspired centerpiece. The lighted houses are decorated with pine trees, mushrooms, pumpkins, reindeer, snowmen and other figures, all made of sugar. The display contains 150 pounds of powdered sugar, 100 pounds of marzipan, 45 pounds of fondant, five gallons of egg whites and undetermined amounts of sugar and chocolate and was a month in the making. It will be on display in the lobby of the hotel at 3960 Las Vegas Blvd. South through Dec. 26.
— Heidi Knapp Rinella