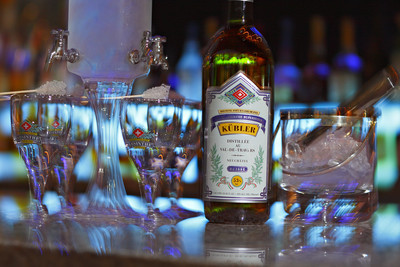 You know how Americans seem to be confronted with an ever-expanding list of things we used to find acceptable but that now are deemed hazardous to our health? Well, here's an exception: Absinthe — banned in the United States in 1912 — is back. And it's in a bar or liquor store near you.
Tom Recine, vice president of food and beverage at Luxor, said there has been a lot of interest in absinthe in the resort's Liquidity, especially after a "60 Minutes" segment on it aired Jan. 6.
"I think people are intrigued by it," Recife said.
Robert Chachere, general manager of Louis's Las Vegas at Town Square, said as soon as he heard absinthe would be available in Las Vegas, he wanted to sell it at the restaurant, which opened in November.
"I like doing things that are unique," Chachere said.
Louis's sells absinthe by the glass,
and charges $14 for it, "with the whole presentation." At Liquidity it's available only by the bottle, for $300. Bottle service also is the case at Wynn Las Vegas, said mixologist Patricia Richards.
"It's kind of a lounge-y thing," Richards said, adding that the resort's bars will serve it if demand picks up.
Wynn's Daniel Boulud Brasserie sells Lucid absinthe from France, which was approved for sale in March. But the resort's Blush and Tryst, plus Liquidity and Louis's, sell Kubler, from Switzerland, which was approved in May and was, Chachere noted, the first absinthe widely available in the United States.
And there's a good reason for that, said Chris Alvarez of Altamar Brands, the U.S. importer of Kubler: The company's legal counsel worked toward repealing the ban, and so "we had the inside track in regard to knowing this was coming in." It was introduced in Las Vegas on Halloween by Marilyn Manson at the Palms, he said. At Lee's Discount Liquor, a bottle of Kubler retails for $49.95.
Absinthe was banned in the United States because of the widespread belief that it — and particularly wormwood, a key ingredient — led to madness. But the problem, Alvarez said, was that there were no regulatory guidelines regarding the formulation of absinthe; he equates it to the crapshoot qualities of bathtub gin.
"There were people going nuts because the parts per million (of wormwood to the rest of the formula) weren't being strictly regulated," he said.
Today's government standard, Alvarez said, is no more than 10 parts per million; Kubler, he said, contains 9 parts per million.
Alvarez said there's a "lot of myth, a lot of lore" about just what it is that absinthe does to the mind, but that such effects "have not been proven.
"It gives you a sense of clarity, but there are no psychedelic effects that have been proven."
He said thujone is the chemical property of wormwood that comes out in the distilling process. It, along with anise, gives absinthe its distinctive flavor.
And much of absinthe's appeal surrounds the almost ceremonial manner in which it's properly served. While fountains of distilled water are used in clubs, the basic method is to pour 1 to 11/2 ounces of absinthe in a fluted glass and place a sugar cube suspended on a slotted spoon above the glass. Cold distilled water of about 3 to 5 parts water to absinthe — depending on individual taste — is slowly dripped onto the sugar cube and thence into the absinthe. The chemical reaction between the water and the absinthe, he said, "releases the flavor profile, opens up the drink and creates the louche," the white milky tint that's part of the mystique.
Alvarez said Kubler has been made by four generations of the same family since 1863 in Val de Travers, Switzerland, where Dr. Pierre Ordinaire first created absinthe for medicine purposes in the late 18th century. It's clear, but absinthe's nickname of "the green fairy" stemmed from the fact that some are green; Alvarez said the green color is introduced through a variation in the distilling process that can lend a bitter note, so many manufacturers of green absinthe simply add coloring.
Sales across the country, he said, have been "amazing" in each market that Kubler absinthe has been launched, but he's not kidding himself.
"I think it has a lot to do with the fact that it's been banned for (nearly) 100 years," Alvarez said. "It would be like if someone had banned chardonnay and now it's available."
Contact reporter Heidi Knapp Rinella at hrinella@reviewjournal.com or (702) 383-0474.