Make-A-Wish surprises local child with Hawaiian vacation
November 22, 2015 - 12:15 pm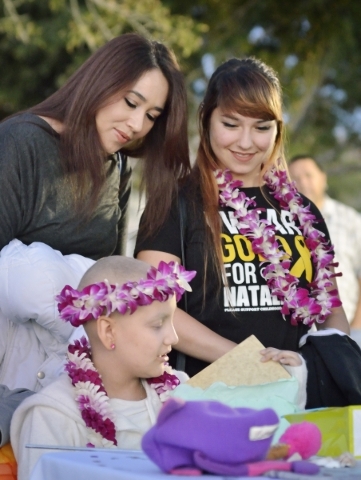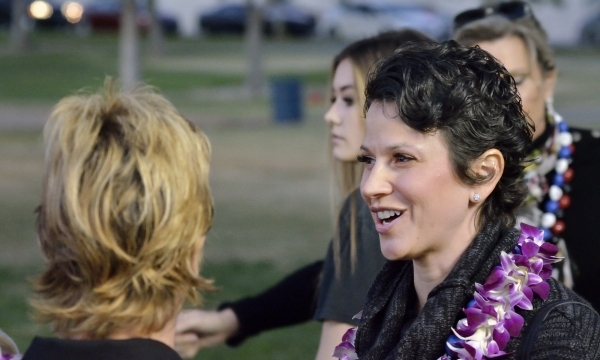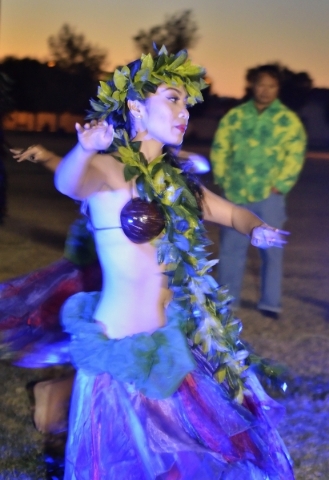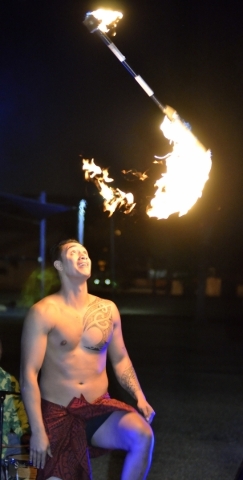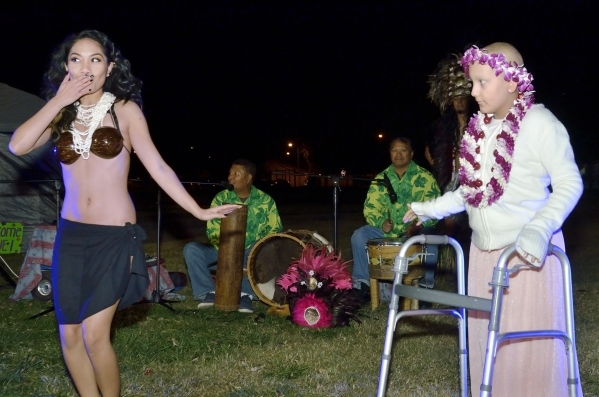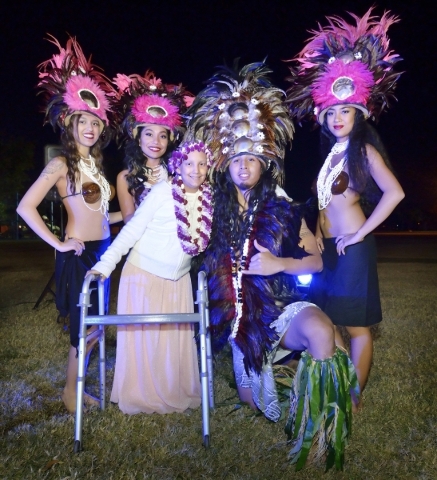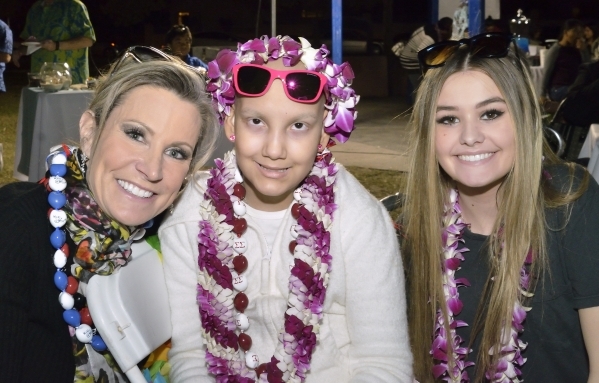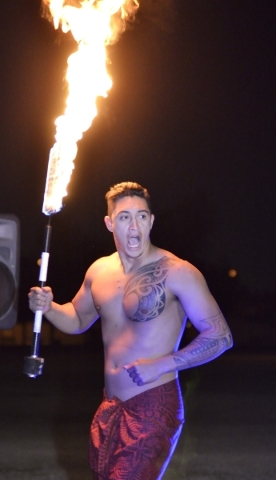 Natalia Ruiz, age 10, smiled at numerous cameras while wearing purple and white orchids.
She had been given an orchid headband and a traditional orchid lei when she entered what she thought was just a special party a week ago at Lewis Family Park near her home.
As Natalia watched a male dancer with a tall headband perform a traditional Polynesian dance, her parents, Jenny and Danny Ruiz, and brother and sister, Daniel and Elisa, were nearby … all waiting for the big announcement.
Soon, three young women in Polynesian dress came to the head of Natalia's table, each holding a colorful sign: "Natalia … Your Wish … Has Come True!" the signs proclaimed.
As friends and family gathered around, Natalia was given several gifts and learned the meaning of the signs. She had often said that if she had one wish, it would be to go with her family on a vacation to Hawaii. Courtesy of staff and volunteers with Make-A-Wish of Southern Nevada as well as generous donors who produced the luau where the wish was revealed, Natalia's family trip to Hawaii would indeed become a reality.
Natalia had told her new friends, Jackie Katz and her daughters Allie and Jules, that she had seen a commercial for Hawaii on TV and thought it was the most beautiful place she had ever seen. She imagined herself swimming in the warm, blue water and spending time with her family on white sandy beaches. And maybe in Hawaii, she said, she could also see dolphins in the ocean.
Fifth-grader Natalia has had lots of time to think and dream. She has a form of bone cancer known as osteosarcoma. She has lost a leg to the disease, and she has undergone four rounds of chemotherapy; the fifth round scheduled to start the day after the luau.
Eight months ago, Jackie and Allie Katz met Natalia and her family. Natalia's name had been given to Make-A-Wish Southern Nevada by her medical team, and as official wish granters, Jackie and Allie began the process of getting to know the Ruiz family. When Allie left for college, sister Jules, 16, took her place as a wish-granter.
"I can't imagine the pain parents must feel when they have a very sick child," said Jackie Katz, a longtime supporter of Make-A-Wish and the mother of six.
As time passed and Natalia's health hit highs and lows, the Katz women finally found a window in which a "wish reveal," a luau, could take place. They had two weeks to plan the Nov. 15 event. Jackie said her "right hand man" was Willie Salave'a, owner of Style Pacifica International. Salave'a is a native of Samoa who came to Las Vegas 10 years ago from California. His business has evolved from importing Hawaiian leis to building logo jewelry out of kukui nuts to supplying a variety of gift items to local shops.
Salave'a, his family and friends basically donated the luau food, table decorations, orchid leis and kukui nut necklaces (complete with the Make-A-Wish logo) for the reveal. Salave'a's uncle, Runi Tateaga, and members of the group Hot Lava, provided the entertainment. Salave'a said several younger family members attended the luau as a lesson in "doing good for others."
Tables and chairs were provided free of charge by Rebel Party Rentals.
President and CEO of Make-A-Wish Southern Nevada, Caroline Ciocca, noted that the local Make-A-Wish organization is growing quickly, even though the group is just 20 years old. (The national organization is 35 years old.) The Southern Nevada chapter is granting some 100 wishes a year. Some wishes are simple; others are complex and involve extensive planning. Throughout the country, wishes that result in a trip to Las Vegas also involve the Southern Nevada group, and that adds another 40 wishes per year to their calendar.
Make-A-Wish Southern Nevada has a full-time staff of 13 working with some 500 volunteers. "The work is very fulfilling," said Ciocca, who herself was a Make-A-Wish volunteer before taking on the CEO role two years ago.
"We know the impact of a wish, so we have only two guidelines: age (children are eligible from ages 2 1/2 to 18) and they must have a life-threatening illness."
"Fortunately, some of our children have treatments that are successful," Ciocca added, "so we are now having some of the first children granted wishes in Nevada coming back and asking to help bring wishes to other children."
Make-A-Wish Southern Nevada serves children in Clark, Nye, Lincoln and Esmeralda counties. Wish recommendations may come from medical personnel, family members, friends or even from the children themselves.
Ciocca said that finding people to cooperate in making wishes come true is not difficult, though perhaps time-consuming. "Make-A-Wish is a beloved and well-respected organization. When we grant wishes, we all win — the wish kid, their family, our volunteers and the community."
Natalia said she was definitely surprised when she learned her wish had been granted. The trip will be organized when family schedules allow and when Natalia's doctors say she is well enough to travel. She will not only stay in Hawaii, she and her family will be given the option of participating in special activities there. Jackie Katz even has a friend in Hawaii with a yacht, and he has volunteered a day of yachting.
Powerful medicine.