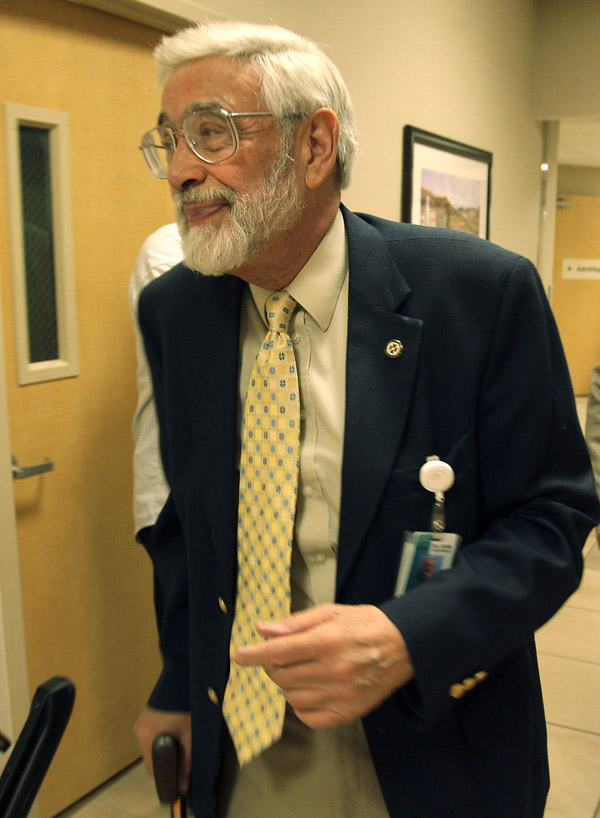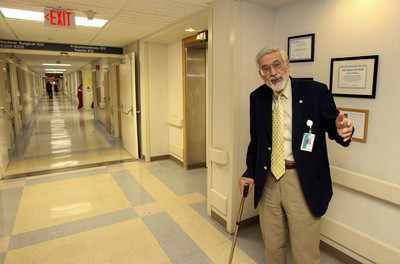 The Rev. Jerome "Jerry" Blankinship's ministry as pastoral care director of Sunrise Hospital and Medical Center revolves, in large part, around the simple but profound act of listening. And that probably explains the epiphany Blankinship experiences immediately after telling a story about a long-gone patient.
"I'm doing more talking than I usually do," Blankinship says, smiling and with, perhaps, the faintest hint of apologetic self-consciousness.
Now, Blankinship, 74, is preparing to retire after spending 32 years as pastor to the doctors, nurses, staff members and patients of Sunrise. And that means he'll be leaving one of the most diverse — and challenging — congregations in town.
Given how many hands he shakes and the fact that he "knows everybody, he's like the mayor of Sunrise," says Minta Albietz, the hospital's chief nursing officer. "It is rare to find someone who has had so much exposure to such an intense ministry and still be so positive and so gregarious."
That comfort level may come from knowing his role.
"I'm not here to threaten patients or scare patients or judge patients," Blankinship says. "I'm not here to question their religion or ask them questions: 'Do they believe this?' I'm here mostly to be a listener and to lift up the power of God's love and forgiveness."
Blankinship admits that he finds illnesses involving children particularly wrenching emotionally. And, he notes, the death of a child, a life-threatening diagnosis or a severe injury to a child can prompt parents to lash out in misplaced anger, with the chaplain as the unfortunate target.
"Parents are often so angry at God, at life, at the physicians, at whoever," he says. "I've been swung at twice and threatened with a gun once."
But, Blankinship says, "I try to remember that's part of the grieving process."
Each day, he tries to visit as many of the hospital's 21 nursing stations as possible simply to see if, and how, he can be of service.
Annette Flanagan, charge nurse in the hospital's neuromed intensive care unit, says she'll sometimes point Blankinship in the direction of patients who have asked for a chaplain or who she feels might need a chaplain. Other times, Blankinship says he finds patients who might need him by "intuition."
"Often, I'll say, 'The nurse wanted me to introduce myself to you.' That's different than saying, 'The nurse wanted me to come and talk to you.' Then, they're thinking, 'Why? Is there something we don't know?' " he says.
"Or, I'll say, 'I saw you sitting there smiling and I wanted to see a smiley face.' Or, 'I saw you sitting there crying and I was concerned. Is there anything we can do?' "
Then, with ice broken, he spends most of his time listening.
Blankinship has learned that not everything about hospital ministry is covered in seminary. Once, he recalls, "we had a patient who was very sick with AIDS, and his comfort was his rabbit. He had a pet rabbit. And he conned the nursing staff into letting him bring a rabbit into the hospital."
But, he says, "we had required that the rabbit could stay only certain hours. It wasn't a 24/7 thing. So who's gonna take the rabbit to this guy's house? Well, one of the nurses did it one night. Another night she wasn't there, so it turned to me to take this guy's rabbit home."
Then, the next morning, Blankinship dutifully went back to the house and retrieved the rabbit in time for that day's visiting hours.
"That had nothing to do with religion, but it had to do with spirituality," Blankinship explains. "It had to do with this guy's healing process."
Besides, he jokes, "it wasn't I who broke the (hospital's) policy. It was the nursing staff."
Over the years, Blankinship has become comfortable with the variety of ways in which patients, staff and families express their faith. Hospital ministry is nondenominational and interfaith, he notes, as expressed at Sunrise in the "meditation room" — not "chapel" — and the handouts there listing times for daily Islamic prayer.
"When I was hired 32 years ago by Nathan Adelson, he said he didn't want to make this St. Sunrise," Blankinship recalls.
"So that's our goal, our philosophy. This is not St. Sunrise. It's everybody's. It's God's house, (but) not in any particular faith tradition."
Blankinship also learned early on that his flock includes members of the hospital staff. "I'm privileged to work with very talented, very dedicated staff persons," he says. Working with these people is a joy."
The feeling is mutual.
"Jerry is my rudder," says Dr. Beraldo Vazquez, an internal medicine physician. "If I seem to overstep my boundaries or if I go a little beyond what I'm supposed to, I call Jerry because he tends to put me on the right track."
Albietz says Blankinship has counseled many nurses and doctors at times when their lifesaving efforts were unsuccessful. Physicians, nurses and staff members are "not always able to walk away" from stress, Blankinship notes. "I'm their pastor. Many of them don't have a pastor, some do. We're their pastors at work.
"I've officiated at about 50 weddings of staff. I've baptized staff's children. I've buried staff. This is my congregation."
A congregation of any sort was far from Blankinship's mind when he was growing up in the Los Angeles suburb of Huntington Park. "I thought of that for someone more special than I," he says.
After graduating from the University of Southern California with a degree in education — a few years later, he earned a master's in counseling and guidance there, too — Blankinship taught fifth grade in Los Angeles for a year, an experience he calls "a disaster." But, after receiving a fellowship awarded to prospective seminary students, he spent a year studying at Boston University's school of theology. Then came another 21/2 years earning a master of divinity degree.
What changed his mind about ministry? God "kept gnawing at me," Blankinship answers. "I don't know how else to say it. He just kept certain doors closed and certain doors open."
He was ordained as a Methodist minister in 1957 and served at churches in Los Angeles, San Diego and, for nine years, at University United Methodist Church in Las Vegas.
In 1975, he received a grant to teach nursing students at the University of Nevada, Reno, "how to balance the technical part of their skills with compassion and listening and caring skills."
"I took the students to Washoe Medical Center a lot, and I also moonlighted as a chaplain at Washoe Medical Center," Blankinship recalls. "I said, 'You get paid for this? Wow. This is it.' "
In 1976, Adelson and Sunrise hospital's founders "were looking for a full-time, clinically trained chaplain," Blankinship says. "I applied and, lo and behold, I was hired."
Adelson — now probably best known for the hospice that bears his name — died a year later. But, Blankinship says, "I learned a lot from him in the year he was here. He started every day with prayer. He was a devout Jew, and I still have his prayer shawl in my office."
Because being a hospital chaplain can be intense, burnout is always a risk. Blankinship has found his own ways to cope. "Praying has been very helpful," he says. "Often, I just take a walk around the facility, and just take a timeout.
"Friends. I have dear, dear friends here who've been very helpful, very supportive. And I have a pastor. I think that's one thing clergy sometimes forget: Pastors need a pastor as well."
When Blankinship retires in mid-August "he will be sorely missed," Albietz says.
Blankinship says he'll miss Sunrise, too. Hospital ministry is "all about relationships," he explains, "and when you step away from it, there is a sadness. But it's time."
Throughout the summer, Blankinship is helping his successor, Eric J. Scott, learn the ropes at Sunrise. Scott has been in hospital ministry for three years and comes to Sunrise from the University of California, Davis Medical Center.
Blankinship's is, Scott says, "a very hard pair of shoes to fill, and I'm not going to attempt to do it. I'll do the best I can to try to carry on some of the things he has built here for years, and continue to build on those."
Blankinship plans to remain in Las Vegas. "I have a daughter and a son-in-law and grandchildren who live here, so I'll be spending time with them," he says. "And Eric has been kind enough to ask me to do a little pinch-hitting for him."
Then, beyond "about 100 books on my library shelf that need to be read, I have no real plans," he says. "We'll see what goes.
"I've always had doors open for me or close, sometimes, too," Blankinship says. Now, "I'm just kind of wandering down the pathway. I want to work less and enjoy life."
Contact reporter John Przybys at jprzybys@ reviewjournal.com or 702-383-0280.