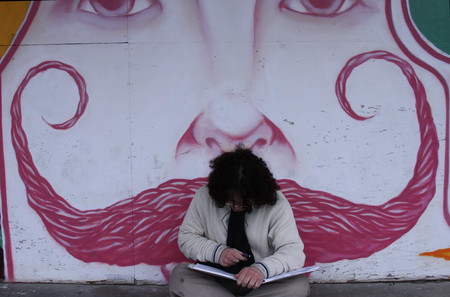 Every crisp, sporadic gesture he performs mimics a conductor's enthusiasm while onstage.
His gestures become more prominent as he explains various intricacies of music, crescendoing into a concisely climactic, "Music is simply organized sound."
Las Vegas Academy senior Daniel Valentine composes modern pieces of music to fulfill his passion for creating art. His compositions such as "Concerto 'Sinfonia' " and "Textures" have been premiered in the American String Teachers Association National Orchestra Festival and the California Summer Music Festival. Other works he has produced have been played by orchestras in New York; Las Vegas; Albuquerque, N.M.; New Orleans; Sonoma Valley in California; and London.
Valentine says the contemporary definition of modern music flows with the numerous styles and experimentations its foundation provides.
He has developed his own style of composition through exploration of other musicians' works, such as his two favorite modern composers: Olivier Messiaen and Alfred Schnittke.
In the days before his compositions, Valentine was a self-proclaimed rebellious youth with perfect pitch. As his mother desired to become a pianist all of her life, he first played the piano, cycling through numerous teachers who failed to meet his level of interest in music.
To Valentine, their lessons were a waste of time and a mundane drag through exercises designed to teach the beginnings of music.
"I found it to be boring," he says, emphasizing the last syllable with a sharp hand gesture. "I thought it was just one of their didactic activities for me."
His breakthrough came in the form of classically trained Cuban teacher George Garcia. This mentor, seeing his pupil's potential, would spur the latter's interest and talent in both composition and music theory.
With passion in his gesticulations and voice, Valentine says, "He introduced me to music, a field of art of which the expression I had not known before."
From then on, the auspicious composer went through various cycles of musical inspiration, including a period of compositions heavily influenced by Johann Sebastian Bach and other famous artists. Yet in his freshman year at the Las Vegas Academy, Valentine first encountered modern music. Immediately taken with the delicacy, playfulness and construction of the work, he was enthralled and consequently inspired to develop his own style of composition.
His pursuit of all things musical changed his outlook on life.
"It helped me look at the world differently," he says. "Creating art requires someone who is able to take the elements around his or her self and write them down on paper or manuscript or canvas and produce it in a terse manner."
Now, Valentine wants to further the art of music in any way possible. He desires to change the field of music, to give it diverse, new and fresh material to expand it. However, lofty dreams and high expectations flounder in his criteria for the future.
"Compositionally, I don't plan big," he says. "Composers who usually plan big fail. If you want to be a revolutionary, you still have to go through some of the same humility that other composers have."
Academy music technology teacher Bruce Behnke believes Valentine will compose something experimental and original.
"In the future, he will write some incredibly impressive music," Behnke says.
Valentine rarely finds a harmonious balance between the social, academic and musical aspects of his life. He focuses on one a day, neglecting other duties and obligations in order to fully fulfill his perfectionist tendencies.
At the academy, the philharmonic orchestra includes Valentine and a variety of other talented teenage music majors. One such talent is senior Linda Duan, friend and colleague of Valentine.
"He brings differences to the orchestra," she says. "He has his own little style. He looks to the future for music."
R-Jeneration