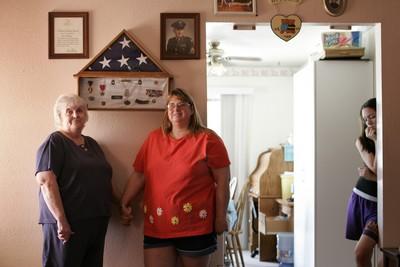 Mothers are sources of wisdom, comfort and reassurance when life gets nasty.
Sometimes, mothers can be sources of inadvertent embarrassment and uproarious hilarity, too.
In honor of Mother's Day, we asked you to tell us about the most embarrassing thing your mom ever did to you. And tell us you did.
It's interesting, though: We detected an undercurrent of love, affection and wistfulness running through many of your stories.
Often, it seems, the things Mom did that most thoroughly embarrassed us back then are the very things we look back on with fondness and amusement now.
So Happy Mother's Day. Now go out and make some new memories with Mom today.
SCHOOL LUNCH
Carrie Soules, Las Vegas
Growing up as an Army brat, my mom learned how to feed a large family on a tight budget. We were used to the way my mom cooked and liked it very much.
There was one occasion I remember vividly. I was just a little girl in about the third or fourth grade. We did not have a lot of money so we always took our lunch to school. My mom happened to be a volunteer at the same school we attended.
One day, while in the lunchroom, I proceeded to take out my sandwich and the rest of the lunch, and some of my friends asked me, "What kind of sandwich is that?" Like all proud moms are, she told them it was a tongue (cow's tongue) sandwich which, at that time, grossed everyone out.
I did not understand what the big deal was because it was my favorite and I still enjoy tongue to this day. But for a while after that, I was teased by all of my friends and very embarrassed. Needless to say, I did not take a tongue sandwich for quite some time after that.
I still am close with my mother. She lives with me now and I get to take care of her for a change.
DREAMING BIG
Debbie Ritchey, Henderson
Let me start by saying I have a … mother who worked very hard to raise four children, along with a special grandmother who passed in 2004.
Growing up in Encino, Calif., with three siblings and a single mother was very tough when almost all your classmates had on new clothes almost every day of the week.
My mother and brother, Wally, would go out one night a week across Ventura Boulevard to Encino Hills and do … drive-by trash night. My mother would always yell at me to get in (because), "you never can tell what we will find." I was always so embarrassed, I hunkered down in the back seat. …
One night my mother yelled out, "Barbies." My head shot up like a cannonball. I jumped out of the car to find Barbie treasures, clothes, shoes, hats, boots (and) dolls.
Wow. I was truly embarrassed, but from that day on I learned a valuable lesson in that blessing my mother gave to me. I love her so much. She showed me a way of life. …
My mom drove me down to sign up for beauty school in 1974. What a journey. I moved to Las Vegas. In 1999 I met the love of my life, Robert Ritchey. …
With my beautiful daughter and mother by my side, I own three salons in Henderson. My daughter manages one of them, I manage one and my mother is getting ready to open the third store in Anthem.
Yeah, we dream big, thanks to Mom.
LITTLE BLACK BOOK
Dennis Shinn, North Las Vegas
It was in 1960. I had just turned 16 on May 13th and my dear mother decided to throw a little party for me. She found my "little black book" and, along with my friends that she knew, she called a couple from the book.
It was quite a surprise when I walked into the living room to (see) my buddies and two girls that I had been dating at the same time. Until that party, they did not know of my, shall we say, double-dating them.
I started looking for a new girlfriend.
SLUMBER PARTY
Jennifer Johnston Smith, Las Vegas
The summer before my junior year in high school (1961), I was having a slumber party in my backyard. We girls had decided on the backyard because we knew all too well that anyplace where there were several cute teenage girls late at night would also be the place "where the boys are." Certainly the outdoor location would facilitate socializing much more than remaining inside the house.
Just after midnight, our plan proved its efficacy as there were a dozen or more really cool guys who had joined us. We were all enjoying Cokes and snacks and camaraderie when, suddenly, we heard the side door open. I have never seen boys move that fast, before or since, as they ran to hide behind the back fence, made of split redwood planks, which allowed a view of the backyard through the planks. We hurriedly threw blankets over two of the guys who couldn't make it to the fence and two of us sat on them.
When my mother came into view a few moments later, she had, fortunately, forgotten her glasses so she didn't notice the lumpy blankets. Unfortunately, she had come outside to visit with us in her shorty nightgown, which the bright, full moon rendered diaphanous. She sat down and talked with us for about half an hour, which seemed a lot longer, occasionally turning this way and that while conversing, which simply afforded different views of her attributes. Finally she left us, the boys came out of hiding, and I considered my options for moving far, far away to escape my abject humiliation.
I am still in touch with many of the people I went to school with in that small Texas town nearly half a century ago, and it never fails that, when we get together, someone will tell this story. My mother died several years ago, but this memory will probably live as long as my friends and I do.
FANCY DANCER
Karen Eaquinta Sharkey, Utah (formerly of Las Vegas)
My mother, Elaine Eaquinta, taught dance in Las Vegas for over 40 years (at) Elaine's School of Dance. When we were still residing in Utah as well, she performed for the Lady Elks.
There were not supposed to be any men in the audience but there were two male reporters. My beautiful mother came out onstage and did a striptease, wearing tights and leotards under her clothing. But when she got down to the nitty gritty, she wore a tea strainer for a bra that had little red lights on the ends that blinked, and her dentist, Dr. Dalpaiz, had wired a pair of false teeth that were located in a strategic place in her G-string that clapped all about as she finished up her routine.
Well, she made the front page of the newspaper and I was mortified to see my mother in such a display.
God bless her for all the joy and laughter that she brought to her immediate world.
NEW HAIRDO
Kevin Daniel, Las Vegas
Even into my late teens, I would occasionally lay my head on my mom's lap while she scratched my head. One day while waiting for some friends to come by and pick me up for a night on the town, I relaxed on the couch while Mom massaged my head for 10 or 15 minutes. I got up to answer a knock at the door, and when I opened it, my brother and sister-in-law were standing there.
My sister-in-law said, "What's that in your hair?" I reached up and could feel something, so I ran to a mirror.
While I had been relaxing, enjoying the head massage, Mom had quietly swirled my hair into small curls and clipped the curls with hair pins.
The only saving grace was that my brother and his wife came by before my friends did, but Mom always regretted that my friends were too late to see my hairdo.
DARING CAPER
Francine Stigliano, Las Vegas
I grew up in Vegas. My mom used to take glasses and ashtrays from the casinos when she went to them to use at home. If eating in a nice restaurant, she would wrap up the silverware in the linen napkins and take them, too! We had a lot of napkins at home.
But the boldest move was when we went to a pizza restaurant and she decided to take the large pizza plate home. She wrapped the tablecloth around it and put it under her shirt. (She was) very small and thin, (so) it stuck out on both sides, with the cloth hanging to her knees. She made me stand in front of her, elbows up, and we walked out.
Nobody said a word, they just stared. So embarrassing!