Owner of famous Vegas chapel started on a whim
February 12, 2016 - 1:11 pm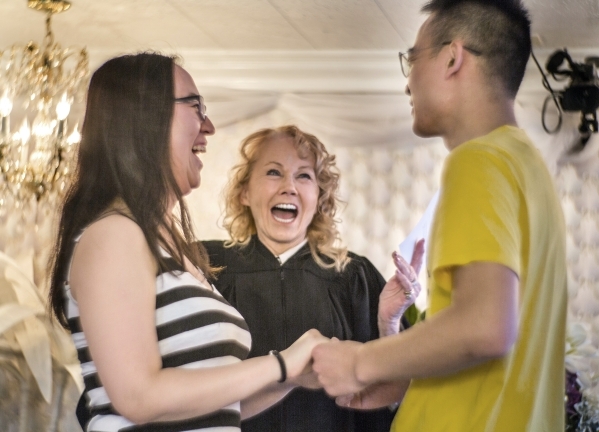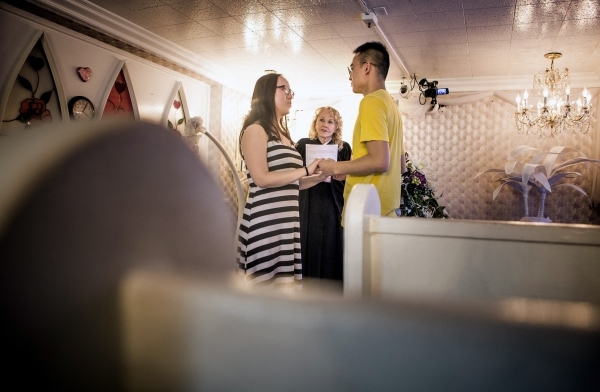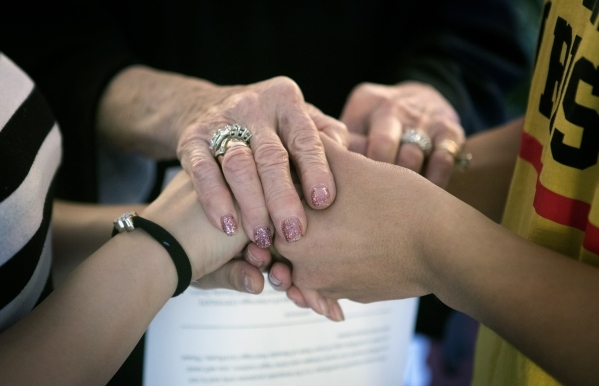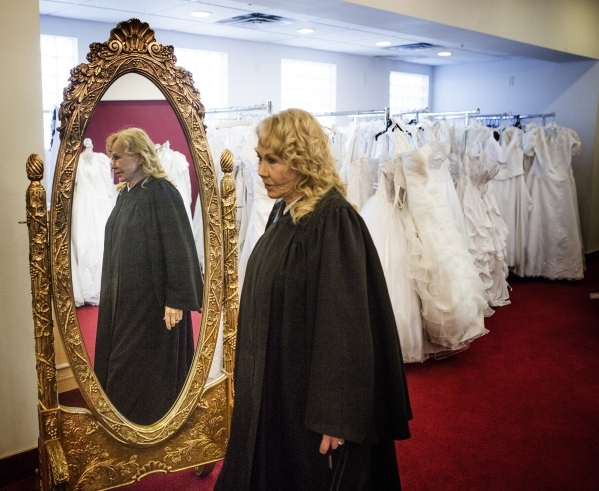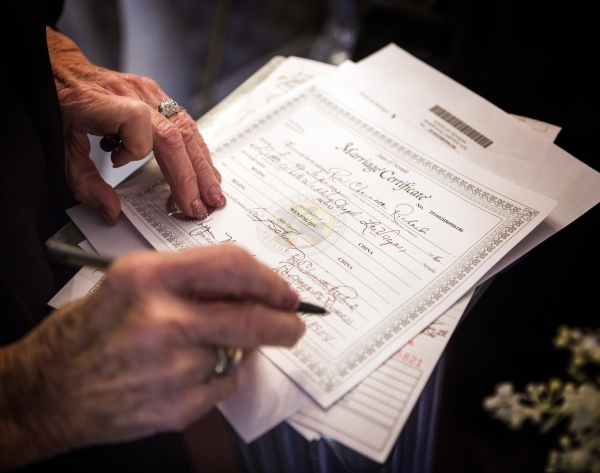 Charolette Richards has started more love stories than Nicholas Sparks.
But there's nothing fictional about the couples whose tales begin at the Little White Chapel in downtown Las Vegas.
Frank Sinatra, Judy Garland, Bruce Willis, Demi Moore, Britney Spears and Eva Longoria devote their careers to putting on a show, but they, like so many others, have come to Richards' chapel to put the seal on their real-life romances.
And when they did, they were greeted by Richards' sweet and sincere disposition.
The 81-year-old owner of the Little White Chapel turned her blue eyes to the chapel's ceiling on Monday, trying to recall some of the thousands of weddings she's ordained during her 60-year career — she lost track somewhere around 100,000.
In a storage unit across the street, those memories are kept. Every certificate since the early-1960s is saved, and at least one more would be added to her collection that day.
At 3:30 in the afternoon, Richards dressed in a black robe, prepared to perform her first nuptial of the week.
In walked a smiling man and woman from Beijing. Bradon Le and Javelin Yau traveled over 6,000 miles to 1301 Las Vegas Boulevard South to say "I do" at the famous chapel.
"Because you are very famous in China," Le exclaimed, when Richards asked why he and his future bride had chosen the Little White Chapel.
Magazines there have written about the growing chapel and its famous celebrity weddings, Yau said. "They mention here. They say 'the Little White Chapel.'"
The civil ceremony begins.
"Did they want the traditional, or did they want the Elvis," the photographer and stereo-operator asks Richards.
There was no "Hunka Hunka" for the then-soon-to-be Les, but their love burned all the same throughout the short, traditional American ceremony.
"I want you to look into each other's eyes. These are the eyes that you will look into the rest of your life. These are the eyes that will cry. These are the eyes that will laugh. These are the eyes that will wonder sometimes what to do," Richards says.
"I want to kiss her," Le interrupts. He did.
WATCHING FOR IT
At the ceremony's conclusion, Richards said of the two, "you feel it, these kids were much together."
"It" is something Richards screens for in anyone hoping to be joined in holy matrimony by her.
"We have the other kind of people, too, who make fun of marriage. — 'Let's hurry up and get this over with' — I say, 'no, no, no, we're gonna have a real, beautiful wedding.'"
Richards says she distinguishes herself by taking every wedding seriously. Joking, disrespectful behavior and being under the influence of drugs or alcohol are not permitted at her alters.
"You have to work at making things right," she said of her secret to success. "There are ministers, and then there's ministers."
"If I'm here, and they kind of get a little off the wall, I say, 'just a minute, we have to wait,' and we have to start over again. You see, this is a sacred moment, not a funny moment."
Having seen it all, Richards and her staff are ready for Sunday's holiday rush.
Hundreds of couples are expected to say "I do" on Valentine's Day during the 24 hours Richards' five chapels and drive through window, aptly named the "tunnel of love," will be operating.
FROM HUMBLE BEGINNINGS
"Let me say, I never dreamed that it would be like this."
"I was abandoned here … with three little kids." Richards, from Eugene, Oregon, said. "But, here I am. For some reason, something had happened, and I stayed here. I don't regret one moment."
Introduced to the wedding business in 1958 — at 21 years old — at the Little Church of the West inside the Last Frontier hotel, Richards explained, "I started when I was a little girl."
A few years later, the Little White Chapel went up for auction. "I didn't think I'd get it," she said with a laugh.
"I bid the highest with no money."
She won with a $300,000 bid, which she secured with a $50,000 down payment borrowed from a friend.
To pay her friend and the remaining $250,000 bill, Richards says she never left.
"I used to live here, eat here, sleep here. I was the only one who did the weddings, and it was 24 hours a day."
THE START OF SOMETHING BIG
Richards went from sleeping in a modest studio inside her business to being flown all over the world for her services.
She's traveled to London and Paris to perform hundreds of weddings and vow renewals. "Some of them were people that were married here in the past, and it was just awesome."
But her claim to fame is her creation of the Elvis-themed wedding.
"I believe I am. As a matter of fact, I'm quite sure I am," Richards said, when asked if she came up with the iconic Las Vegas craze. Although, now the ideas become "the old hat."
Finding just the right person to impersonate the "King of Rock and Roll" was no small task.
"I had the stinky Elvis. I had the fat Elvis. I had the old Elvis. I had the tall Elvis. And then I had one that stayed with me for a long, long time."
That innovation would bring her world-wide recognition and more celebrity clients. Her all-time favorite wedding, she said, was Bruce Willis and Demi Moore.
"I did not know who they were," she admitted of her first encounter with the stars.
"When I pronounced them 'husband and wife,' they were crying during the ceremony, and I don't remember anything that I said, but, when I said, 'I now pronounce you husband and wife,' he raised her up in the air, and then he slid her down on his face to meet her face."
"It was like a movie."
With all of the glitz and glamour surrounding Richards' little white chapel, her own life is much like a movie — just not a romance movie.
Richards says she chose religion over romance two decades ago, and later opened up one of her chapels to accommodate a Sunday morning church service.
"I dedicated my life to God," she said.
Contact Kimberly De La Cruz at kdelacruz@reviewjournal.com or 702-383-0381. Find her on Twitter:@KimberlyinLV.