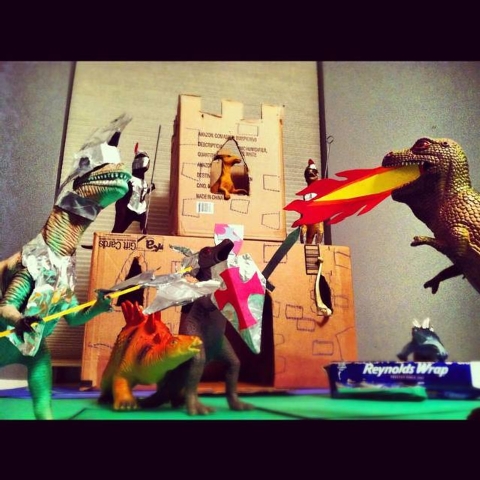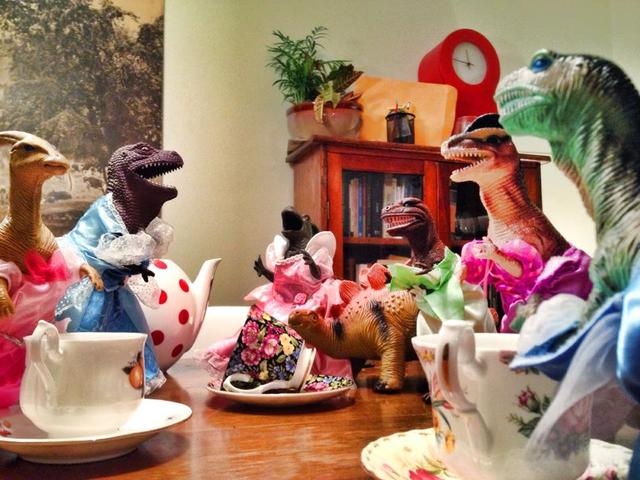 With a world of information at kids' fingertips, some parents wonder if Google takes away from the magic of being a child.
That's where Dinovember comes in.
Susan and Refe Tuma didn't want their kids to lose their sense of wonder, so they started a yearly tradition that made fantasy reality: Every November is dedicated to making their children believe their toy dinosaurs come to life at night, wreaking havoc throughout the house.
The Kansas City, Mo., parents started the tradition because "in a time when the answers to all the world's questions are a web-search away, we want our kids to experience a little mystery," Refe Tuma wrote in a blog post.
Usually the dinosaurs are just looking to have a good time. They play dress-up with the tin foil or break out the board games.
Sometimes the dinosaurs are hungry and get into some cereal, though. Once they found the bathroom and made a mess with the toilet paper. On another memorable occasion, they had some fun with the kids' crayons.
"Don't let Mom and Dad see this — the dinos drew on the wall!" the kids said.
The Tumas created a Facebook page for supporters of Dinovember or those who just wanted to see what the dinosaurs were up to day to day. The page had nearly 91,000 likes as of Thursday morning.
The couple encouraged other parents to get involved by starting the tradition with their own children and posting photos on social networks with the hashtag #Dinovember.
"All it takes is some time and energy, creativity, and a few plastic dinosaurs," Tuma wrote. "Childhood is fleeting, so let's make sure it's fun while it lasts."
Contact Stephanie Grimes at sgrimes@reviewjournal.com. Find her on Twitter: @steph_grimes