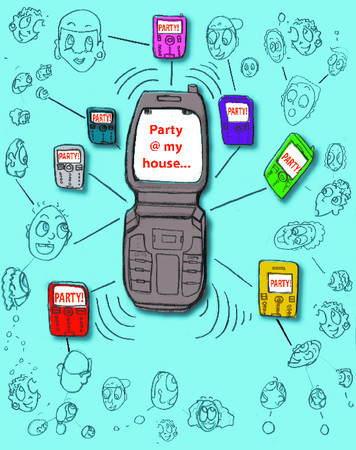 Buzzzz. It's 11 p.m. on a Friday and your phone is vibrating with a new text message. The message contains one thing: the location of a party. Within 10 minutes you are out the door and on your way.
The Clark County School District and the Metropolitan Police Department have deemed parties that quickly get out of control because of the number of people invited by text message "text parties."
"(The texts usually include) something like, 'Hey man I'm at this party,' and then they give directions," said Aaron Gilbert, a senior at Foothill High School.
Las Vegas police contacted the school district about these parties and asked that a letter be sent warning parents of the trend. It asked parents to not allow their teens to attend parties they learn about through a text.
"The safety of students is very important to us," said Michael Rodriguez, the school district's public information specialist.
This letter also informed parents and students about the violent endings to a few of these "text parties." These acts of violence included a few shootings, a few stabbings and one homicide.
"I think (these parties) are cause for concern, but I think they are blowing it out of proportion, because we are old enough to know right from wrong," said Sydney Jorde, a senior at Coronado High School.
Lindsay Cotterman, a senior at Silverado High School, hosted a party that got out of control.
"It was broken up by security at the Cancun Hotel," Cotterman said. "Then the cops showed up."
An uninvited guest showed up, and Cotterman had someone guarding the door to prevent entry. However, she did not think he would bring friends.
"A fight broke out and I heard someone say 'Do you want me to get my gun,' and people started rushing out," Cotterman said. One guest's jaw was broken and paramedics were called.
When the police arrived, they interviewed the injured guest and Cotterman's older sister. Cotterman was not cited by the police for the alcohol, but the party is under investigation.
Oliver Musovski, a senior at Silverado, and an attendee of Cotterman's party, thinks the school district and Las Vegas police are making too big of a deal out of the issue.
"Texting is our form of communication — if we didn't have texting we would just call people about it," Musovski said.
The police department's main concern is awareness. They want parents to be informed of the potential that texting can turn a small gathering of 10 people into a wild party of 250.
Many times the party text gets sent to two opposing gang members who show up at the same party. They may look at each other wrong and innocent bystanders become victims of gang violence, Las Vegas police officer Jay Rivera said.
"Anytime we have a lot of people, we try to have a lot of patrol officers," Rivera said.
Police procedure includes having all minors call their parents to come pick them up. Each partygoer can be given a warning, cited or arrested, which is up to the officer's discretion.
"We could be liable if we let them leave because there could possibly be drunk driving," Rivera said.
The Metropolitan Police Department recommends that if a student is throwing a party to invite their friends in person rather than through text. They warn that if an invitation must be sent via text message to include something to the effect of, "Don't bring anyone else."
"You send it to your friend, then they send it to theirs and then it's a friend of a friend of a friend who invites someone you never intended to be there," Rivera said.
According to Las Vegas police, a few of these parties have had fatal outcomes due to the presence of weapons, and they warn people not to attend a party where information was received through text message.
"The cops have never really done anything about parties before but now, because of all of the violence, they need to step in," Cotterman said.
R-Jeneration