Philharmonic, Beard Foundation benefit from event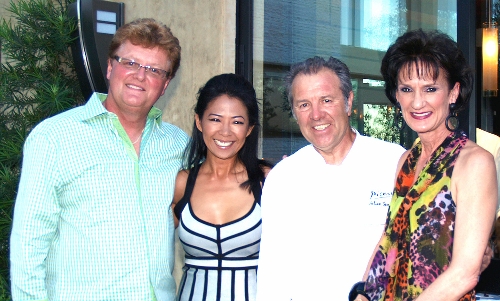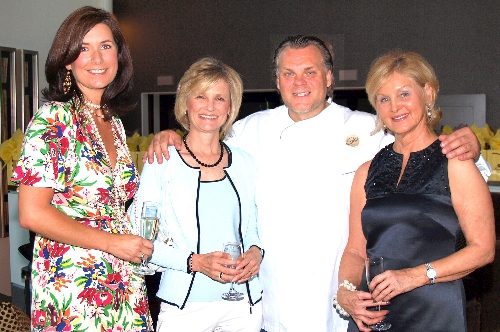 Las Vegas Philharmonic and the James Beard Foundation benefitted from a special connoisseur event June 5 — a night of food, wine and music that took place at the Ridges home of Jill and Scott Gragson.
Invited guests, including Dee and Don Snyder, Ellis Landau, Amy and Ken Wiles, Alyse and Kep Sweeney, Cary Vogel, Mari and Thom Landers, Patricia and Richard Wright, Jewel Brooks, and Jack Libby, were greeted by Philharmonic president and chief executive officer Jeri Crawford at the home's entrance. Guests were greeted as bongo drums were played by Pat Bowen and his students.
Music by the Philharmonic Strings with Shakeh Ghoukasian, Andy Smith and concert master DeAnn Letourneau entertained inside the home where James Beard award-winning chefs prepared and served their specialties to guests Laura and Joe Essa, Dana and Myron Martin, Pam Brown, Charlotte and Wally Besuden, Susan Houston, Karen and Randy Campanale, Melanie and Gene Greenberg, Lance Robbins, Tex Rexing, Teri Itkin, Dee and George Mehocic, Rick Crawford, Patricia Pieper-Fink and Louis M. Fink, Mariam and Rokh Afshai, Susan and Jeff Richards, Thomas Shepherd and Wendy and Richard Plaster.
Chef Shawn McClain of Sage at Aria served wagyu beef tartare with crushed caper aioli, Pacific halibut with sweet onions, saffron pickles and black grapes.
Chef Claude LeTohic of L'Atelier de Joel Robuchon at MGM Grand presented avocado puree in herb gelee and flavored crud cheese and king crab with sliced turnips with sweet and sour sauce.
Chef Luciano Pellegrini of Valentino in The Venetian served fried lobster lollipops with vodka sauce and roasted veal rib-eye with Parmesan bucatini.
Cooking poolside on the barbecue was chef Julian Serrano of Picasso at Bellagio, serving gazpacho and grilled lamb chops with aioli and parsley jus.
Chef Francois Payard of Payard Patissere & Bistro at Caesars Palace made creme brulee, chocolate mousse, macaroons, oven-roasted strawberries with candy fennel and homemade Greek yogurt.
Jeri Crawford introduced Yvonne Raz of the James Beard Foundation and David Itkin, music director of the Philharmonic.
Jazz with Geoff Neuman performed poolside for guests Dawn and Keith Blum, Meredith and Mike Mixer, Juliana McRae, Doug Van Gilder, June Bramble, Jeff and Lori LaPour, Melinda and Bob Brown, Ken Landon, Beth Sweney, Prisca and David Crawford, Elena Jacobs, Janis and Philip Manno, Kathleen and Michael Imperi, Jillian and Ian Kester, Marilyn and Rod LaRocque, Beth Schwartz and Denise Valdez.