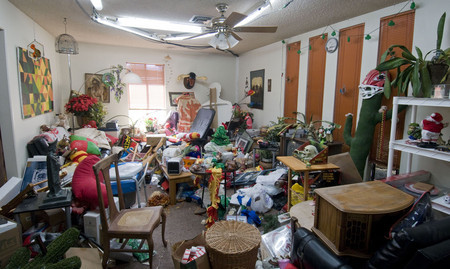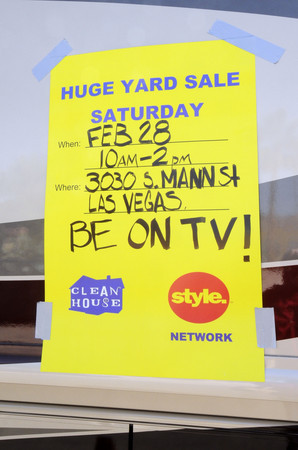 The den is, let's just say, in a bit of disarray.
There must be a floor, although it's not immediately visible because of the mass of stuffed animals, plants, figurines and stuff stacked to knee level upon it. There's a cardboard cutout of someone leaning against a wall — can't say who, because you would need a machete to get from here to there — and, on the wall, a mounted moose head of the stuffed animal, rather than the real, skin-and-bones, variety.
Because, really, wherever there is out-of-control clutter, there a mounted moose head also will be.
It's pretty much the same throughout the rest of the home, from the garage, where a half-dozen retail-type racks hold clothing and the shelves and floors are packed with boxes of stuff, to the yard, where temporarily relocated clutter awaits its final destination, be it yard sale or trash bin.
It's easy to see why the home just off of West Desert Inn Road was a finalist in "Clean House: The Search for the Messiest Home in the Country," a project of The Style Network's popular "Clean House" series.
On Wednesday, the rest of America will see what the "Clean House" cleanup crew saw in February, when they spent a week decluttering the home. (The episode premieres at 10 p.m. on The Style Network.)
Sean and Laura Winzer inherited the home when Sean's mother, Cynthia, died in October. Sean and his parents moved into the home in 1972, when Sean was 1.
"The clutter didn't start until four or five years ago," Sean says.
Sean's father, Ted, a pilot for Pan American Airlines, died about 12 years ago, he says, and Cynthia was "a giving person" who maintained a busy lifestyle.
She was a sports fan who loved the Kansas City Chiefs and UNLV Rebels football and basketball. But baseball was her favorite sport, and Sean says she was a longtime fan of the Las Vegas 51s and, before that, the Las Vegas Stars.
During the day, Cynthia worked as a registration clerk and supervisor for the Las Vegas Convention and Visitors Authority. When she wasn't working, Sean adds, she always was out doing something.
"She'd go out and leave it all outside the house, so by the time she got home she'd be so exhausted," Sean says. "She'd just drop her stuff off, and anything that came in new that she'd ordered off of TV she'd just put it where it was at and go to bed and, boom, she'd be out the door the next morning."
She was 68 when she died. "Once her bone cancer was diagnosed, it was just about nine weeks until her death," Sean says. "She was active all the way to the end."
Sean suspects the clutter could be the product of a busy lifestyle combined with exhaustion and physical aches caused by her illness. It was not, he adds, at all like her.
"Growing up, my mom had one room which she called the junk room. It was the one room — really the only room — that was allowed to get real cluttered. And every year or two she'd pick a weekend when my dad and I would go out of town, and she'd go in and empty stuff and throw stuff away and clean it up.
"Growing up in this house, it was never cluttered," Sean says.
After her death — and, coincidentally enough, around the time their own house was being foreclosed on — Sean and wife Laura became the home's owners and were surprised to discover how cluttered it was.
"We walked in and looked at the house and it was like, 'What will we do?' " Sean recalls. "It was a feeling of hopelessness. There was so much that we knew neither one of us could do it by ourselves.
"It was just, how do you tackle a job that big? A running joke my mom and I had all the time is that when she passed away we'd have the largest yard sale Las Vegas has ever seen, and, really, the power of the spoken word. It's amazing."
Laura, a fan of "Clean House," decided to enter the home in the messiest home contest.
"I submitted one picture of the living room, and I was contacted the next day," she says. "They said: 'Loved your picture. Send more.' "
While they didn't win — is "win" even the right word? — their home was a finalist. And that was enough to bring Niecy Nash and the "Clean House" crew to Las Vegas for a combination cleanup/yard sale/redecoration.
Nash certainly has seen worse. The family that kept live monkeys, for instance. And more than one instance of a home being filled with authentic filth — bags of marinating garbage and the like — rather than mere clutter.
But, she admits during a break in filming, "on a scale of 1 to 10, I'm gonna say this (is) about an 11 or a 12."
It's not just the clutter, but how long it had been left unattended, she says. "The dust and allergens in the house add another layer."
As host of "Clean House," Nash has become a therapist to the pack rat-inclined.
"Clutter, in and of itself, is an outward expression of an inward thing," she says. "And I think that when you are ready to go beyond where you've been, that's when you decide to open that door, whether it's the door to your home, the door to your heart, the door to your emotions, the door to your past. People call because they're ready to move forward and make some changes in their life."
But, for the Winzers, it's a case of "inherited clutter," Nash notes, and that brings with it a different set of emotions.
"People generally feel like, when they're throwing out a loved one's things, they're throwing them away, they're throwing their memories away, and there's a lot of guilt involved in that," she says.
"One thing Laura said was, 'I just feel that if I get rid of everything she'll be forgotten.' And I said: 'Let me invite you to think differently. You are not forgotten until the last person who knows you passes away.' You have so many people who love this woman."
Sean was concerned about how people might perceive his mother. "I don't want my mom to be seen as someone who is crazy, because the inside of her house is so anti who she was," he says. "It's so opposite of who she was."
They say their fears were allayed once the crew arrived. For example, Laura says, design guru Mark Brunetz walked through the home with them to learn about their preferences. They say the cast was never anything but friendly and helpful, and Laura notes, the crew always was concerned about preserving important memories.
While cleaning, she says, "they would say, 'This is something you want to look at,' or 'This could be an important paper.' "
Laura jokes that the undertaking "wasn't embarrassing, maybe because it wasn't mine."
But, she says, "I didn't want my mother-in-law's memory to be tarnished, and 'Clean House' has done an excellent job of preserving her memory. They all want to meet her. They wish they could have been here for her to meet. She was an awesome lady, so, no, no embarrassment."
Contact reporter John Przybys at jprzybys@reviewjournal.com or 702-383-0280.