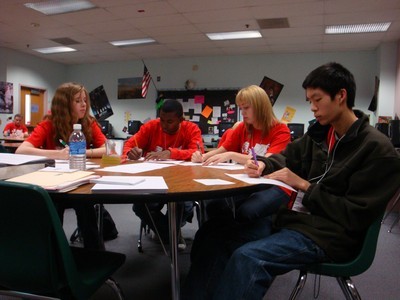 To Northwest Career and Technical Academy teacher Mary Abbott, the clacking of keyboards sounds like music. And Abbott heard an entire symphony Feb. 21, when she was an instructor at the Southern Nevada Writing Project's second annual High School Writing Fair.
The fair at Advanced Technologies Academy gave local teen writers a chance to practice their craft. The 114 students who attended — each of whom paid $35 — started the day with a continental breakfast in the school cafeteria, then gathered around a stage to listen to the fair's keynote speaker, Hernando Amaya of El Tiempo. With the help of a translator, Amaya talked to the students about the various types of writing and how to focus on each.
After the keynote, writing fair participants divided into classrooms where, after some brainstorming and warm-up activities with their instructors, they began writing their own short pieces. At noon, the teenage writers took a break for lunch and a discussion with a panel of published writers.
Students were able to ask questions of and learn from the panel members. Panelist Abriana Foster, who graduated with A-Tech's class of 2007, writes for the Collegiate Review, CSN's student newspaper, and has published a short romance novel, "Love Simply Defined." The other panelists were Gregory A. Kompas, David Winkler, Mike Hunter and Leslie Hoffman.
The panelists answered questions on writer's block, ways to improve writing, getting published and other topics of interest to the students.
"I might try some of their writer's-block ideas," said Raymond Rowe, a freshman at Palo Verde High School.
After the panel discussion, the students returned to their classrooms to spend another 21/2 hours perfecting their pieces.
The writing fair was, for many participants, a first opportunity to be published. Those who attended will receive CDs with all of the poems and stories written at the fair. Randomly selected pieces will be placed online at the Southern Nevada Writing Project's Web site.
Several of the participants, however, already write frequently on their own. Arbor View freshman Sierra Kinsora has completed 150 pages of a novel about a writer who is working on a novel when, on a trip to Seattle, she gets on the wrong flight and ends up in Rome.
Antionette Richardson, a sophomore at Northwest, also writes on her own.
"I'm starting to write a book, but I'm not sure if it's good or not," she said. Richardson's book, for which she has written 112 pages, is a fantasy novel about a boy who gets a dragon for a friend and has to be a knight, even though he wants to be a smith.
But novels are not the only thing the fair's participants enjoy writing.
"I don't normally do my homework," Rowe said. "I normally write poetry." He said he spends five to six hours a day writing poetry and would like to major in the subject in college.
Participants agreed that the writing fair was a great opportunity to meet like-minded teenagers.
"I really like writing, and to be able to spend the day with other writers is really empowering," said Jonathan Gschwender, a junior at Spring Valley High School.
Kristiana Griffin, a freshman at Arbor View High School, came to the writing fair wanting to meet other people interested in writing. By the time she returned to her classroom after lunch, she'd already gotten three e-mail addresses.
And at least one panelist found the fair rewarding as well.
"I love the idea of young people being interested in writing," Hoffman said.
R-Jeneration
Southern Nevada Writing Project
snwp.education. unlv.edu