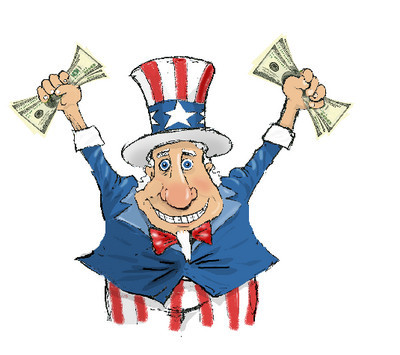 This week, those friendly folks at the Internal Revenue Service begin doing something that we can only imagine goes against every fiber of their being.
They're sending us checks. For no reason. To spend on whatever we wish.
The word "spend" is, of course, key to the whole exercise. The idea is that we Americans are supposed to take our windfall and spend it — not save it, not use it to pay down debt, not invest it for the future — on stuff, thereby stimulating our sluggish economy.
Whether you agree with the plan — and, whatever your political persuasion, it's not unreasonable to wonder about an economic strategy that hinges on hard-working Americans acting like third-graders with impulse-control deficiencies — the fact is that we're all going to find a few extra bucks in our pockets sometime in the next few weeks.
And, then, it's up to us to make some decisions.
It's with that in mind that we offer you a few ways of spending that check you might not have thought of.
To keep things simple, we're using the $600 that single childless taxpayers will receive as a baseline. So, ready, set … spend.
—–
At $3.50 a gallon, $600 will buy about 171 gallons of regular gasoline. If your car averages 20 miles per gallon, that'll take you 3,420 miles, which means you'll hit Quito, Ecuador before your gauge hits "E." Be sure to do take advantage of that straddling-the-equator photo op while you're there.
Or … $600 will get you 15 RTC 30-day bus passes. So, if you board a CAT bus every day, you'll be able to spend more than a year exploring the Las Vegas Valley so thoroughly that, somewhere, John C. Fremont will smile.
At $50 per dozen, $600 can get you 144 MREs (meals ready-to-eat) online to enjoy during the coming economic apocalypse.
Or … for less picky eaters, $600 will buy 1,224 cans of Fancy Feast Assorted Chunky Gourmet Cat Food. Either way, bon appetit.
$600 will be score you one field-level season ticket to this season's Las Vegas 51s games (beers, brats and souvenir foam finger not included).
Or … for an sporting activity that's at least slightly more physically taxing, $600 will cover about 2,068 frames of weekday open bowling at The Orleans Bowling Center (shoe rental, fill shots and shots of Wild Turkey not included).
$600 will cover (at $6 a ticket) more than eight hours of Go Kart or Sprint Kart racing at the Las Vegas Mini Gran Prix.
Or … $600 will cover a whopping 0.5 percent of the cost of 2008 Maserati GranTurismo Coupe — the left front turn signal, maybe? — at Penske-Wynn Ferrari/Maserati on the Strip (speeding tickets and horrendous insurance premiums not included).
$600 will pay for 43 haircuts at Supercuts.
Or … if you're former Senator and Democratic presidential candidate John Edwards, $600 would more than cover the tab for one candidacy-killing $400 haircut (price of lost presidential dreams not included).
$600 will pay for about 45 pairs of women's Xhilaration flip-flops at Target, covering your floppy footwear needs for nearly a year.
Or …. $600 will pay for one (one!) pair of Manolo Blahnik snakeskin thong sandals from Neiman Marcus that you wouldn't even think of wearing at the beach so what good are they, really?
$600 will pay for tickets (at $65 each) for you and eight hard-partying buds to the upcoming Ted Nugent show at the House of Blues.
Or … $600 will buy you a good beginner's acoustic guitar (about $300) and six quick lessons (figure 50 bucks per) to learn a few basic chords. Now, you can set up shop at the corner of Tropicana and the Strip (if they let the porn pamphleteers do their thing, how can they have problems with a budding musician?) and recoup your investment in no time. We wouldn't even be surprised if always-cool Nuge agreed to play backup for you, no charge.
Contact reporter John Przybys at jprzybys@reviewjournal.com or 702-383-0280.