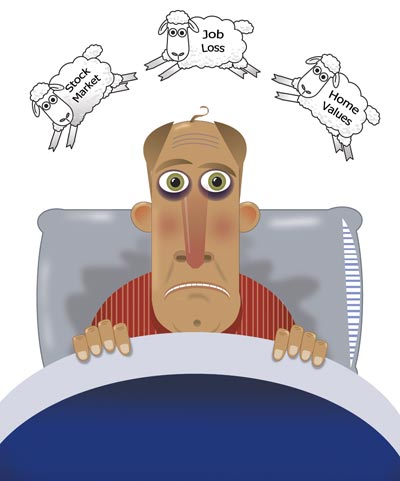 Been getting enough sleep lately?
Maybe not, if those sheep you're counting have begun to bear an eerie resemblance to Treasury Secretary Tim Geithner, financial pundit Jim Cramer and serial retirement killer Bernie Madoff.
According to the National Sleep Foundation's 2009 Sleep in America poll released earlier this month, 27 percent of Americans say concerns about personal finances, the economy and employment have been affecting their nightly slumber.
None of us can do anything to control the economy. But we can do a few things to help us take control of our sleeping habits. Here's some advice from the experts.
Maintain sleep/wake cycle
Our sleep/wake cycle is regulated by an internal clock, and erratic routines can throw that clock out of whack. That, in turn, can affect not only our ability to get to sleep, but to get a good night's sleep.
"Try to have the same bedtime and waking time every day if you can," says Dr. Charles McPherson, medical director of the Regional Center for Sleep Disorders at Sunrise Hospital and Medical Center.
Consider hewing to a workday sleep/wake routine on weekends and days off. Some can sleep in or stay up late with little ill-effect, McPherson says. But, for others, "if they oversleep one day, it may be hard to go to sleep that night."
Create sleep-friendly environment
That means "a dark, quiet room at a comfortable temperature," McPherson says.
It also means a room and a bed reserved solely for sleep and romantic liaisons. Don't work, watch TV or perform similar tasks in bed, McPherson says, because it can lead to an "alert state of mind when you're in bed, versus conditioning yourself to always having that feeling of relaxation and sleepiness when you're in bed."
A mattress that's uncomfortable is another hurdle to a good night's sleep. Frank Schipano, senior gift and home buyer for Wynn Resorts, says it's worth investing in a good mattress.
Even better would be investing in a mattress that a sleeper can take for a test run. For instance, at two Wynn Resorts home stores, hotel guests can purchase the same model of mattress that they've been sleeping on at the resorts.
A good mattress can be pricey — the ones the Wynn stores sell start at about $2,300 — but, Schipano says, "I think you cannot put a price on a good night's sleep."
Avoid caffeine, nicotine and alcohol before bedtime
Caffeine is a stimulant, and that cup of coffee you had in the morning — not to mention the candy bar, cola or other caffeine-containing food you've had — can affect your sleep hours later.
Kathleen Grace Santor, a licensed marriage and family therapist, recommends consuming no caffeine at all, in any form, in the afternoon and evening. "Cut it way back," she says. "Have a cup of coffee in the morning and let it go at that. Decaf the rest of the day."
Nicotine also is a stimulant. While kicking the cigarette habit can be "really difficult," McPherson says, "if you can get people to cut back a little bit before going to bed, that will help them get to bed."
In the same vein, McPherson recommends not drinking alcoholic beverages within three hours or so of bedtime. While alcohol can create an initial sense of drowsiness, he explains, "as it wears off, it can (lead to) poor quality of sleep."
Exercise, but not too close to bedtime
Exercise is a great tool for stress reduction. Not only does it offer head-clearing benefits, it makes the body pleasantly tired, both of which are great preconditions for a good night's sleep.
But it takes the body a few hours to wind down from a workout. "Don't work out too close to your bedtime," recommends Melanie Byrne, group fitness director for Las Vegas Athletic Clubs. "I notice people who teach (fitness classes) at night are wound up for a good two hours after they teach."
Byrne suggests leaving at least two or three hours between a workout and bedtime. But do exercise regularly, she adds. "I teach classes, and any of us who teach, we sleep pretty well."
Establish peaceful pre-bedtime routine
Make a point of engaging in relaxing activities an hour or so before bedtime.
"Do some gentle stretches," Santor suggests. "Take a warm bath or warm shower. Read a book. Do things that physically relax you. In other words, let your nervous system unwind from the stress of the day."
Avoid heavy meals close to bedtime, although a glass of warm milk or light snack can be beneficial, McPherson says.
Listening to music before bedtime also can be "a great escape from the rigors of the world," suggests Scott Gentry, morning DJ and president of KJUL-FM, 104.7. A pre-slumber playlist might include selections from such artists as Michael Buble, Barbra Streisand, Frank Sinatra and Dean Martin, or instrumental selections from Henry Mancini and Andre Kostelanetz, he suggests.
"I think a warm bath and great music is the way to go," Gentry says. "That, and maybe some warm milk before bed."
Go with the flow
Sometimes, getting to sleep isn't the problem. It's waking up a few hours later and then pacing the floor in the middle of the night.
Don't become stressed-out or "lie in bed tossing and turning," Santor says. Instead, "give it 10 or 15 minutes, and if you're still not able to sleep, get up and have a glass of milk or read a book or watch Jay Leno or something funny. Write down your problems."
But, she adds, don't work or "do something that makes you more stressed."
If sleeplessness continues, see a doctor
Sleep difficulties — either an inability to get to sleep or an inability to get a good night's sleep — can be caused by many things beyond simple stress.
Obstructive sleep apnea, for instance, in which a person "stops breathing for a period of more than 10 seconds throughout the night," McPherson says. Or a throat problem. Or chronic pain caused by another condition. Even depression that would require medical treatment.
"
Take a look at your daytime and nighttime habits and, first, just try to identify things that might be affecting your sleep that you can correct," McPherson says.
Then, if that doesn't work, see a doctor.
One final, and brilliantly obvious, tip …
"Don't watch the financial news," McPherson says.
Instead, he says, devote your pre-bedtime TV to "a nice comedy or sitcom or something like that."
Contact reporter John Przybys at jprzybys@reviewjournal.com or 702-383-0280.