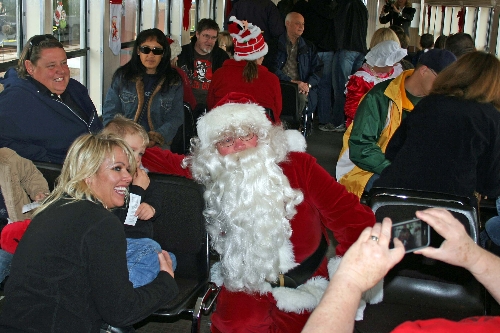 People love trains.
Greg Corbin, director of the Nevada State Railroad Museum in Boulder City, can't put his finger on exactly why. But he's glad for it.
"For a lot of people, it begins in childhood," says Corbin, who grew up fascinated by the trains near his childhood home in Sacramento. "Maybe with a train set they got at Christmas. As a kid, you see these pieces of machinery, they're big, powerful. You kind of get drawn to them and fascinated by them."
Starting this weekend and continuing on Saturdays and Sundays through Dec. 23, he expects 10,000 people to catch the museum's Santa Train for a seven-mile round-trip journey by rail during which passengers will get to mingle with Santa and Mrs. Claus and, in the process, maybe learn a few things about the historical significance of trains in Southern Nevada.
This marks the 11th year for the Santa Train, an event that originated as a way to drive traffic to the museum during a traditionally slow period. Last year, 41,500 people visited the museum. Nearly a quarter of the museum's annual visitors will come during the Santa Train weekends.
For $5 each, passengers will take a 40-minute train ride on restored 1911 Harriman-style Pullman coaches attached to a 1963 GP-30 locomotive, donated to the museum by Union Pacific. The train will be fully staffed with engineers, brakemen and conductors who are members of the museum's volunteer organization, Friends of Nevada Southern Railway.
The train traverses the original rail line installed in 1931 to transport materials used to build Hoover Dam.
"Back then, there were no cars or other modes of transportation," Corbin says. "Just trains."
The Santa Train has grown from a one-day event over the years to its current size of three weekends during December. Its popularity increases each year as local families make it a holiday tradition, says the museum's administrative assistant, Peg Franchetti.
While they do expect to sell out of tickets, they have never turned away would-be riders, she says. The train holds about 300 passengers per trip.
The museum immerses visitors in all things trains, including static displays of real locomotives, historical railroad artifacts, an authentic post office that illustrates how the mail was once moved by train and other items. There will also be several model train layouts on display.
The Santa Train departs from the museum's depot, about half a block north of U.S. Highway 93 and Yucca Street in Boulder City, Saturdays and Sundays on the hour between 10 a.m. to 3 p.m. through Dec. 23. Tickets can be purchased Tuesday through Friday, from 7:30 a.m. to 2:30 p.m. at the museum's office, 600 Yucca St. On Saturdays and Sundays, tickets are available at 601 Yucca St. from 9:30 a.m. to 2:30 p.m.
For more information, call 486-5006 or visit the website at NevadaCulture.org.
Contact reporter Sonya Padgett at spadgett@
reviewjournal.com or 702-380-4564. Follow @StripSonya on Twitter.
PREVIEW
What: The Santa Train
When: Hourly between 10 a.m. and 3 p.m. today, Dec. 15-16, 22-23
Where: Nevada State Railroad Museum, 600 Yucca St., Boulder City
Tickets: $5 (486-5006)