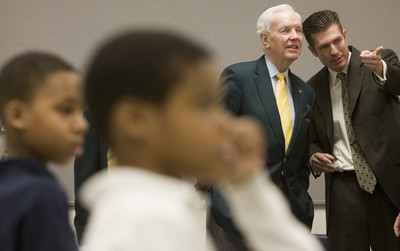 In the United States, the past few decades have seen a pretty much across-the-board membership decline among service clubs and fraternal organizations.
Rotary International, the venerable, 103-year-old organization that currently has about 33,000 members in 170 countries, hasn't been immune to that trend. But, Rotary International President Wilfrid J. Wilkinson notes, look a bit closer and something intriguing appears.
While Rotary membership in North America has, indeed, fallen during the past several years, Wilkinson says, that's been offset by Rotary membership increases in the rest of the world.
Including, it seems, places that don't immediately come to Americans' minds when they think "Rotary."
Wilkinson, a retired Ontario, Canada, chartered accountant, visited Las Vegas earlier this week to meet with area Rotarians. And, Wilkinson says, the challenge for Rotarians now is to show prospective Rotarians "why belonging to an organization like this is really beneficial not only to them, but to their children and their grandchildren and great-grandchildren."
Wilkinson, a Rotarian for 45 years, said Rotary's membership declines in North America have been "hidden because we have been growing in other parts of the world, like India, Taiwan, Korea, Eastern Europe. As a result, our membership has not gone down. It's continued going up."
In North America, the challenge for both Rotary and other groups stems from, for example, the demands of juggling job and family. Particularly in two-breadwinner or single-parent families, it can be difficult to convince prospective Rotary members that "the time they spend in a service club is worthwhile for themselves and worthwhile for their families."
Another problem has been Rotary's historical reticence at blowing its own horn. Rotarians, Wilkinson says, "didn't feel public image was something they had to work on."
Reaching younger prospective members today also requires new approaches. "A lot of young people don't read newspapers," Wilkinson says. "They go to YouTube, they go to blogging or what have you. We've got to get into those areas as well, just like media companies are."
But when prospective Rotarians finally do discover Rotary International, they'll find an organization whose core values haven't changed in more than a century, beginning with the notion, encapsulated in the Rotary motto: Service Above Self.
Rotarians around the world undertake service projects of all sorts, ranging from the Rotary Club of Las Vegas West's adoption of West Prep Elementary School — Wilkinson toured the school during his visit — to, on a global scale, partnering with the World Health Organization and UNICEF in a still-continuing effort to eradicate polio around the world.
Wilkinson said it's the chance to help their communities that lies behind Rotary's growth around the world. Wherever they live, Rotarians "see the needs in their communities," he says, but, before Rotary, "haven't had a vehicle to do something about those needs."
Wilkinson's own first overseas experience with Rotary was in working on a measles immunization project in India in 1982.
For many, the image of Rotary may be of businessmen who, Wilkinson wryly notes, "have lunch. That's an image we have to fight. But when you look at (such efforts as) West school and see what they're doing, it's tremendous."
Also important, Wilkinson says, is revitalizing Rotary's ties with the business community.
According to Wilkinson, one study noted a drop in the American public's confidence in business from more than 80 percent in 1993 to 39 percent in 2003, a drop that stems from the Enron failure and other business scandals.
"We have to reconnect with business and business has to reconnect with us, because we are an organization that stresses integrity in all our dealings, and that's what the business community has to do," Wilkinson says. "We can provide them a great deal of help."
Meanwhile, Wilkinson says he's enjoying his tenure as Rotary International's president, even if it does require a good deal of travel.
"I just checked and in January and February we slept in 21 different cities," he says, adding that the two nights he and his wife, Joan, were able to spend in Las Vegas was a relative luxury.
Contact reporter John Przybys at jprzybys@reviewjournal.com or (702) 383-0280.