October 7, 2007 - 9:00 pm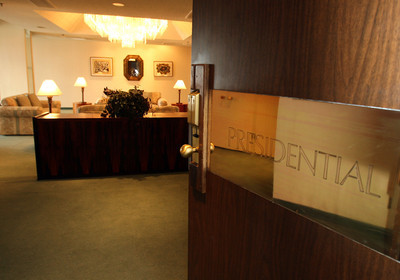 The hardest hotel room to score in Las Vegas isn't in the Palms Fantasy Tower or atop the Wynn. It's at Palace Station, the 31-year-old locals hotel visited by O.J. Simpson and his band of alleged sports-memorabilia raiders on Sept. 13. There are no immediate plans to make 1203 available to rent.
"We have had a very high volume of requests to stay in the room and to tour the room," said Station Casinos spokeswoman Lori Nelson, "but we are taking the approach not to capitalize on the situation."
This policy has only buoyed demand. According to Nelson: "A handful of people literally walked up to the hotel desk, slapped down their credit card and said: 'Any amount. You can charge me anything you want.' " (Weeknight rates at the hotel fluctuate between $39.99 and $399.99.)
Room 1203 joins a small number of seemingly ordinary Las Vegas hotel rooms where extraordinary events have occurred. Unlike 1203, however, you can actually reserve these …
BEATLES SUITE
Sahara, 2535 Las Vegas Blvd. South
Room: 2344
Nightly cost: $350-$750 (seasonal)
Reported annual requests: 100
Guests who specifically request this suite know that the Beatles slept here in 1964. What they may not know is what also happened here on Aug. 20 — and how easily it could have ended the group's career.
Between 2 and 3 a.m. — following two 30-minute concerts at the Convention Center the night before — two underage girls were found in John Lennon's room. The discovery was made after the front desk phoned up to inform the group's handlers that a woman was in the lobby, claiming that her twin daughters were kidnapped by the Beatles.
"They knocked on my door and asked me to help," remembers retired Miami radio reporter Larry Kane, who was covering the tour and sleeping in an adjacent room.
Because no other entourage member traveled with a business suit, Kane was elected the Beatles' representative. Before taking the elevator down, Kane says, he opened Lennon's door to investigate for himself.
"He was asleep, and they were sitting on the edge of the other bed watching television and eating popcorn," he remembers, guessing their age as 13 or 14.
No one can say for sure what happened earlier. But Kane believes it was an innocent case of "them getting his autograph" and Lennon then passing out.
"He's just the kind of guy who would have invited two kids into his room to watch TV," Kane says.
Regardless, as Kane explains, "the problem was the perception." Had the news spread, the Beatles' winding road would almost certainly have been shortened. No Shea Stadium concert. No "Sgt. Pepper's Lonely Hearts Club Band." No "Love" at The Mirage.
"It was a time when this type of thing was extremely damaging," Kane says.
The mother filed suit when she got home to Los Angeles, Kane says, "but apparently, whatever was settled, was settled without the public view."
Since the incident, this two-bedroom suite — which overlooks the Strip and displays photographs of the Beatles' stay — has been halved. (Room 2342 contains the rest.) But Lennon's was the bedroom in 2344, according to Kane.
The Beatles never performed in Las Vegas again.
ELVIS SUITE
Sahara
Room: 2542 (Presidential Suite)
Nightly cost: $750-$1,500 (seasonal)
Reported annual requests: 80
Ann-Margret was the primary business that Elvis Presley took care of in this 1,500-square-foot, two-bedroom suite, while the couple shot "Viva Las Vegas" around town in 1963.
"Whenever they had a day off, you'd find them here," says Sonny West, Presley's former bodyguard and author of the recently published "Elvis: Still Taking Care of Business."
But the future Mrs. Priscilla Presley was already living at Graceland. And, according to West, Margret had just broken off a relationship with the film's director, George Sidney.
"So they were keeping their relationship low-key as much as they could," West says, recalling that two of his fellow Memphis Mafia members once tried smoking the lovebirds from their nest by lighting a newspaper on fire and shoving it under the door.
It didn't work. Nothing worked.
"They only opened the door for room service," West says, adding: "Big surprise."
The fixtures, decorations and marble Jacuzzi are original. (Worry not, germaphobes: The bed and sheets aren't.) And the balcony boasts a private "emergency exit" leading 25 stories down to the street. (Most likely, the emergencies it was built for answered to names such as "Lefty" and "Lucky.")
The Las Vegas hotel room more famously associated with Elvis was Suite 3000 atop the Las Vegas Hilton (formerly the International Hotel), the King's throne while performing in the showroom from 1969 to 1976. Alas, it was demolished in 1995 to create three VIP sky villas (one of which currently houses Barry Manilow).
West remembers the target practice Presley held here.
"Not the TV, but the chandelier," he says. "Whenever we had a storm, there were buckets all over the place because the rain came in."
JOHN ENTWISTLE DEATH SUITE
Hard Rock Hotel, 4455 Paradise Road
Room: 658
Nightly cost: $550-$950
Reported annual requests: 50
On June 27, 2002, hours before The Who was scheduled to launch an American tour at The Joint, bassist John Entwistle was found dead on the king-size mattress in this one-bedroom suite. According to the Clark County Coroner's office, the 57-year-old suffered a cocaine-induced heart attack sometime between 3 and 10 a.m., when paramedics were called.
"If John could have planned his death, he would have almost written it the way it happened," Who singer Roger Daltrey told Britain's The Sun at the time. "The only thing that would have been different would be that he'd want his body to be mummified and replaced in the bed, the room filled with his beloved fish and his guitars. He'd have wanted a glass door to seal the room with a notice saying 'Hard Rock Exhibit.'
"It would have been The Entwistle Suite."
Immediately following the death, the front desk was besieged by rental requests. There are no plans to mark the room with a plaque, however — or a mummy.
BRITNEY CONCEPTION SUITE
Hard Rock Hotel
Room: 248
Nightly cost: $450-$950
Reported annual requests: 50
Of the many eyebrow-raising acts Britney Spears has committed in Vegas — marrying a childhood friend she would divorce 55 hours later, partying with Paris Hilton but without underwear, napping onstage at the MTV Video Music Awards — only one is associated with a specific hotel room. In 2005, the New York Post's Page Six reported that Spears and then-husband Kevin Federline conceived their first baby, Sean Preston, within the walls of this one-bedroom suite with a pool view.
For obvious reasons, the Hard Rock can only confirm that the betrothed stayed here (registered under K-Fed's name) on or around a date that would seem to validate the story.
Regardless, the word is gospel to crazed Britney fans, some of whom try sneaking upstairs just to photograph the door. (Here's a photo for you, Chris Crocker. Now behave yourself.)
SINATRA SUITE
Riviera, 2901 Las Vegas Blvd. South
Room: 2902, Monte Carlo Tower
Nightly cost: $500-$650 (seasonal)
Reported annual requests: 20
His favorite Rat Pack-era room was demolished along with the Sands. But this is where Frank Sinatra shut his old blue eyes after performing at the Versailles Theatre in 1990 and 1991. He liked this two-bedroom penthouse with a wrap-around terrace and pool view because it was close to the elevator banks that serviced the showroom.
"He didn't like to walk past the customers going to and from a show," said former Riviera publicist John Neeland. "And yes, it's true, if you worked at the Riv in close proximity to the man, you were not allowed to look at him — at least not into his eyes."
Sinatra didn't like the decor during his first stay, so he had it remodeled before his second. The door boasts a commemorative plaque. Management usually holds it for high rollers.
DAVID STRICKLAND DEATH ROOM
Oasis Motel, 1731 Las Vegas Blvd. South
Room: 20
Nightly cost: $50 weekdays, $68-$108 weekends
Reported annual requests: 5
On March 22, 1999, David Strickland — a supporting cast member on NBC's "Suddenly Susan" sitcom — checked into the Oasis between 3:30 and 4 a.m.
After downing a couple of bottles from a Coors six-pack, the 29-year-old hanged himself with a bed sheet flung around the ceiling beam.
"The front-desk clerk went to the room at checkout time because there was no answer," remembers hotel manager Peter Napoli. "She got a spare key and knocked on the door. There was still no answer, so she opened the door. And there he was."
Strickland — reportedly last seen alive at 1 a.m. at the Glitter Gulch strip club with comic Andy Dick — reportedly suffered from bipolar disorder and had a history of drug and alcohol abuse. No drugs were found in the room, however, and no suicide note, either — although the Clark County coroner's report states that his body bore the marks of a previous suicide attempt.
As a policy, Napoli says, he won't show prospective guests the room — or even talk about it — until he sees a credit card.
"If people want to stay in the room, I'll let them pay for it," he says. "But it's not a laughing matter. The poor guy died.
"I saw him hanging there."