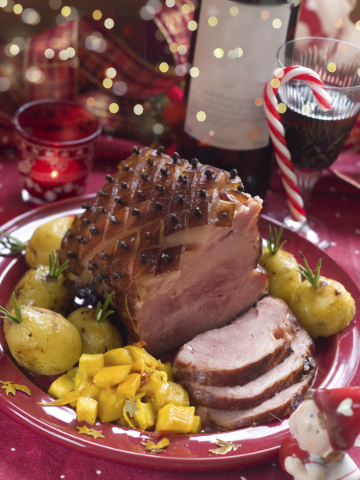 The holidays are a time for feasting, but with so many dishes and sides and desserts flying your way, the question arises: "How on Earth do you pair wine with this?" Everything from sweet Aunt Gina's Funeral Potatoes to your hipster nephew's Molé Pulled Pork can be complemented by the right wine, and the good minds of sommeliers are always there to toss a couple of options your way.
The classic Christmas centerpiece can be many proteins, but nothing reads "Norman Rockwell Christmas" like a big, shiny, clove-studded baked ham. The big delicious slices of salty meat can quickly become all too much, but a wine with sweetness can help the pineapple rings and honey glaze balance that out.
Consider a middle-ground riesling or even a light moscato to cleanse your palate between big mouthfuls of that delectable cured pork.
Turkey, on the other hand, is a more subjective matter. A sweet red to bring out the savory? A sparkling white to complement it? How about split the difference with a Brachetto d'Acqui? It's a light, sweet, sparkling red wine, with lovely light fruit and berry flavors, with low enough alcohol that you won't have to watch over your mother to keep her from the off-color jokes. If you can't find that, try a sparkling rosé.
More of a roast beef or prime rib kind of meal? Never hesitate bringing out the heavy, bold, knock-you-on-your-backside reds from around the world. A California cabernet, a Bordeaux, even some Southern Hemisphere malbec or syrah do a perfectly good job at putting you in a wonderful beef-and-wine-induced state of bliss.
Anyone who has spent time in Europe, or has a good French or Canadian friend, will tell you that 'tis the season for foie. This silky, rich, meaty, heavenly goodness usually comes as a preserved style this time of year, as the ducks and geese were traditionally fit for harvest in midfall, when their natural need to store fat in their liver for the flight south was cresting.
Something like a jarred terrine, mousse, pate or torchon would be the way, but no matter which way you slice it, foie has a sister pairing that has endured for years: sauternes. A sweet white dessert wine from Bordeaux, it is made from grapes that have endured "noble rot" a type of fungus that starts turning the grapes into raisins. The resulting wine is like drinking bright, fruity, almost zesty honey, with aged bottles developing flavors of nuts and toffee.
Squash is a seasonal treat this time of year, with an encyclopedia of sizes, colors and flavors to choose from. One of the most popular of the squash family is the butternut squash, and one of the most popular dishes incorporating it is butternut squash soup.
Of course, the recipe can substitute nearly any squash, and some of the more fancy chefs of the day like to brighten it up with some key spice blends, sometimes giving it an Eastern curry flavor. A more adventurous wine lover could try and let the spice fly in their wine as well and go for something such as a sangiovese. It's an Italian red that is known for having a velvety, light tannin content and delicate notes of cedar, spice and vanilla.
When Kirk Peterson, local sommelier and beverage director for the Mario Batali restaurants in Las Vegas, needs a pairing, he wants one bottle to rule them all.
"Sweet yams, salty ham, smoky turkey, bread stuffing loaded with herbs … all together on one plate. This requires a wine with as much versatility as possible. This requires Champagne," Peterson said. "Besides, it's such a celebratory beverage, and the holidays are all about celebration."
Gingerbread has been a part of British Christmas for ages, dating from the time when you could show off all the exotic imported spices you've been hoarding all year, perhaps the only time your guests would enjoy the taste of cardamom or orange peel all year long. Whether done in a big fluffy steamed pudding or in a gingersnap cookie, the flavors could play along quite well with a nice young port. A tawny port, nothing fancy necessarily, will have a sherry-like nuttiness from being oxidized in the barrel, but still retain those delicious syrupy cherry and strawberry notes.
Naturally, if anyone brings the fruitcake that's been passed around since the last decade, they can eat it with a cup of box-wine in the basement — alone. But when they're done with their shame loaf, invite them up for a slice of homemade pumpkin pie, some whipped cream (not from a tub or aerosol spray can) and a warm cup of joe. This lovely time of year is all about letting your best self shine through, and nothing has made glad the hearts of man like his oldest friend, the humble cup of wine.