October 26, 2008 - 9:00 pm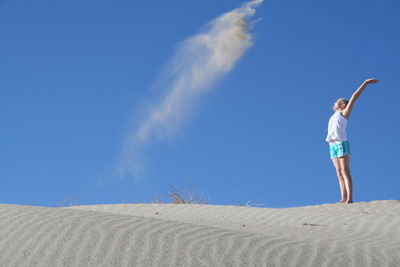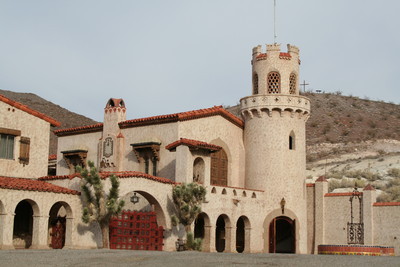 With Death Valley National Park so close, Las Vegans can enjoy highlights even on a day trip, but those spending a day or two can sniff out hidden rewards.
Earlier this month, my daughter Charlotte and I arrived in northern Death Valley in time to take the first tour of the day at Scotty's Castle. This well-known historic site was a highlight of our trip, but our three-day weekend let us hike and mountain bike far from the crowds and still indulge the resortlike pleasures of tennis and swimming in a pool fed by natural hot springs.
Death Valley encompasses more than 3.3 million acres, making it the largest park in the lower 48 states. The higher surrounding elevations get snow, but from now until spring is prime time in the actual Death Valley at the park's heart. In November, daily high temperatures at lower elevations average 76 degrees and even the park's two coldest months, December and January, see an average 65 degrees high. Those temperatures are perfect for hiking and all outdoor activities.
Yet most who visit the valley's north end seek not to rough it, but to taste the luxury of Scotty's Castle, if only vicariously, as visitors. The improbable Spanish Mediterranean-styled mansion in this remote desert created one of the most well-known legends of the American West. And though the legend was pretty much a lie, it was built on a real, 40-year-friendship between the very different men — Walter Scott and Albert Johnson.
Scotty's Castle is named after Scott, a con man, drinker and gambler who didn't invest a dime of money in its building and didn't own it. That didn't matter to Scotty, who would boast to anyone who listened that he built the castle with the fortune that he made from a secret gold mine.
In 1904 Albert Johnson, a well educated, wealthy engineer and insurance executive from the Midwest, heard tales about Scott's gold mine. Johnson provided Scott some grubstake money. A few years later, Johnson made the long journey to Death Valley to find out how his investment was faring. It was faring poorly, but Johnson was enchanted by the landscape. After returning many times, in 1922 Johnson and his wife, Bessie, started building the elaborate vacation home that would eventually be named for his friend.
Scott led a colorful life even before arriving in Death Valley. He ran away from home at the age of 11 to join his two brothers working at a Nevada ranch. After this, he joined Buffalo Bill Cody's Wild West Show but after 12 years of that he decided gold prospecting was what he really wanted to do.
Charlotte and I learned this during a living history tour of the castle with park ranger Lesley Gaunt. Assuming the personality of the Johnson's housekeeper, Edith Cadogan, she took us for an hour back to 1939. Both men were still alive and enjoying their hoax then, but guided tours were already available, and some of the castle rooms were rented to tourists. One of the finest suites rented for $15 per person.
"Johnson never found a gold mine, at least not one belonging to Scotty," Gaunt said. "He was repaid in laughs." Johnson would go along with the Scotty's tall tales, and often told folks he was merely Scotty's banker.
No expense was spared in creating the home. The great hall was filled with antiques from the Southwest, as well as from Europe. Tapestries, a fountain and hand-painted sheepskin curtains made it elegant; overstuffed leather couches and chairs, around a large fireplace, made it simultaneously cozy.
Displayed in Bessie Johnson's bedroom are baskets hand-woven by the area's Panamint Shoshone Indians — a relatively inexpensive collection of local handcraft in her time, now irreplaceable.
The music room featured a hand-carved, wooden arched ceiling for excellent acoustics, and was built specifically for the Welte 1,121-pipe organ, made in 1927 and of a size originally intended for use in movie theaters. When our tour was nearly over, Gaunt put a music roll onto the player organ and we descended the spiral staircase, toward the outside and the year 2008, to the song "California, Here We Come."
We followed up the standard tour with an Underground Mystery Tour, to see how self-sufficient and modern for its day the utilities hidden in the basement were. To be honest, Charlotte and I were not highly entertained by this tour of technology. But some handyman homeowner, who has sworn and bled over modern plumbing, might count his blessings after seeing the Rube Goldberg arrangements upon which luxury depended in 1939.
There's little question Johnson was satisfied here.
"I am convinced that Mr. Johnson had more fun without a mine," said ranger Bob Smith. "He lived the Wild West, running around all over with Scotty, that the gold mine didn't matter."
Johnson and his wife both died in the 1940s and donated their fortune and the ranch to the Gospel Foundation of California. Scott lived on the property until his death in 1954 at age 81 and was buried above the castle on Windy Point. The park service bought the property in 1970.
Usually we make our headquarters at one of the park's campgrounds, but this time we chose the year-round resort complex at Furnace Creek Ranch. We quickly learned to appreciate its ideal location at the valley's hub, with all services within walking distance. Here, we found the park's main visitor center, market, a few restaurants, a bar and plenty of amusements, like a swimming pool fed by warm mineral springs, horseback riding, carriage rides and golf.
On our second morning, we drove about an hour toward the park's western border. Near Panamint Springs we traveled a couple of miles along a rough and washboarded gravel road to a trailhead that accesses one of my favorite places in the park, Darwin Falls.
The two-mile round-trip hike starts in a dry, open wash but in less than 15 minutes vegetation becomes thicker, a small stream of water appears and the canyon narrows significantly. Charlotte led the way into a box canyon, using small logs as bridges over the creek until one spun underfoot and dumped her painfully into the water, mud and rocks. After this, we gave in to getting our feet wet, and proceeded without further injury.
Because heavy vegetation restricts the view, you can hear Darwin Falls before you get there. Despite the plural name, there's actually one fall split at the bottom by a large boulder. Water pouring off the boulder fills a large and lovely pool. It's fed year-round from China Garden Spring, a few miles upstream.
On this outing, we skipped the hike to the upper falls, a difficult and somewhat dangerous undertaking, but those who succeed will be rewarded with the sight of a three-tiered waterfall I estimate to be around 100 feet high.
More than 80 kinds of birds have been documented here, including loggerhead shrikes, western meadowlarks and golden eagles. We heard hummingbirds and saw what looked like bobcat tracks, yet although it was a weekend, we never saw another person.
On our way back to Furnace Creek we headed up a rough road just outside of Stovepipe Wells Village and hiked Mosaic Canyon. The canyon floor served as our trail and within minutes we found polished marble walls, pressing in so close on each side we had to walk single file. In a few areas we found wonderful natural mosaics of breccia (Italian for fragments), hence the canyon's name.
You can hike two miles before further progress is blocked by a dry fall. But one of the most enchanting areas is within the first half mile, making an abbreviated version of this hike satisfying for young children and others unable to enjoy a longer walk.
Leaving Mosaic Canyon, we stopped at Stovepipe Wells Village to replenish our water. This place serves as the main base for The Death Valley '49ers Encampment, one of the largest and most popular events in the park. Now in its 59th year, it runs from Nov. 5-9.
In 1849, during the California Gold Rush, a group of pioneers got a late start west from Salt Lake City and decided to take a shortcut across the desert. Later remembered as "The Lost '49ers," they wandered for months, almost starving. Near Stovepipe Wells they had to kill some of their valuable oxen for food and used the wood from their wagons to cook the meat. Legend has it that when they were finally rescued and leaving the area, one member of the party said, "Goodbye, Death Valley" and the name stuck.
That afternoon, Charlotte and I played tennis and then headed to the pool. Naturally heated by warm springs, it averages an ideal 82 degrees year-round. Possessing the only beach ball at the pool, Charlotte became a magnate to other young guests. Except for one family from Henderson, the people we met were an international crowd, from as far as Great Britain, France and Argentina.
We spent part of our last day on bicycles, riding through the date palm grove, the Furnace Creek Campgrounds and a golf course said to be the world's lowest, 214 feet below sea level. Mountain biking is not allowed on the hiking trails, but there are hundreds of miles of gravel and paved roads to share with autos, and many of them don't see an auto for hours or sometimes days. For families with children, a good ride is from Furnace Creek Ranch to Harmony Borax Works along the one-mile paved bicycle trail. More adventure and complete solitude can usually be found on the steep grades and challenging terrain of 28-mile Titus Canyon Road. The visitor center offers a list of mountain biking roads.
While we were heading back to our room, a swift thunderstorm blew in. Over the wailing wind we soon heard powerful thunder. Bright lightning bolts followed one upon another, then the heavens opened. Considering there are entire years when the lower elevations of Death Valley receive no precipitation at all, we understood, as we drifted into sleep to the lullaby of falling rain, that luck and October had given us every aspect of a perfect weekend.
Contact Deborah Wall at deborabus@aol.com.
GETTING THERE Location: Death Valley National Park, about 156 miles from Las Vegas, if traveling through Beatty. Directions via Beatty: From Las Vegas take U.S. 95 north about 115 miles to Beatty. From Beatty take Nevada Route 374 west for 19 miles. Along the way you will officially enter the park, and go left onto the Beatty cutoff. Drive 10 miles south and go left onto California Route 190. Follow it south for 12 more miles to Furnace Creek. Directions via Pahrump: From Las Vegas, take Interstate 15 south to Nevada Route 160. Drive about 53 miles west to Pahrump. Turn left onto Nevada Route 210 and drive 27 miles to Death Valley Junction. Take California Route 190 west for about 29 miles to Furnace Creek . Scotty's Castle Tours: Guided living history tours of the main house interior are conducted daily. WINTER HOURS ARE 8:30 A.M.-5 P.M. THE TOUR LASTS ABOUT 50 MINUTES AND TICKETS ARE SOLD FIRST COME, FIRST SERVED. PEAK SEASON IS NOVEMBER THROUGH APRIL AND TOURS FILL UP FAST, SO ARRIVE EARLY TO AVOID A LONG WAIT. ADULTS 16-61 YEARS OLD, $11, SENIORS $9; CHILDREN 6-15 YEARS OF AGE, $6. FIVE AND UNDER, FREE. ADMISSION TO CASTLE GROUNDS AND PICNIC AREA IS FREE, 7 A.M.- 6 P.M. BOOKSTORE, GIFT SHOP AND SNACK BAR. GASOLINE IS NO LONGER SOLD HERE. (760) 786-2392. Scotty's Castle Underground Mystery Tour: Visit the basement underneath the castle to see the technology that was used in building and living in the castle. This tour does not include the main house interior. Adults 16-61 years of age, $11, Children 6-15, $6. No children under 5 are permitted. (760) 786-2392. Furnace Creek Inn and Ranch: Furnace Creek Inn is a four-diamond hotel with 66 rooms and two suites, open mid-October through mid-May. Rooms start at $305 nightly. Furnace Creek Ranch is more family oriented and has 224 rooms, from $124 nightly. Both properties are within one mile of each other. SWIMMING POOLS, RESTAURANTS, TENNIS COURTS AND GOLF COURSE. WWW.FURNACECREEKRESORT.COM. Camping near Furnace Creek: Furnace Creek Campground is open all year. Reservations are available up to six months in advance for the prime camping season, Oct. 15 through April 15. $18 per night. (877) 444-6777, www.recreation.gov. TEXAS SPRING CAMPGROUND IS OPEN OCT. 15 THROUGH APRIL 15 AND HAS 92 SITES. FIRST-COME, FIRST-SERVE ONLY AND IT LIMITS RV USE TO ACCOMMODATE TENT CAMPERS. $14 PER NIGHT. BOTH THOSE CAMPGROUNDS HAVE POTABLE WATER, TABLES, FIRE PITS AND FLUSH TOILETS. SUNSET CAMPGROUND, WHICH HAS POTABLE WATER BUT NEITHER TABLES NOR FIRE PITS, IS GENERALLY OCCUPIED BY RVS, FIRST COME, FIRST SERVED, AT $12 PER NIGHT. OPEN OCT. 15-APRIL 15. Death Valley '49ers Encampment: Nov. 5-9. (See Cerca Calendar or www.deathvalley49ers.org.) Furnace Creek meals: Several kinds range from high-end dining at Furnace Creek Inn to the Furnace Creek General Store's ready-made sandwiches, microwavable meals, fresh fruit, dairy products and alcoholic beverages. Furnace Creek services: Basic camping supplies, groceries, gasoline, diesel and propane, tire repair and towing, and paved airstrip. Death Valley National Park: Entrance fee is $20 per vehicle, good for seven days. (760) 786-3200, www.nps.gov/deva. Furnace Creek Visitor Center: Operated by the National Park Service. Museum, bookstore, ranger programs and general park information. Open daily 9 a.m.-5 p.m. Maps: The official park map of Death Valley is given to visitors when paying the entrance fee. For a more detailed map use the National Geographic, Trails Illustrated Death Valley National Park. Available at the Furnace Creek Visitor Center or www.nationalgeographic.com/maps.