St. Rose Dominican Mardi Gras Ball marks 55th year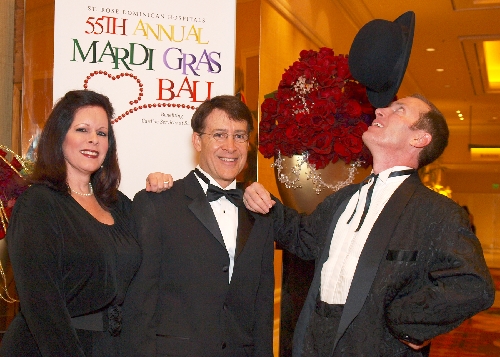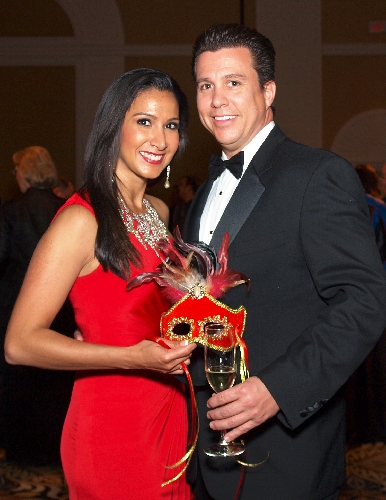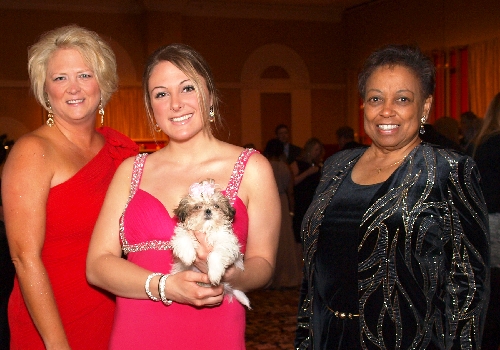 St. Rose Dominican Hospitals and the St. Rose Dominican Health Foundation celebrated the 55th year of their annual gala, the Mardi Gras Ball, making it the longest-running fundraising ball in Southern Nevada. This year's event at The Mirage's ballroom on March 17 raised funds for cardiac services at St. Rose.
The carnival-themed black-tie event began with a hosted reception where vaudevillian entertainer Charlie Frye and the Harbor Lights Jazz Band performed while the 745 guests partook of Champagne and passed canapes.
A silent auction featured 50 items for bid, and guests could buy an opportunity ticket to win a diamond ring or a $1,500 gift card for the stores in the Fashion Show mall.
Master of ceremonies John O'Reilly introduced Monsignor Patrick Leary to deliver the invocation.
Vicky VanMeetren, president and CEO of the St. Rose San Martin Campus, presented crystal plaques to the ball's co-sponsors: Bank of America, accepted by George Smith; the Tyler Foundation, accepted by Tina and Calvin Tyler; and Kellye and Al Welch, Mardi Gras co-chairs.
Special St. Patrick's Day recognition went to John O'Reilly and his wife, Rene, for their many years of support of St. Rose.
An interactive auction for 10 items sponsored by CenturyLink took place during dinner. Bidders called in their bids on their cellphones and the highest bid and the name of the bidder were displayed on large video screens.
Christian Kolberg conducted a live auction for 10 packages, leading off with the traditional dozen Krispy Kreme doughnuts for every month of the year, accompanied by a monthly tote of Starbucks coffee and a three-month membership at Anytime Fitness, which was won for $1,200. A billboard for six months at St. Rose Parkway and Las Vegas Boulevard went for $6,000. An imperial shih tzu puppy brought in $3,000. Two thousand dollars bought a suite at The Mirage, two tickets to "Love," dinner at Kokomo's and a swim with the dolphins. A meet and greet and two tickets to the Celine Dion show sold for $2,500. Tea at the Four Seasons with St. Rose's Adrian Dominican Sisters sold for $1,500. The live auction raised more than $23,000.
Among the guests were Henderson Mayor Andy Hafen, Jim Gibson, Vernita Irvin-Mays, Diane Carlson and William Freyd, Jane and Thomas L. Schwenk, Sandy Peltyn, Shelley and John Rhodes, Patricia and Mike Morrissey, Selma Bartlett, Jeri and Rick Crawford, Bill Wells, Debra and Phil Mills, Derek Duke, James Barrett and Laura Hoenemeyer, Florence and Gard Jamison, CJ and Art Woolston, Geraldine Williams, Elliott Eisner, Amanda Hawkins and Phil Erwin, Carolyn Leontos, Ed Skonicki, Bridget Moore, Robert Divecchio, Phyllis and Terry Gilland, Matt Mascali, Elissa and Richard Palmar, Vivi Marshall, Karen and Morgan Cashman and James Hooban.
Entertainment was provided by Kevin Eubanks, formerly of "The Tonight Show"; magician Nathan Burton; and Stratosphere headliner Frankie Moreno, who also played for the Mardi Gras Afterglow party.