Stark Raving Madam (Brothel Worker)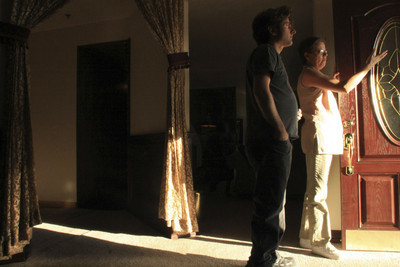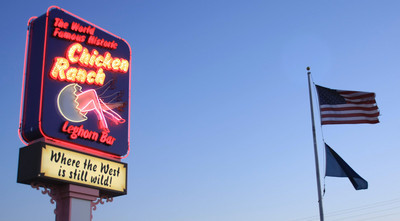 Leave it to me to find a way to strike out in a brothel.
For two hours, I've been begging clients of the Chicken Ranch in Pahrump to let me be their madam. But entering a brothel is pretty much the standard against which all the times you don't want to talk to a reporter in life are measured.
"Did my wife send you to catch me?" one man inquired.
According to Chicken Ranch general manager Debbie Rivenbaugh, a recent six-part Sundance Channel series required 21/2 years to film on site.
"There were maybe three or four men in that whole time who agreed to participate," she said.
The front gate bell rings again. I open the door prepared for another rejection.
"What is this?" asks the taller of two gentlemen. (I'll call them Roy and Matt, after buddies who are likely to get in trouble just because I used their names.)
I should probably point out that I'm wearing a bathrobe and fake-smoking a pipe.
"The most important part of your job," Rivenbaugh told me, "is to make the client feel comfortable."
Of all the things I made people feel when I cross-dressed for previous adventures, comfortable was never one of them. Yet the only male face a client expects to see here is Benjamin Franklin's on the bills he will exchange for Chicken Ranch menu items such as "hot and cold French," "drag party" and "reverse half and half."
So I decided on Hugh Hefner. I can think of no man more capable of placing other men at ease in a sexual environment.
"Are you making a movie?" Roy asks when he sees the R-J's still and video cameras. (They agree to participate, but without photos or video.)
The Chicken Ranch is one of 30 brothels in the only U.S. state to allow them. Houses of ill repute have operated legally in Nevada since it became a U.S. territory in 1861. (Although Clark County outlawed them in 1951, they're currently permitted in any Nevada county with a population under 400,000. And Nye County, where Pahrump is located, is about 10 times short of having to worry about that law.)
I push the doorbell on the electronic console near my cool new madam desk. It rings only in the back, where the lounge is. It's the hookers' cue to stop eating, talking on their cell phones, and any other activity implicating them as human beings instead of sex objects.
After their slippers and flip-flops are exchanged for a selection from Pump Mountain in the hallway, eight attractive women form a line. They march out to face the couch in the waiting room, where I've seated Roy and Matt.
As per Rivenbaugh's training, I press the lighted button marked "3." This whooshes open purple drapes behind the hookers, revealing a wall-length mirror that reveals their backsides.
"You're supposed to ask us to introduce ourselves," one hooker informs me out of the side of her crimson mouth.
After I do, each recites her name: Anayah, Angelica, Mary Jane, Angel, Dahlia, Sage, Ginger and Sandy.
I suggest that Roy and Matt pick by number. (This is where having a madam who's male is an asset, because I understand how guys are with remembering names — and birthdays.)
The Chicken Ranch was opened in 1976 by former cross-country trucker Walter Plankinton. He named it after the illegal establishment popularized onstage and screen as "The Best Little Whorehouse in Texas." Rivenbaugh, the longest-tenured employee, was hired as one of five madams 21 years ago. She still fills in when one calls in sick.
"I had no idea what I was applying for when I came to the door," said the 51-year-old, who moved from Yuma, Ariz., in 1987 with two young children and a resume of minimum-wage cashier jobs.
"I thought I was applying for a maid's job, to be honest with you."
In the distant past, madams were required to be former working girls.
"But none of our madams now have been," Rivenbaugh said. "These are just women from the local community, who come to an eight-hour job and then go home." (That job pays a starting salary of about $20,000 per year, according to Rivenbaugh.)
After consideration of details known only to them, Roy selects No. 1 (Anayah), Matt No. 4 (Angel). As each is led down the hall to one of 17 bedrooms, a light bulb pops on above Roy's head.
"Can I get it for free to be in your movie?" he asks me.
"I'm afraid that even Hef doesn't have that kind of juice," I inform him between fake pipe puffs.
The best part of her former job is the variety provided by hooker rotation, Rivenbaugh says. After the legally mandated nine-day minimum stay, most of the working girls split town to count their cash, sleep and take abnormally long showers.
"So it's not like working in an office where you're locked in with the same people week after week," Rivenbaugh says.
The worst part, according to Rivenbaugh, is mediating hooker-client disputes.
"You've got a man standing here, saying, 'I paid for A, B and C and I didn't reach the point I was supposed to reach,' " she says. "And you've got a woman saying, 'No, I gave you this. I gave you that. It's not my fault.'
"As the madam, you've got to make a decision as to whether that man deserves a refund or a partial refund."
Usually, the customer is happy with the ruling — after he stops to think about it.
"Most men who come here probably have a significant other somewhere," Rivenbaugh says. "And the last thing they want is word to get out that they caused trouble in a brothel in Nevada.
"So they don't."
Just as Rivenbaugh finishes her thought, mediation appears called for. Matt has emerged from his back room with Angel. He avoids making eye contact with me. Rivenbaugh excuses herself to get the scoop.
After much embarrassed whispering, Matt exits the brothel to wait for Roy in an adjoining bar.
"A lot of times, one guy gets talked into coming out because the other one really wants to," Rivenbaugh explains. "To save face, he'll pick a girl, knowing that the friend's going to be back in the room."
Not more than five minutes later, Roy also appears in the hallway, with Anayah. Neither is smiling. I ask what the problem is.
"We didn't know what this place was," Roy replies.
"You didn't know what it was?" I ask, "or you didn't know what it would cost?"
Prices at the Chicken Ranch are not fixed but negotiated with the hooker, who can charge anywhere from $100-$1,000 per menu item. (The madam collects 50 percent from the hooker, based on the honor system.)
Believe me, I know the real Roy and Matt, and they would leave after hearing the prices, too.
"Good luck with your movie," Roy says.
Watch video of Levitan as a Chicken Ranch madam at www.lvrj.com/columnists/Corey_Levitan.html. Fear and Loafing runs Mondays in the Living section. Levitan's previous columns are posted at fearandloafing.com. If you have a Fear and Loafing idea, e-mail clevitan@reviewjournal.com or call (702) 383-0456.
Watch the video