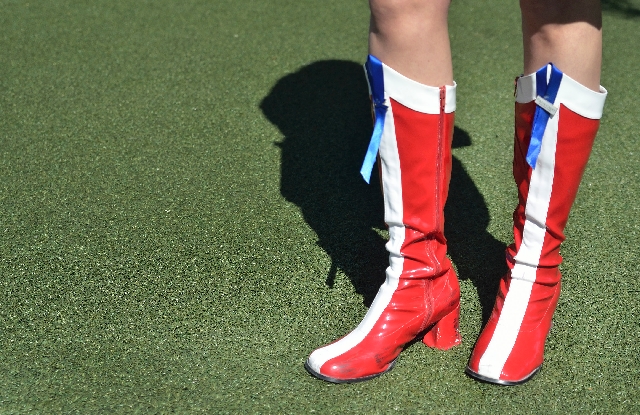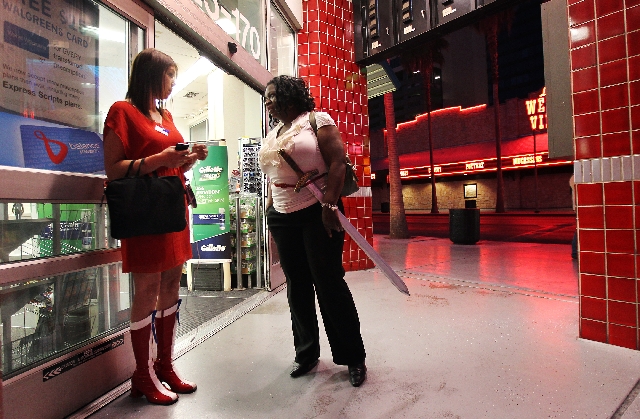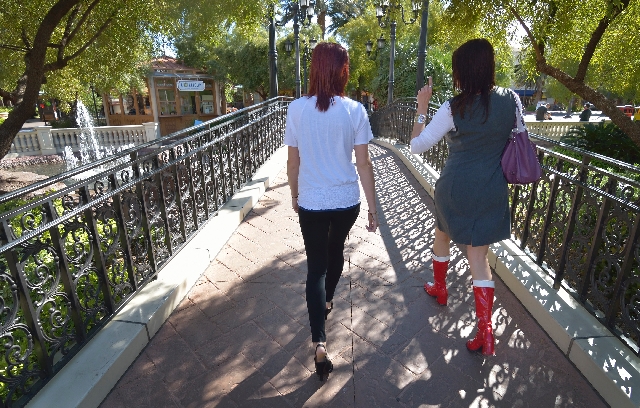 Necole Zeigler's Wonder Woman boots are made for walking.
Which is a good thing, since she pledged to wear them 40 days straight, no matter what. Since April 1, Zeigler , 42, has donned the shiny red, white and blue vinyl boots and gone about her business as though wearing a superhero's footwear is the most natural thing in the world.
The stunt is one great big ploy to attract attention. And it's working. Wherever Zeigler goes, people notice her boots. And once she has their attention, she tells them about her plan called Super May Day: On May 11, Zeigler hopes to bring together 1,581 people dressed as superheroes to help fight child abuse. And to set a Guinness record, too.
April is Child Abuse Prevention and Awareness month. Zeigler, who has been known to take up random causes, discovered that Olive Crest, a nonprofit organization dedicated to helping at-risk, abused and neglected children, needed ideas for outreach. They needed unusual ways to get their message out to the community.
"Every month I have an open house for volunteers," says Lynn Stewart, Olive Crest's local community involvement manager. "A few weeks ago, we were throwing out ideas on how we could do different things for outreach and education."
Zeigler was there. Once, she donated blankets to the organization but she wanted to do more. For some inexplicable reason, Zeigler had an idea centered around superheroes. She doesn't know where the idea came from; it popped into her head. She also had a pair of Wonder Woman boots sitting in her closet, just begging to be worn.
"What if I invited people to dress up as their favorite superhero and gather at Neonopolis?" she said. They could entice people with a carnival for kids and an attempt to set a world record. People would pay a few dollars to participate and the money would benefit Olive Crest.
To promote the event, Zeigler decided to wear her Wonder Woman boots until Super May Day.
Stewart loved the idea, especially the marketing plan. A former NFL cheerleader for the Houston Texans, Stewart knows how much attention a pair of glossy high-heeled boots can attract. And she knows what it feels like to wear them for prolonged periods.
"She's a walking billboard for this event. And her calves are going to be awesome," Stewart says, laughing. "When this is over, Necole will definitely deserve a month of pedicures."
Zeigler has never before organized an event of this size. One time, she threw a children's birthday party for 30 guests. Super May Day is projected to be at least 50 times bigger.
Superheroes have a wide appeal, says Zeigler, who, minus a five-year stint in Florida, has lived in Las Vegas since she was 15. People may not come to a fundraiser to support child abuse awareness but they might come to see hundreds dressed as Superman, Spider-Man, the Hulk and others.
A single mother of three grown children, Zeigler works for a local accounting firm. When she came up with this idea, she asked her boss to forgive her nutty idea. He allowed her to wear the boots to work.
Since she started wearing them, Zeigler has gotten every response imaginable. People say, "nice boots" or "where did you get those?" while more than one person has looked at her like she's crazy. Some guys get a little personal about the boots. Zeigler takes it all in stride, literally.
"The boots have actually done a phenomenal thing," her friend, Kevin Dunlap, 46, says. He's been with Zeigler when people noticed the Wonder Woman boots. "If we were just dressed normally, I don't think it would have nearly the impact that the boots did."
To pull this thing off, Zeigler is relying on several friends, including Dunlap, to help with logistics, volunteers and promotion.
"A few weeks ago, we were having pho," friend, Kyla Vivier , 23, says. "It was pretty funny. She asked me if I could be any superhero, who would I be? I said, 'That's a random question.' But I just went along with it."
The fact that her friend came up with the idea for Super May Day didn't surprise her. That's the way Zeigler thinks, Vivier says.
"She has this very fun personality. She's very outgoing, very friendly and easy to talk to," Vivier says of Zeigler.
Vivier chose Captain America as her superhero. She's already made her costume. She is also dedicated to spreading the word about Super May Day: Vivier wrote the event information on the window of her blue PT Cruiser.
The world record for "largest superhero gathering" was set in 2010 by actor Will Farrell and 1,580 people who turned the Staples Center in Los Angeles into superhero heaven for a few hours.
Zeigler thinks her fundraising event can easily break that number. She's contacted Guinness about the attempt. She has not yet heard back. She hopes to get some guidance; Zeigler isn't entirely sure what counts as a superhero.
For instance, Catwoman is considered a villain in some circles. But she's a bit like a feline Robin Hood; her misdeeds benefit the less fortunate. Will Guinness count Catwoman as a good kitty? Zeigler doesn't know.
World records aside, the event will benefit charity, says Felesia Wade, Zeigler's friend and neighbor. It will be a giant, kid-friendly party with costumed people and that's never a bad thing.
Wade plans to dress as another questionable superhero, "Xena: Warrior Princess."
"I can relate to Xena. I used to watch her when I was growing up and she fights for good. She's a warrior and she's a princess. And I have that nature about me. The warrior part and the princess part," she says.
The festivities start at 5 p.m. May 11 at Neonopolis, 450 Fremont St. People of all ages are invited to wear superhero costumes. Registration is required for an accurate tally. Organizers are asking for a donation of $6 per person. For more information, visit supermayday.com.
Contact reporter Sonya Padgett at spadgett@review journal.com or 702-380-4564. Follow @StripSonya on Twitter.
PREVIEW
What: Super May Day
When: 5 p.m. May 11
Where: Neonopolis, 450 Fremont St.
Cost: $6 donation for Olive Crest (registration required, supermayday.com)