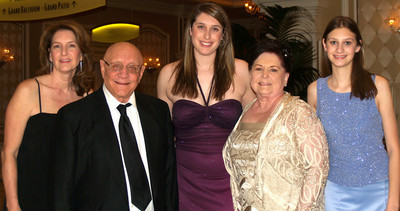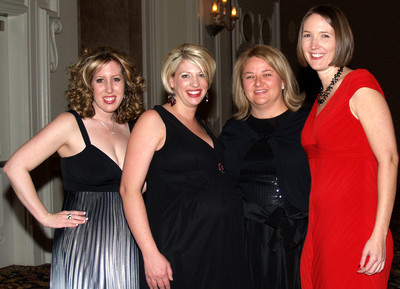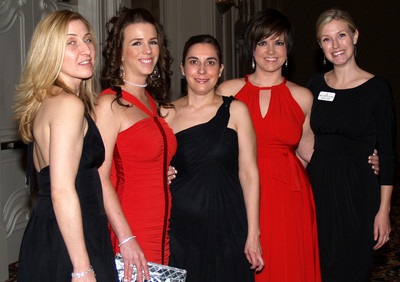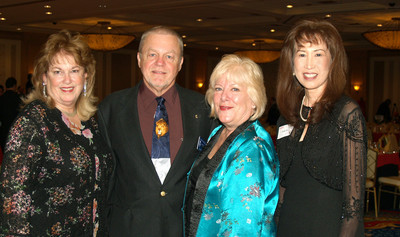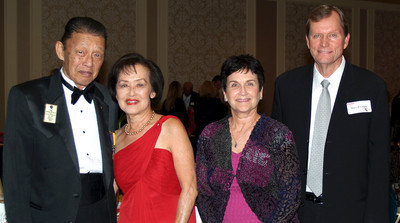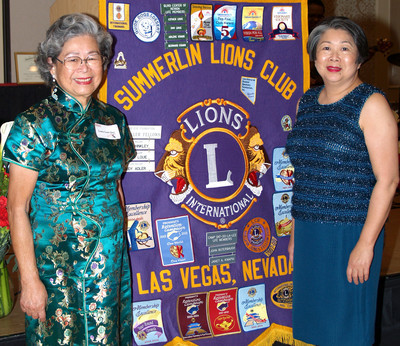 The Junior League of Las Vegas had its sixth annual gala, called Paint the Town Red, in the Tower Ballroom at Bellagio on March 7.
The formal event honored Las Vegas City Councilwoman Lois Tarkanian and Coach Jerry Tarkanian with the Florence Lee Jones Humanitarian Award.
The Junior League honored one of its own with the presentation of the Lifetime Community Achievement Award to Betsy Rhodes. Rhodes has been a League member since 1962, and served as president of the service league in 1969-70, just before the group was invited to become a member of the Association of Junior Leagues in 1971.
The evening began with passed canapes as guests, including former U.S. Sen. Richard Bryan and Bonnie Bryan, Yvonne and Ken Gragson, Madeleine Andress, Amador and Dorothy Bengochia, Dee and Don Snyder, Jennifer and Steven Rhodes, Le Riggle, Kathy Grugurich, Maria and Ted Quirk, Sharon and Norman Jenkins, Shelley and John Rhodes, Jodie and Zafi Diamant, Amy and Danny Tarkanian, Pam and Eric Rose, George Tarkanian, Glynda and Jim Rhodes, Diane and Harry Brandise, Alicia and Nick Georgiade, Lois and Jim Zellers, Patsy and Robert Brinton, Sharon Schmitt, Linda Givens, Patti and Andrew Nixon, Margy and Carl Johnson, Kellie and David Guild, Martha Carter-Tomal and Robert Tomal, participated in the silent auction for a vacation in Telluride, Colo., a hot tub, dinner with Las Vegas firefighters, jewelry and Waterford crystal.
Celebrity hosts were KVBC-TV, Channel 3, news anchors Kim and Dana Wagner. Seen among the guests were Janice Allen, Debbie and Drew Levy, Tara and Justin Shiroff, Nancy Bentley, Sally McKinney, Sherry and Tom Beatty, Vivienne and Tom Ross, Dedee Nave, Carolyn Sparks, Cheryl Purdue, Sandra Litton, Nancy Gasho and Bob Fromm, Mary Ann Rivera, Nancy and John Shepherd, Edward and Eleonore Doumani, and Junior League president Patti Whippel and husband, Lin. Gala chair was Kori Zwaagstra.
CHINESE NEW YEAR: The Summerlin Lions Club had its eighth annual Chinese New Year charity dinner on Feb. 28 at the Gold Coast.
The Year of the Ox was celebrated in style as the Lohan School of Shaolin welcomed the crowd by performing the ceremonial lions dance.
Nate Tannenbaum introduced Esther Louie and Susan Abramson, event co-chairs. Lion Awards were presented to the club's past district governor Dan Louie and president Donna Cutler. The event's guest of honor was former Clark County Commissioner Bruce Woodbury.
Attending were Woodbury's wife, Rose, and the Woodbury family. Also, Donna Cutler, Linda and Ray Kwan, Claire and Calvin Heinrich, Colleen and Dan Halby, Leo Downey, Dick Yanko, Kathy Silver, Joanne Hart, Bob Shaffer, Ginger Fong, Faye and Bud Berdine, Marilyn and Tom Stark, Evelyn and Sid Ostis, Regi Oh, Judy and Jim Kropid, and Beverly and Owen Patrick.
The Chinese dinner was followed by live and silent auctions to raise funds for the Lions' sponsored local projects. The Joey Ciccone Trio peformed.