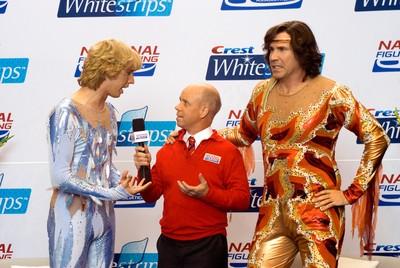 DVDS
"Blades of Glory" (PG-13): "Saturday Night Live" alum Will Ferrell continues his streak of doofuses in sports with this one, which co-stars Jon Heder. The two are forced to team up as a figure-skating pair after being banned from individual competition. Lots of visual jokes ensue, based primarily on how they look in tights, especially when performing "graceful" skating maneuvers. Also available in HD format (which includes more extras than the basic DVD version).
Also out today: "Year of the Dog" (PG-13); "Air Guitar Nation" (R); "Offside" (PG); "I Love Miami" (Unrated); "Notorious B.I.G. Bigger Than Life" (Unrated); "Gideon's Trumpet" (Unrated); "Kickin' It Old Skool" (PG-13); "Red Road" (Unrated); "A Night at the Roxbury: Special Collector's Edition" (PG-13); and "Diana: Last Days of a Princess" (Unrated).
CDS
Aesop Rock, "None Shall Pass": One of indie hip-hop's finest, most inscrutable voices, Aesop Rock brings a David Lynch-ian flair to underground rap with grim, left-field rhymes set to fractured, foreboding beats.
Rock's fourth disc, "None Shall Pass," is a mix of live instrumentation and layers of samples, a dense pastiche of involved wordplay and dusky production values that reaffirm Rock's place among the most unflinching of MCs.
Also out today: Rick Braun and Richard Elliott, "RnR"; Casting Crowns, "The Altar and the Door"; Collective Soul, "Afterwords"; Ben Harper and the Innocent Criminals, "Lifeline"; Heaven & Hell, "Live From Radio City Music Hall"; Lyle Lovett, "It's Not Big But It's Large"; Little Mo' McCoury, "Little Mo' McCoury"; The Scorpions, "Humanity Hour 1"; Soundtrack, "Entourage: Music From and Inspired by the HBO Series"; and Ringo Starr, "Photograph: The Very Best of Ringo Starr."
BOOKS
"The Wheel of Darkness" (Grand Central Publishing) by Douglas Preston and Lincoln Child: This thriller takes FBI agent Aloysius Pendergast and his ward, Constance Greene, to a remote Tibetan monastery where they learn that a rare and dangerous artifact the monks have been guarding for generations has been stolen. As a favor, Pendergast agrees to track and recover the relic. The trail leads Pendergast and Greene to the maiden voyage of the Britannia, the world's largest and most luxurious ocean liner. And you know what happens on those Atlantic crossings in books like these.
Also out today: "Bones to Ashes" (Scribner) by Kathy Reichs; "The Elves of Cintra" (Del Rey) by Terry Brooks; "The Shotgun Rule" (Ballantine) by Charlie Huston; "Patriot Acts" (Bantam) by Greg Rucka; "Rebel Island" (Bantam) by Rick Riordan; "Strip Search" (Ballantine) by William Bernhardt; and "Lord John and the Brotherhood of the Blade" (Dell) by Diana Gabaldon.