There are plenty of opportunities for fun when the grandchildren come to visit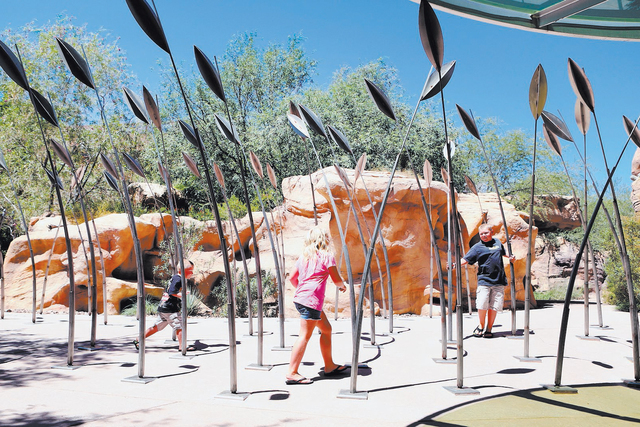 There's no better excuse to act like a kid than when the grandchildren come to visit during their summer break, and Vegas has some amazing choices when it comes to finding family-friendly activities that cross the generations.
While it's impossible to list everything, here are a few examples of ways to have a great time and even beat the heat:
DISCOVER THE FUN
The Children's Discovery Museum, 360 Promenade Place in Symphony Park, may be designed for kids, but grown-ups are just as likely to have some serious 'aha' moments in this 26,000-square-foot space.
One of the most popular exhibits is Water World, which is filled with displays designed to let kids dip their hands into water and discover its power to alter and shape the world around it, according Denyce Tuller, director of marketing and public relations. What's really cool is that it brings it all close to home by showing some of the science behind Hoover Dam.
This year's summer traveling exhibit features the cross-generational pooch Clifford the Big Red Dog, who first hit bookshelves in the 1960s. The exhibit, for tykes approximately 2 to 8, is a journey through Clifford's Birdwell Island and highlights the big guy's ideas about everything from playing fair to being kind, Tuller noted.
IT'S ALL DOWNTOWN FROM HERE
Sure, the Container Park, 707 Fremont St., is in the middle of downtown but it feels like its own separate world. The tiny stores, restaurants and sweet shops, housed in revamped shipping containers stacked like Legos, are just the right size for browsing with little ones in tow, while teenagers will enjoy both the prices and merchandise at some of the one-of-a-kind boutiques.
There is a great playground smack in the middle, including a treehouse-themed structure with bridges and a 33-foot slide, and on Thursdays at 8 p.m. the park hosts outdoor movies.
SNAKES, LIZARDS AND RATS, OH MY!
The natural-science wonderland known as the Springs Preserve, 333 S. Valley View Blvd., has plenty to keep kids of all ages busy, and during the summer this includes a ramped up schedule of indoor activities.
The Desert Survivor live-animal show is offered daily at 11 a.m. and 1 p.m. through Aug. 21, and on weekends Aug. 27-Sept. 25. It covers the desert ecosystem and how animals manage to survive in the heat, including an up-close look at critters such as snakes, desert tortoises, Gila monsters and kangaroo rats, said spokesperson Dawn Barraclough.
This summer's traveling hands-on exhibit inside the Origen Museum is aptly named Playing with Light. By walking into a giant kaleidoscope, sneaking past a laser security light or drawing with infrared paint, lessons are learned about both the physics and everyday uses of light.
COOLING OFF
The valley is strewn with municipal swimming pools that offer water playgrounds with giant tube slides, and features to climb on and crawl through. Some of them, including the Desert Breeze Community Center, 8275 Spring Mountain Road, and the Henderson Multigenerational Center, 250 S. Green Valley Parkway, have both indoor and outdoor pools so there's a chance to get water-loving grandkids out of the heat but continue the fun.
The Multigenerational Center has some added extras such as a rock-climbing wall for kids, as well as an indoor walking/jogging track and lounge area. It's also just a short walk to the Paseo Verde Library, which offers all kinds of planned activities, or simply the chance to snuggle up and share some quiet reading time. If the grandkids get hungry, drop by the library's cafe The Coffee Press where they serve breakfast sandwiches, lunch items and pastries.
IT'S SHOW TIME
What better way to feel like a kid than taking in one of the Strip's top-notch family-oriented afternoon shows. Two of the very best are magician Mac King at Harrah's Las Vegas, 3475 Las Vegas Blvd. South, and the Popovich Comedy Pet Theater show, now at the V Theater at Planet Hollywood Resort, 3667 Las Vegas Blvd. South.
What's great about King is that his show crackles with the kind of slapstick-style one-liners and sight gags kids can't get enough of, yet he also knows what strikes the funny bone of the adults in the room. And, of course, there's the incredible magic.
The Popovich show features former Russian circus performer Gregory Popovich, including his incredible juggling skills and physical comedy. But his youngest audience members fall in love with the trained rescue animals (yes, even cats!) featured in all kinds of skits and stunts. It is an "awe"some show in the best way, as in all the exclamations of, "Awwww, isn't that cute!" you're going to hear.
HEAD FOR THE HILLS
Mount Charleston is several degrees cooler than the Las Vegas Valley so a day trip up the mountain is a great way to simmer things down. There are kid-friendly daytime and sunset hikes guided by trained naturalists with the Park Service, just check out the schedule at gomtcharleston.com.
The restaurant at the Mount Charleston Lodge has an outdoor patio, including a pet menu in case the family dog comes along, and there are chair-lift rides in Lee Canyon that rise as high as 9,300 feet and offer great views of the surrounding Spring Mountains. Just go to leecanyonlv.com.