These local Twitterati, whether silly or sage, are always interesting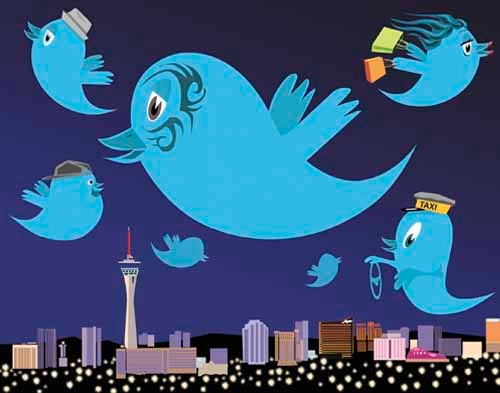 If you have a Twitter account, then you know the value of a good tweeter. These are the folks whose tweets make you feel a little smarter, make you laugh a little harder, make you nod your head or maybe even scratch it. We took a look at Vegas tweeters (and a glance at Reno) and compiled several recommendations.
They're split into two categories, the well-known and the not-so-well-known. The latter list comes with a bonus: the tweeters' favorite tweeters. So, go ahead, peep it and tweet it.
Familiar faces
You might know them, but do you know them on Twitter?
@MikeTyson: The boxing champion recently promoted Evander Holyfield's new barbecue sauce, tweeting that "@holyfield's ear would've been much better" with it. He also posts YouTube videos of his kids and links to interviews in which he discusses venereal diseases and prostitutes with @AnnCurry. Tyson's unpredictable nature is why he's worth a follow.
@Mercedeslv: In the vein of @shitmydadsays, the KMXB-FM, 94.1 radio co-host of Mark & Mercedes in the Morning has tweeted about her mom's confusion between Nelly the rapper and Nelly the character from "Little House on the Prairie." Mercedes also tweets handy tips such as this: "Your kid's arm floaties for the pool will double as beer cozies, FYI."
@chumlee_: We haven't decided whether you should appreciate this one despite the spelling and grammatical errors or because of them. Austin Russell, star of "Pawn Stars," has asked celebrities to come "bye" the shop when they're in Vegas and has also proudly posted a picture of his first tattoo job. If you're a fan of him on the show, you'll be a fan of his tweets.
@rossjmiller: Nevada Secretary of State Ross Miller keeps followers abreast of closed voting polls on election nights, but that's not why you should follow him. He loves a lively mixed martial arts debate via Twitter, but that's not why you should follow him. Miller once tweeted a pic of himself planking. He's a politician with a sense of humor – that's why you should follow him.
@vegasanonymous: If it's a celebrity fix you're fiending for, check out the R-J's own Doug Elfman. He recently broke the international scoop of Sheryl Crow's brain tumor and gets RT'd (retweeted) by people such as Jimmy Kimmel.
Oh, Elfman also has jokes, which are best when read "in the voice of norm macdonald, just like everything else in life."
FRESH FACES
Tweeters you should get to know (and their favorite tweeters):
@LVCabChronicles: This anonymous tweeter proves that Vegas cabdrivers never run out of colorful stories, or entertaining tweets. The cabby's favorite tweeters: @brookeinvegas, @vegascourtesan and @DeathStarPR.
@lollieshopping: Fashion blogger Laura Coronado's tweets about sales, style tips and the "outfit of the week" have garnered her more than 17,000 followers. Her favorite tweeters: @VegasGeek, @TommyTRC and @Fashionalities.
@andrewkiraly: We're recommending local journalist and published author Andrew Kiraly simply because he's funny. Even his avatar is funny. His favorite tweeters: @authenticvegas and @LasVegasPaco.
@LasVegasPaco: The culturally curious follow Brian Paco Alvarez for the latest on Vegas art and the downtown scene. His favorite tweeters: @tinch, @grahamkahr and @PJPerez.
@unlvgaming: David G. Schwartz, the University of Nevada, Las Vegas Center for Gaming Research director, is worthy of a follow if you're remotely interested in the industry on which this city was built. His favorite tweeters: @Detroit1051, @Misnoper and @unmarketing.
Contact fashion reporter Xazmin Garza at xgarza@reviewjournal.com or 702-383-0477. Follow her on Twitter @startswithanx.