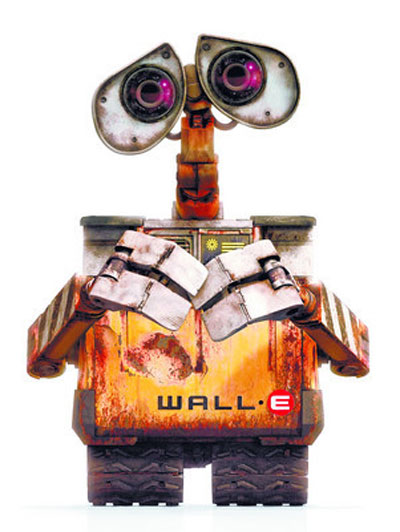 In a worst-of-times world, movies can provide welcome escape.
But a funny thing happened on the way to the multiplex this year. The movies that remain branded on my brain — out of the more than 125 I saw this year — managed, more often than not, to capture the contradictions of the human condition, providing fresh perspective on that emotional roller coaster we call life.
Few of them qualify as "escapist" entertainment, yet all of them prove that, in the hands of an exceptional filmmaker, even the most daunting topic can spark an exhilarating journey.
1. "WALL-E" — Another instant classic from Pixar's Andrew Stanton ("Finding Nemo"), a wonderful — and full-of-wonder — animated tale about a lonely trash-bot who discovers what really happened to all those vanished Earthlings. Satirical yet heartfelt, "WALL-E" quotes influences from Charlie Chaplin to "Star Wars," yet never feels derivative, thanks to its soaring imagination — and high-flying heart.
2. "VICKY CRISTINA BARCELONA" — Woody Allen's deceptively blithe, ultimately bittersweet meditation on love, art and the way we live now explores the collision between two American students (Scarlett Johansson, Rebecca Hall) and two fiery Spanish artists (Javier Bardem and Penélope Cruz, the latest member of Woody's Oscar-worthy pantheon). Another witty reminder — as if we needed one — of Allen's national-treasure status.
3. "HAPPY-GO-LUCKY" — Mike Leigh's rueful, resonant human comedy, about an irrepressible London teacher (the wonderful Sally Hawkins) who responds to every challenge — a stolen bike, a troubled student, a dour driving instructor — with an unquenchable optimism as irritating as it is inspiring.
4. "FROZEN RIVER" — One of those rare movies that feels like a slice of painfully real life, Courtney Hunt's stirring debut charts the unlikely alliance between two desperate women (Melissa Leo, Misty Upham), finding homespun poetry in their hardscrabble determination.
5. "SLUMDOG MILLIONAIRE" — Ever-eclectic Danny Boyle brings his trademark mix of humor, heart and horror to a Bollywood fairy tale about a lowly Mumbai gofer who hopes to find his lost love — by appearing on a TV game show.
6. "MAN ON WIRE" — Literally the most taut-wire movie of the year, this documentary about French performance artist Phillipe Petit's daring — and illegal — 1974 wire-walk between the twin towers of New York's World Trade Center plays like a gripping heist movie — with a transcendent climax. (And an inescapably melancholy undercurrent in the wake of Sept. 11, 2001.)
7. "THE VISITOR" — Lost souls find each other in Thomas McCarthy's poignant character study, as a widowed, withdrawn economics professor (ace character actor Richard Jenkins, in a lead-role triumph) discovers life-altering common ground where he least expects it.
8. "LET THE RIGHT ONE IN" — The anti-"Twilight," this elegantly eerie Swedish import — about a 12-year-old outcast who finds a friend in his new vampire neighbor — warms your heart even as it chills your blood.
9. "FROST/NIXON" — The great 1977 debate between disgraced ex-President Richard Nixon (Frank Langella, reprising his Tony-winning stage performance) and British TV personality David Frost ("The Queen's" Michael Sheen) may not be historically accurate, but it's undeniably compelling, as director Ron Howard maintains the dramatic core of Peter Morgan's play while expanding its cinematic vision.
10. "INDIANA JONES AND THE KINGDOM OF THE CRYSTAL SKULL" — Every critic gets one quirky, self-indulgent pick, so here's mine. Ridiculous, yes, but ridiculously entertaining, Indy's return proved the most whip-cracking fun I had at the movies all year.
Contact movie critic Carol Cling at (702) 383-0272 or ccling@reviewjournal.com.
MOVIES
1. "WALL-E"
2. "Vicky Cristina Barcelona"
3. "Happy-Go-Lucky"
4. "Frozen River"
5. "Slumdog Millionaire"
6. "Man on Wire"
7. "The Visitor"
8. "Let the Right One In"
9. "Frost/Nixon"
10. "Indiana Jones and the Kingdom of the Crystal Skull"