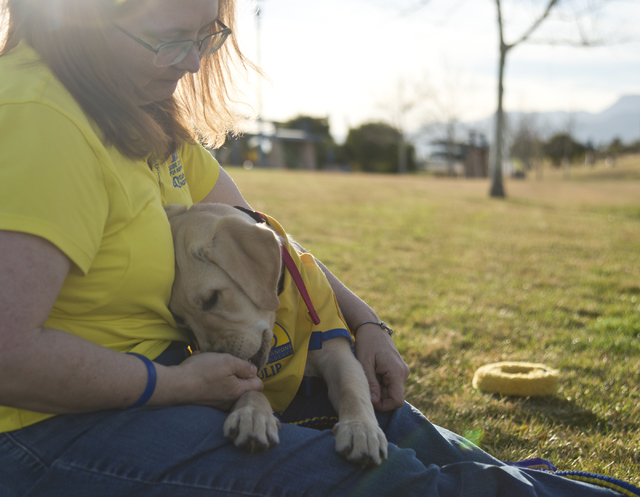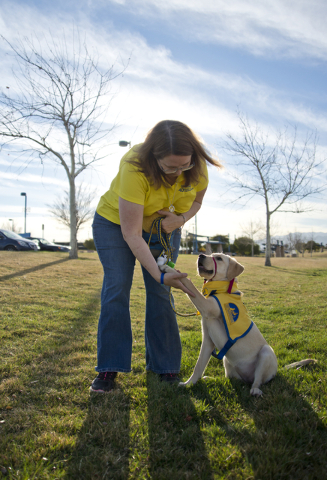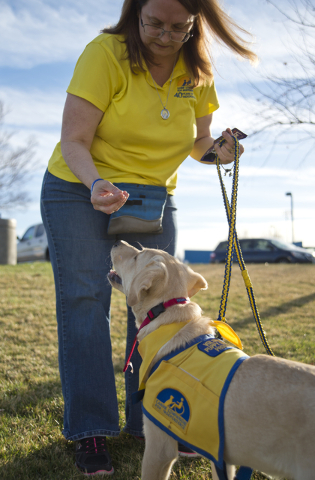 When Cindy Thompson trains puppies, the commands go way beyond "sit" and "stay." She raises them to become assistance dogs for Canine Companions for Independence. The dogs have to learn 40 commands.
"We don't teach 'no,' " she said. "Instead, we teach 'don't' … We teach them to be in public and not be obnoxious."
Canine Companions reports it currently has four people in the Las Vegas Valley raising puppies to be service dogs.
"Volunteer puppy raisers come from all walks of life," said Katie Malatino, public relations coordinator for the group's southwest region. "They include young families, couples, friends, single folks and retirees. The commonality among them all is commitment to Canine Companions' mission. They need to keep the goal of producing a highly trained assistance dog for someone with a disability to enhance his or her life practically, emotionally, and socially in mind at all times."
Thompson, who lives east of Summerlin near the Rainbow Curve, trained one dog, Mancha, from 2013-15. Ultimately, Mancha was not selected to be a service dog, but his genes made him suitable as a breeder for future trained companions.
Tulip came to Thompson at 8 weeks old and has learned a number of commands in just a couple of weeks. Thompson will keep her until she is a little more than a year old. During that time, she's tasked with putting the pup into various situations and teaching her not to react to sudden noises or actions.
Tulip wears a "gentle leader," a nose muzzle-like apparatus that is not a muzzle at all. It merely gets her used to wearing a strap around her face.
"She can do everything with it on," Thompson said. "She can even eat in it."
Tulip can also nip at Thompson's cats with it on, something she demonstrated in her puppyish way. The cat put up with it for only so long before finding a less hazardous place to lie down. It's all part of learning to get along.
Besides the gentle leader, Tulip also wears a fabric vest proclaiming her status as a companion dog in training.
Thompson is well-qualified to raise an assistance dog for Canine Companions. Her day job is as a software support technician, but she is also a veterinary technician. She volunteered for the Canine Companions program after learning about it from her veterinarian when she lived in California.
Getting Tulip adapted to the idiosyncrasies of life comes in steps. Tulip could not visit a community park, for example, until she had all of her shots.
Even then, she wasn't allowed into the dog park portion as the risk of encountering an unvaccinated dog is too great for such a high investment. Canine Companions estimates it spends $50,000 to raise a dog to be one of its assistance dogs.
The dogs are provided to those with disabilities for free, all thanks to volunteers and donors.
Usually, those who train the puppies have previous experience with owning a dog, but it's not a requirement. Some have their own pooches.
"As long as you have a friendly, well-socialized dog, who would (accept) the presence of another dog in the house, then it's not a concern on our end," Malatino said.
Trainers keep the dog from 8 weeks until they are 14 to 16 months old.
That's a long time to have a dog in your house, caring for it and bonding with it. Such a close relationship can mean the heart takes a hit when it's time to give it back to the organization.
"Obviously, you have to go into this endeavor with having our mission in mind," Malatino said. "You have to understand from the get-go that this isn't your pet. You're raising it to have a higher purpose. If you don't have that mindset, then, yeah, it'll be difficult (to let go). But it would be difficult no matter what, but amazingly, most of our volunteers do this over and over and over again. They get so much pride and fulfillment from seeing their dogs go on to helping someone with a disability, they know they're helping to change somebody's life for the better."
About 35 to 45 percent of the dogs in the program become assistance dogs, the organization reported. Those that do not become assistance dogs sometimes go on to other careers, such as search and rescue, drug detection or border patrol.
"If they are not suitable to become working dogs," said Malatino, "then the volunteers who raised them are offered first dibs to adopt them. If that doesn't work out, we have a long list of families who would jump at the chance."
She said anyone interested in raising a Canine Companion pup should visit the website first, then reach out to the organization to be connected with someone who's already raised a Canine Companion so they can further learn if it's right for them.
Call 800-572-2275 or visit cci.org.
To reach Summerlin Area View reporter Jan Hogan, email jhogan@viewnews.com or call 702-387-2949.
Canine Companions
Call 800-572-2275 or visit cci.org.